How to become a friend of the world Stroud retreat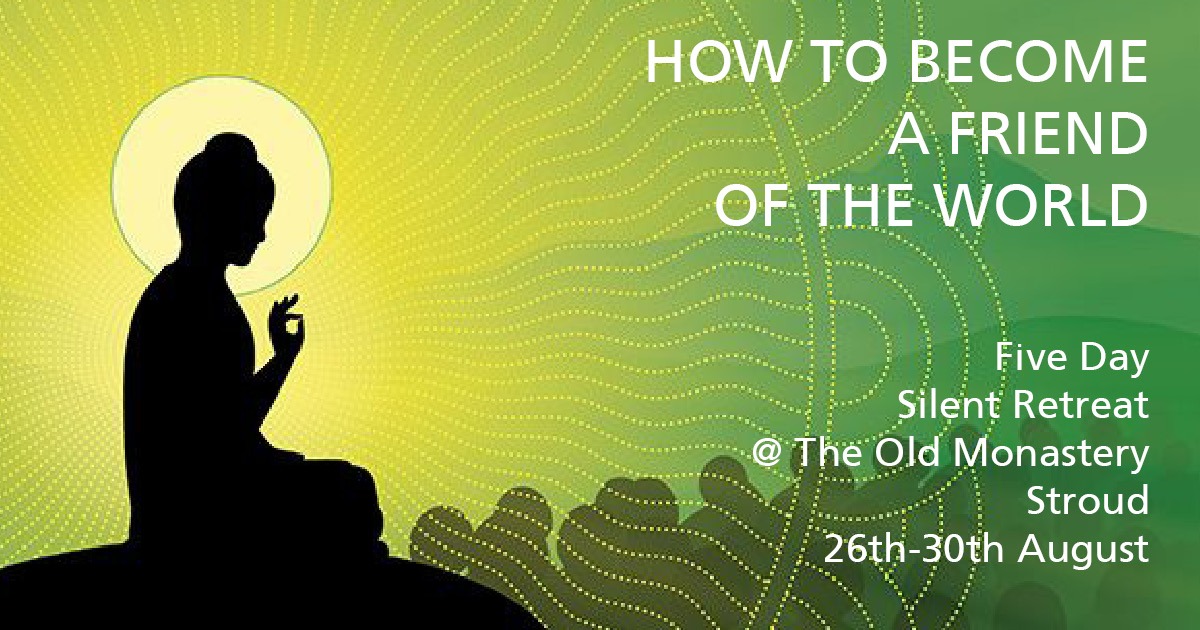 Terms and conditions:
Thank you for your interest in attending this years 'How to become a friend of the world' silent guided retreat at Stroud.
The purpose of this retreat is for the individual practitioner to gain deep experience of the meditation on the precious mind of Bodhichitta.
The retreat will be held in strict silence to give those who attend the opportunity to reduce distraction and improve their meditative experience.
To maintain the integrity of the arranged conditions it is required of all who attend to agree to the following three conditions
1) To remain silent at all times from the time silence begins on the Saturday morning, until silences ends on the Tuesday morning.
'Silence' includes all form of verbal, and nonverbal communication, including written and physical communication, use of mobile phones etc
2) To practice contentment and consideration for others at all times during retreat.
To assist with this, ensure you bring all necessary conditions YOU need for the retreat ie warm clothing, special food items etc. Also, ensure all questions re: retreat menu, ingredients and so forth are asked BEFORE entering into silence. And finally, ensure you are clear about your voluntary job (if doing one) before entering into silence.
The more prepared and organised everyone is, the more comfortable and enjoyable the retreat will be for everyone!
Just a few unnecessary words, a hand gesture or a text can destroy a person's retreat.
3) That, to prevent disruption to the group or an individual by not maintaining the two conditions above, you might be asked by the organiser to leave the site.
By entering your personal details and submitting this form, you are agreeing to the three conditions above. It is also expected that you play a small role in cleaning, or preparing food so the retreat runs smoothly. This will all be explained on arrival to the venue.
Please note, due to limited places. Booking can only be made for the whole retreat, not part of the retreat.
By clicking Book Now, you have agreed to the stated terms and conditions of this event. If your application is successful you will be sent a booking link and payment details. Once payment is made your booking is confirmed.
Thank you
Friday 26 August 2022 4:00 PM - Tuesday 30 August 2022 3:00 PM (UTC+10)
Location
The Old Monastery
47 St Clairs Road, Stroud NSW 2425