Exhausted to Empowered - RECORDING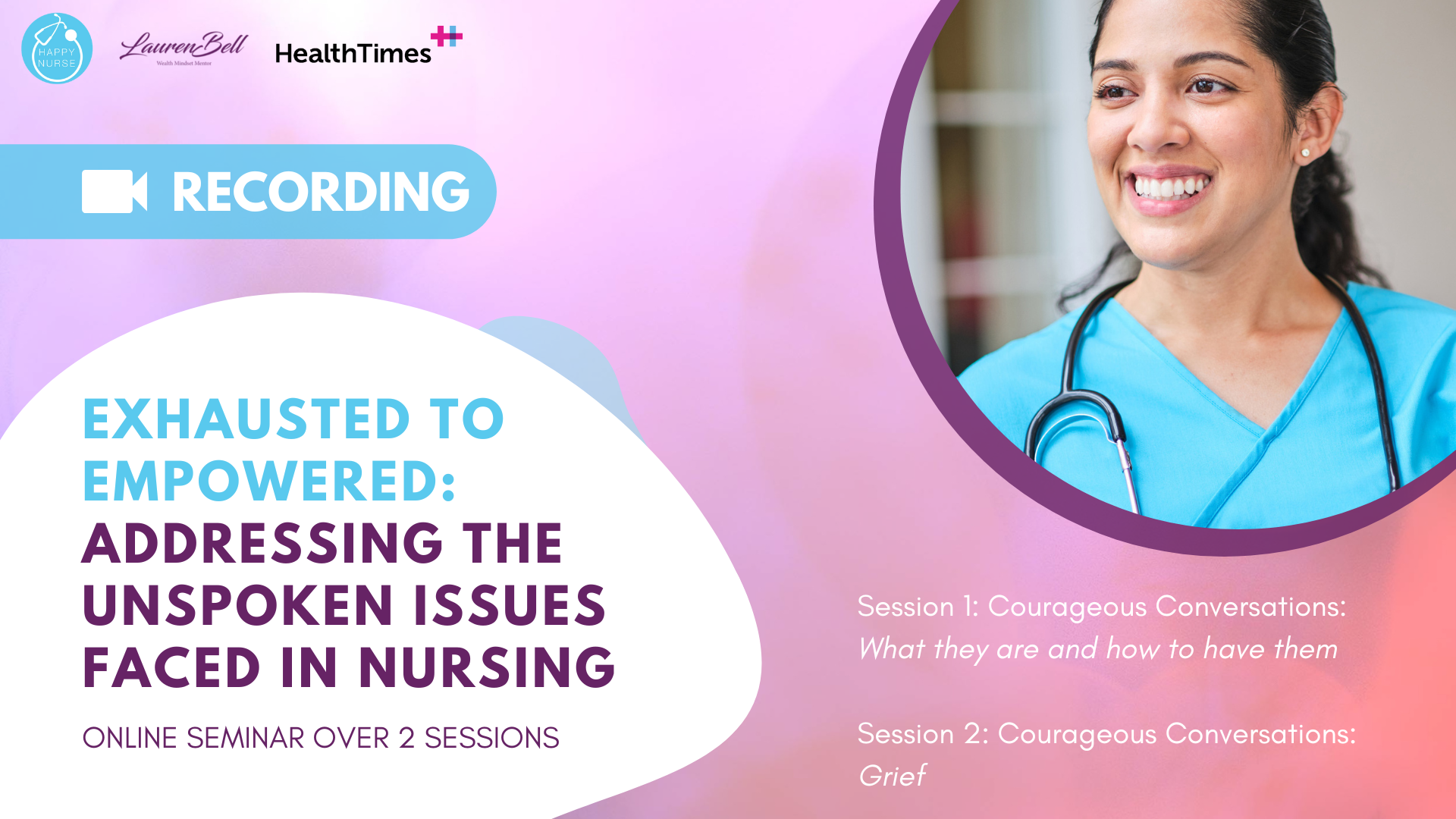 event description
Did you miss out on this event? You can still purchase tickets to the recordings!

Addressing the elephant in the room: throughout this seminar we will be shining the light and creating connection with compassionate conversations on the issues faced in nursing.
Let's start speaking about the classical and contemporary issues in nursing to cultivate consciousness and compassion for ourselves and our workplaces.
At this 2 session, experiential workshop you will:
Learn the underlying reasons why nurses are so at risk and gain a deeper understanding of factors contributing to exhaustion and burnout such as moral injury, compassion fatigue, grief and empathic distress

Recognise the real reasons why you feel compelled to fix and help others and why you are not being valued and respected for what you do.

Discover what courageous conversations are and how to have them

Learn how to value yourself and prioritise your self-care needs and desires

Create your own Happy Nurse Self-Care Plan

Feel empowered and confident to say 'No' and create healthy boundaries so you can have more time for yourself and your dreams

Learn the relevance, obstacles, sources and consequences of grief to reduce suffering and enhance your well-being.
Come away feeling calmer and happier with simple and effective tools you can use right away.
These recordings are split into 2 sessions:
Session 1 - Courageous Conversations: What they are and how to have them

Session 2 - Courageous Conversations: Grief
Location
Online - recording
tickets
CPD
presenters
Lauren Bell, RN, B.A.Sc.(Health Promotion), Grad. Cert. Clinical Nursing (Perianaesthetics), Grad. Dip. Counselling, Certified Tapping into Wealth Transformation Coach, EFT Practitioner, Certified BodyTalk Practitioner

For over 35 years, I've been a nurse, and there's much I have loved. But like so many, I worked long hours, taking on all the stress, not getting paid what I was worth and yet continually being asked to give more. Between juggling family, a partner, and being responsible for teams and others at work, I found myself at the bottom of my list.

I knew it was time to reach out for help.

Through coaching and evidence-based stress reduction tools I moved from burnout and blaming to soaring free. I was able to clear the blocks and barriers keeping me from my own inner source of strength, shifting me into a state of believing, unapologetically, in my own value and worth. I found myself happier, less stressed, more open to opportunities, and financially stable.

Now, I teach caring professionals my Soaring Free Method, empowering them to reach further than they ever have before, releasing stress and self-doubt, going from limitations and burnout to embracing wealth and wellness.

Burn Bright Don't Burnout.


Elaina Mullery, RN, Diploma in Mindfulness and Meditation, Certified hypnotherapist, Certified NLP Practitioner, Founder and Host of The Happy Nurse podcast

The founder of the Happy Nurse podcast, Elaina Mullery RN studied nursing at The Robert Gordon Unviersity in Aberdeen. She spent the first ten years of her career in Scotland before moving to Perth, Australia in 2010. Her clinical experience has been across a variety of settings.

Elaina has first-hand experience of stress and burnout. It was this experience during the early years of her career, which led her to develop a passion for personal development. The tools and skills she has learnt have helped her to develop self care tools and strategies that she now shared with nurses internationally.

In the UK over the past six years, one nurse per week has ended their life by suicide. These figures are very confronting and it is one of the reasons why Elaina has made it her mission to reduce burnout in nurses. As a profession, we are kind, compassionate and empathetic professionals whose role is to ensure our patients are receiving the care they require and to be their advocate as and when needed.

We often forget, though, to offer ourselves the same compassion that we so freely give to others. Burnout can creep up on us if we are not careful and we can find ourselves with empty cups and nothing left to give. Multiple studies have shown that mindfulness is an effective and useful tool in reduction of the impact of stress on healthcare professionals.

Elaina is on a mission to reduce anxiety and burnout in nursing. She does this by promoting self-compassion to her nursing colleagues via her coaching, podcast, media appearances and webinars. She is available for consultation in the corporate sector and is a highly sought-after speaker for nursing and medical seminars, where her direct and practical style strikes a chord with her strongly engaged audience.


Ally Nitschke

Ally Nitschke (pronounced N - ITCH - KEY), is known as a high performance leader and driven towards success, Ally is on a mission to teach people how to have Courageous Conversations and work with organisations to create Courageous Leaders.

As a mother of four boys under six, Ally can multitask like a boss. She's mastered the art of running a tight ship with military precision without compromising on creativity, collaboration and fun. Ally believes in doing 'life on purpose', and brings that philosophy into everything she does at work and at home.

Ally has been working as a leader, and with leaders for the last 15 years. With a background in arts, finance, change management and leadership, Ally is exceptional at connecting the dots and streamlining systems to ensure organisations and their people are ready for high performance!


Dr Ieleen Taylor, B.Sc, M.D., C.C.F.P

Born in the Fiji Islands, Ieleen Taylor wanted to be a "scientist" since she was 3. She grew up in Canada and is now an experienced and well loved Family Physician, Clinical Preceptor, and Speaker. She facilitates Wellness groups for Physicians and Health Professionals.

Having traversed through her own "dark night of the soul", she saw many of her colleagues silently suffering in similar situations. This drove her to become a champion for Physician Well-Being, building genuine community. Her dream is to help transform the culture of medicine - together.

You can find Ieleen curled up with books and her furry friends, wandering in nature, binging Netflix or skiing with her daughters.
Access to the recordings will be emailed to you once you have purchased a ticket.