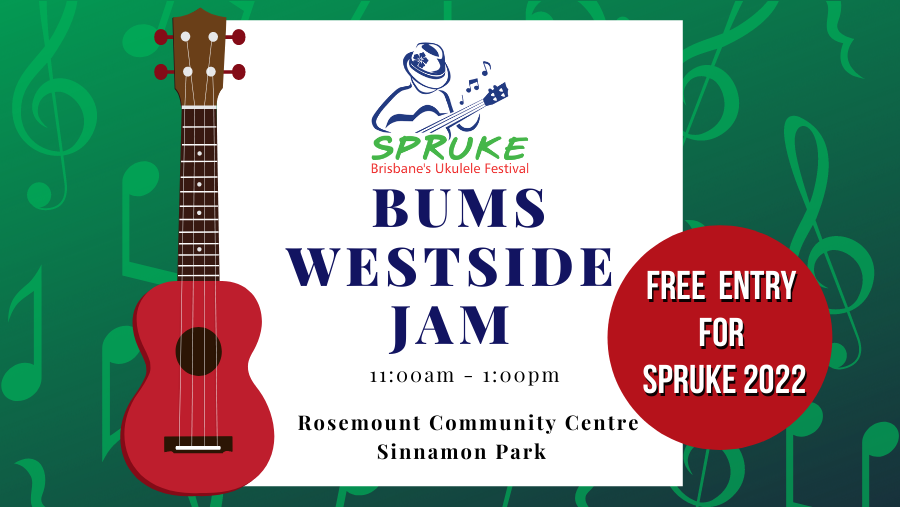 About
Here's your chance to experience all the fun of a BUMS ukulele jam. They are different to other music jams. Here at BUMS we have all the songs projected up onto a screen so there is no need to print anything, or bring music stands. Our set leaders are up the front on mics to lead you in the song. There's no pressure to know the songs, or expectations to lead, we welcome players of all ages and abilities- newbies to pro!
Join Sue and Peter Sercombe, with some special guests who'll be playing all the favoured songs from one of BUMS Inc most popular jams (expect anything from classics to current hit songs).
The Rosemount Community Centre has a great café, try their fabulous BUMS special a delicious freshly baked LARGE scones with and cream, and a tea or coffee for just $6.00. Café opens at 10 am for those who like to come early for a chat and morning tea before the jam, and of course lunches are available as well.
Nice conference room, and great aircon.
PARKING
There is no parking onsite, however there is parking on the street.
Access is by walking up next to the construction site in front of the new 7 story building. Entry to the building is via auto opening doors with the option of stairs or lift up one floor.
Places are limited. Book now!
Location
Rosemount Community Centre
620 Seventeen Mile Rocks Road, Sinnamon Park Queensland 4037