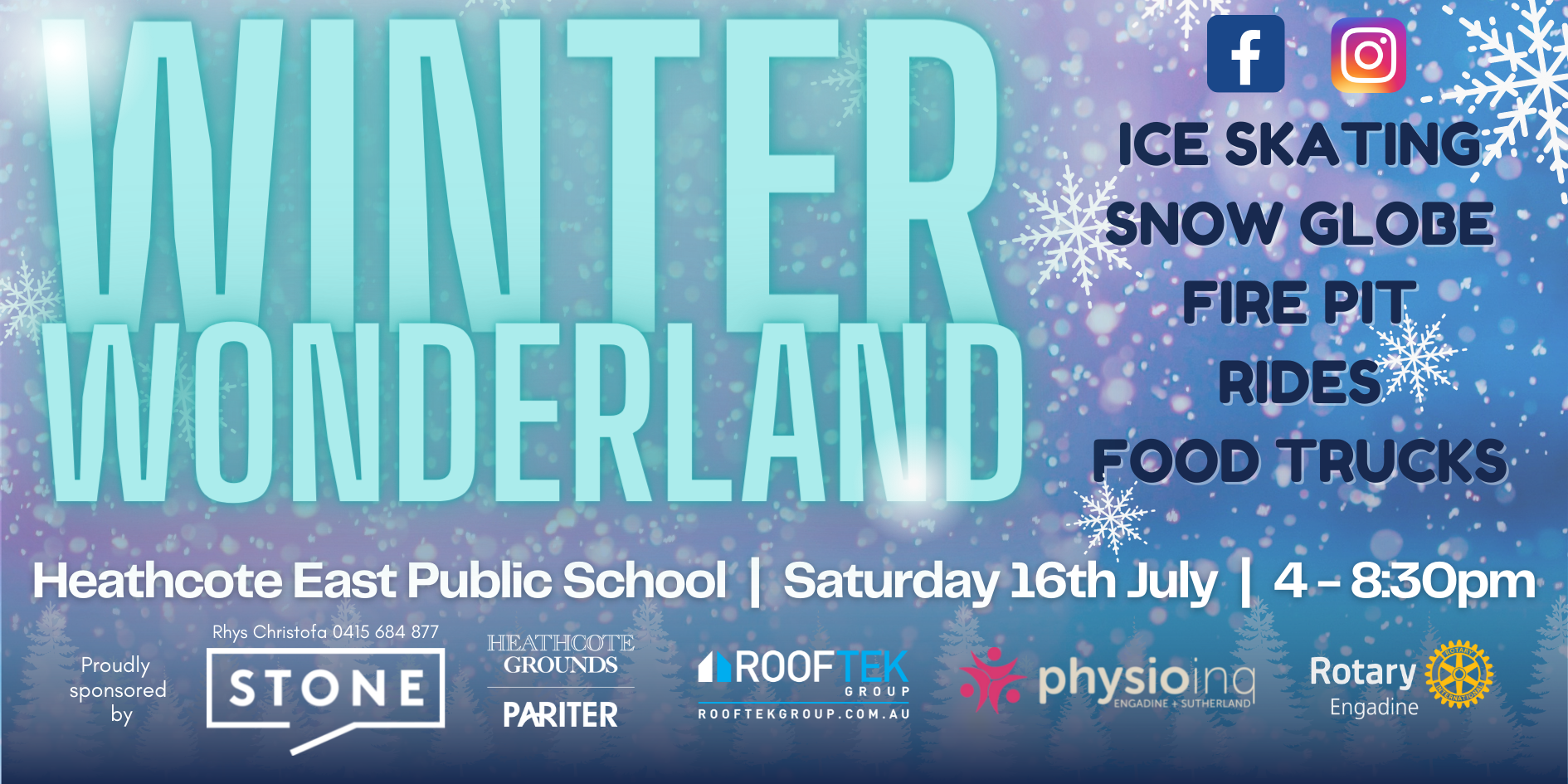 entry to the HEPS Winter wonderland is free and there are so many fun things to do!!
Our presale for wristbands has ended but you can still purchase wristbands at the event.
check out our facebook page for all the details here!
About
A spectacular Winter Wonderland will be lighting up Heathcote East PS on Saturday 16 July 2022. Discover a glowing Winter Wonderland with tunnels of light to walk through and over 150 Christmas trees. Create memories ice-skating and snapping a picture in our walk-in snow globe. Celebrate the wonders of winter with rides, games, snow machines, a light up fairy garden walk, bespoke walk-in igloo and more. Relax by the fire pit, enjoy delicious food and delight in being part of our community.
Location
Get directions
Heathcote East Public School
Mimosa Street, Heathcote NSW 2233
UNLIMITED RIDES WRISTBANDS
Your unlimited rides wristband includes all our rides, ice skating and laser tag for the duration of the event.
We will have a mobile synthetic ice rink. Your children will love the opportunity to learn to skate without the wet clothes and cold air. There are no age restrictions – if you can walk you can skate!
Our rides include a giant slide, windjammer and jumping castle. The slide and windjammer are best suited to those over 4 years old. Those under 4 can ride with an adult. The jumping castle suits ages 3 to adult.
We will also have an awesome laser tag battle ground. Challenge your friends in a round or three? We recommend a minimum age of 5 for laser tag.
Unlimited ride wristbands are available for $35 per person until Friday 15th July or $40 at the event. On the night individual ride passes will be available for $6 each and individual ice skating passes for $10.
WINTER WONDERLAND RAFFLE
As part of the Winter Wonderland event, we are holding a raffle that will be drawn on the night and features some amazing prizes for you to win. The raffle will be drawn at the event at 8pm. Winners will be contacted via phone if not present at the event.
Get your tickets here now or at the event. Tickets are $5 each or 3 for $10.
GETTING THERE!
The Winter Wonderland will be held at Heathcote East Public School at Mimosa St, Heathcote. Parking near the school is limited, so we recommend walking to the event if you live in East Heathcote. For those coming from further afield, it's a 20-minute walk from Heathcote train station or you may like to drop off your passengers at the school, ensuring kids have an adult with them, and find street parking in the surrounding streets. Please be considerate to local residents and do not block driveways. For your safety, please walk on the footpaths only and leave the road to the cars.
Entry to the event will be through the Mimosa Street gate only. There will be no access available through the upper Parklands Avenue gate. The staff car park will also be closed to the public and locked for the duration of the event.
For those who have pre-purchased ride wristbands these will be available to be picked up from the information booth upon your arrival. If you have purchased raffle tickets through TryBooking these will be printed for you and put in the barrel on your behalf. No need to do anything else but cross your fingers for a win! Good luck and we look forward to seeing you at our event!
WANT MORE INFO?
Check us out on Facebook and Instagram:
https://www.facebook.com/HEPSWinterWonderland
https://www.instagram.com/hepswinterwonderland/
ABOUT US!
Heathcote East Public School is a small school of roughly 110 students. We rely on community fundraisers to provide any additional resources for our students. Any funds raised from this event will be used for playground enhancements for the use of all school students, as well as our Outside School Hours and Vacation Care students, and the local playgroup. It is expected these enhancements will include the installation of a soft play surface for our basketball court and active playground markings. These enhancements will encourage students to be active and provide a safe environment for sport and play.