Sydney ConFesters October Long Weekend 2022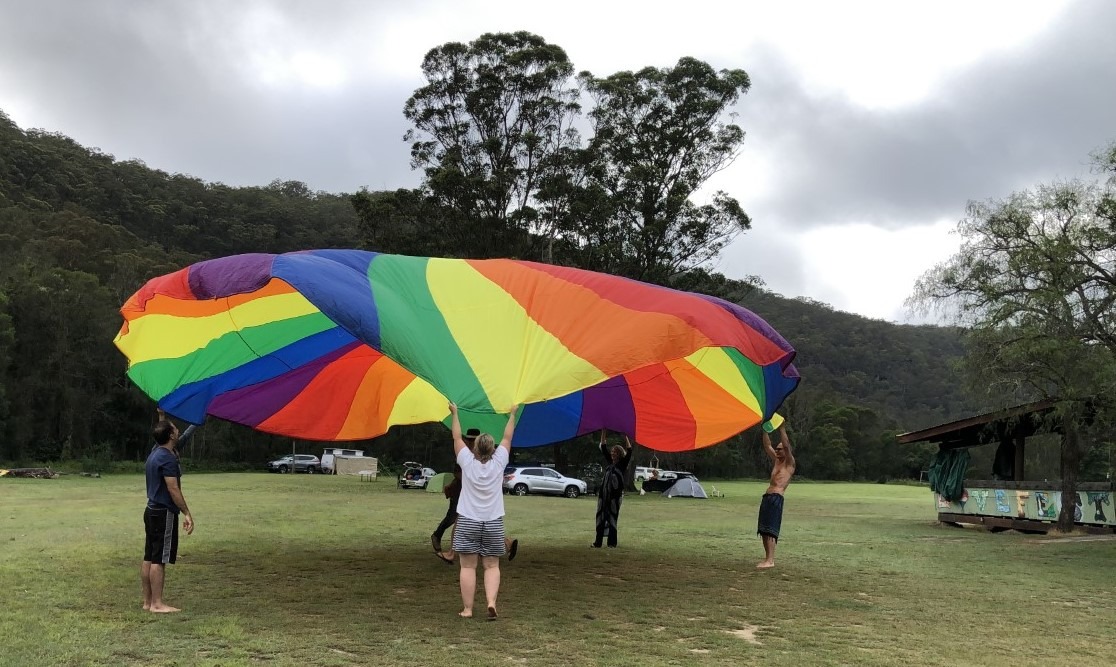 Sydney ConFesters gatherings are a living community of accepting people who gather together to celebrate life in nature and creativity, and to invent new ways of being in community that are healthy, safe, free and inclusive. This is a clothing option gathering.

SO WHAT USUALLY HAPPENS? Here's some examples of what's been co-created
• Welcome Circles
• Communal lunch & dinner meals created together from food we bring & share
• Communal Chai Tea
• Interesting, engaging conversations
• Drumming & dancing
• Nightly warm fires at the Fire Pit
• Soaking in the Hot Tub under the stars
• Dress up or down as you please, this is a clothing optional event.
• Workshops are created by you & me, some usual examples are;
• Art - Life drawing or dot painting
• Writing - journaling, morning pages, poetry
• Dancing or movement or hugging
• Yoga, acro and laughter yoga
• Self defence
• Music - Singing or Drumming
• Breathing, nutrition & wellness
Thinking of running a workshop? Post it on Facebook - it is a lovely, intimate way to share your knowledge and skills. Bring musical instruments - most nights we have drumming/music circle.
As a community we all participate in making them happen as we each offer a valuable and unique contribution towards the end result. Sydney ConFesters gatherings are about freedom of expression, responsibility and self-respect.
Although the organisers are endeavouring to make the environment as safe as practical, the bottom line is that everyone needs to take full responsibility for their own health and take their own precautions at all times to keep themselves safe
VENUE
The Outdoor Adventure Camps - Castle Mountain Site, Wisemans Ferry,256 Webbs Creek Rd, Webbs Creek NSW 2775
IMPORTANT: Set your GPS to accept Ferry Crossings

TIMES & DATES
9am Saturday, October 1st 2022 to 3pm Wednesday, October 5th 2022
TICKETS per adult (PA) (adult = 16 years and over)
Preferred option is online to allow us to prepare for the number of attendance,
online available until Thursday 29/09/2022 3pm.
Early bird be $120 (PA). Early bird pricing sets up the funding for the event. Early bird price is restricted to the first 40 people (simply apply Earlybird at the check-out)

Online ticket $140 (PA) after early birds sold out

$5 pp between 6 to 15 years

$1 pp 5 years or under

Gate ticket $150 per adult (PA) after 29 September (cash only)

$50 for a day visitor - purchase online and come for any one day must leave site by 8pm 

REFUND Policy - Entry ticket refundable minus $10 admin fee if you can't attend and provided you send your request by 26/09/2022.   
  FRONT GATE DOES NOT HAVE EFTPOS
NOTE: Mandatory COVID NSW Government restrictions / advice will be followed.
FOOD
To make yummy, vegetarian lunch & dinner meals together for the community - we rely on you to bring food to donate to our kitchen, particularly fruit and vegetablesVOLUNTEERS
• A condition of your ticket is to donate 2 hours to volunteering
• No discounts or free tickets for volunteering, even our hard-working committee pays for their ticket
• Without kitchen volunteers -there can't be communal meals
ESSENTIALS TO BRING CHECKLIST
1. Camping/sleeping gear, torch, Chair, water bottle,
2. Food for communal kitchen & meals e.g. Vegetables, Fruit mostly needed,
3. Your own breakfest (no communal facilities) plus snacks and whatever else you want to eat or drink,
4. Plate/Bowl, Cup/Glass & Cutlery,
5. Hat and Sunscreen,
6. Insect Repellent,
7. Positive expectation of connecting with others in a welcoming community
Setup starts on Saturday 1st October at 8am, please assist us with the pack-up on Wednesday afternoon.
LEAVE NO TRACE - please take all your rubbish back home
CONDITIONS In accordance with site hire conditions & our community focus we request you to adhere to the following:
NO PUBLIC ACCESS, this is a private event on a private property - ticket holders only
NO Glass or Bottles (Site Owner hire condition

except for kitchen/meals)

This is an ALCOHOL & DRUG FREE EVENT

No pets permitted

NO nuts , Children with severe allergic reaction camp at this site
NO individual camp fires - use fire pit only

DO NOT access site's buildings or outdoor adventure activity equipment

Take your rubbish & kitchen surplus home with you

If you get COVID symptoms and/or test positive you must leave immediately to keep the community safe

No cars to move across site after dark, to keep everyone safe, especially children

If you go outside our gathering mapped area e.g bushwalking / swimming you do so at your own risk

Be completely packed up and leave the site before 3pm on Wednesday 5th October

Abide by our Code Of Conduct, (

Click here for our Code Of Conduct

) . We will have it available also at the Front Gate & be sent in a Welcome Email.
If you wish to know more about Sydney Confesters go to our website or email below
www.sydneyconfesters.com.au
sydneyconfesters2@gmail.com
Look forward to seeing you there and thank you for your participation in making this a fantastic gathering.

***************************************
Location
The Outdoor Adventure Camps - Castle Mountain Site, Wisemans Ferry
256 Webbs Creek Rd, Webbs Creek NSW 2775