Warrnambool Close Quarter Combat Seminar (CANCELLED)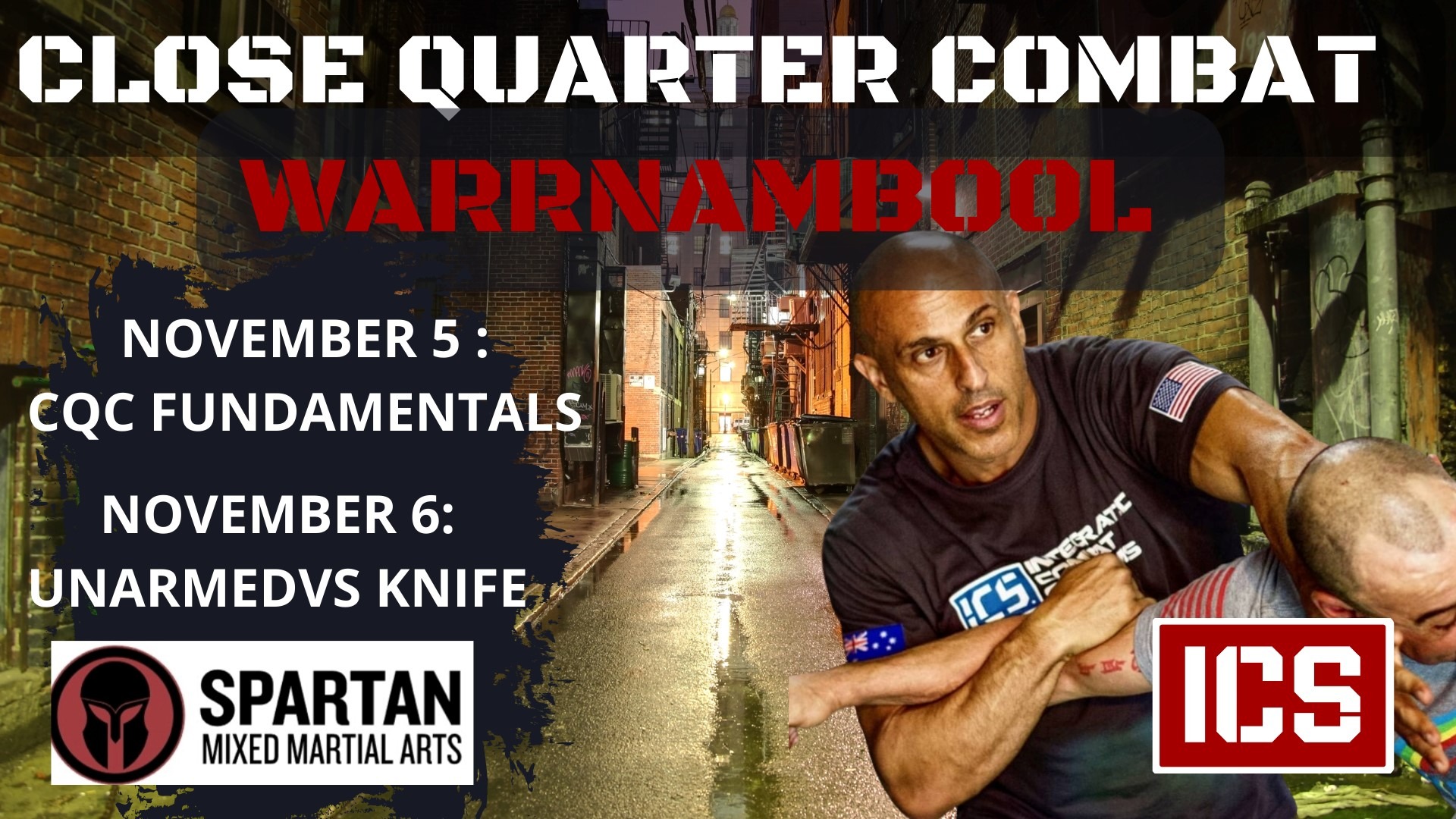 About
CQC FUNDAMENTALS COURSE
15% Early Bird discount extended until October 22nd. Buy a ticket for one or two days BRING A FRIEND FREE (Share the cost with a friend)
This course is open to all levels, people can attend either day or both. In this course you will learn tactics and strategies for dealing with a physical assault. This course is a great introduction into CQC for beginners, but also great for experienced people wanting to refresh their knowledge of fundamental skills. Most of all, the training is fun and conducted in a safe controlled environment.
What you'll learn:
- Effective striking
- How to survive being jumped.
- How to deal with being punched.
- How to counter common holds.
- What to do if you are attacked on the ground.
-Combative street Takedowns
- Developing a street mindset, and more
UNARMED VS KNIFE
What would you do if an angry attacker pulled out a knife?
How would you take it off them, or at least protect your vital areas from the blade?
When a knife is involved, your chances of being killed within the first few seconds of the attack increase dramatically.
Close Quarter Combat teaches you how to not only defend against a knife attack, but also disarm. With proven techniques from all over the world, you can develop the skills to survive even the most dangerous situations.
What you'll learn:
- Early detection/intercepting a knife draw.
- Dodge /evasion.
- Escaping to Safety
- Improvised Weapons
- Exploiting an attackers weaknesses .
- Effective striking.
- Controlling the weapon bearing limb with grappling
- Strategies dealing with being held at knife point
Both courses are taught by world renown CQC instructor Peter Sciarra. With over 30 years experience, he has taught civilians, law enforcement and military in 15 different countries. https://icscqc.com/
'Peter is one of the best self defence instructors in the world'
Andrew Holland
Theselfdenceexpert.com
'Integrated Combat Systems opened my mind up to a whole another world '
Michael Guymon, UFC & Bellator veteran
Close Quarter Combat Seminar with World renown instructor Peter Sciarra.
Day 1 CQC Funamentals. Day 2 Unarmed v's knife. $180 for one day or $300 for two days.
Early bird special, 15% discount if you book and pay before October 1st 2022.
Information contact: Sarah Irving 0422 677 713
Location
Get directions
Spartan MMA Warrnambool
153 Timor Street Warrnambool, Warrnambool Victoria 3280