Online sales close at 3:00pm on the day of screening. Door sales ( if seats remain available) commence in the foyer 60 mins prior to film time.
Unseen Cinema -THE QUIET GIRL (M) Ireland 94min (SOLD OUT)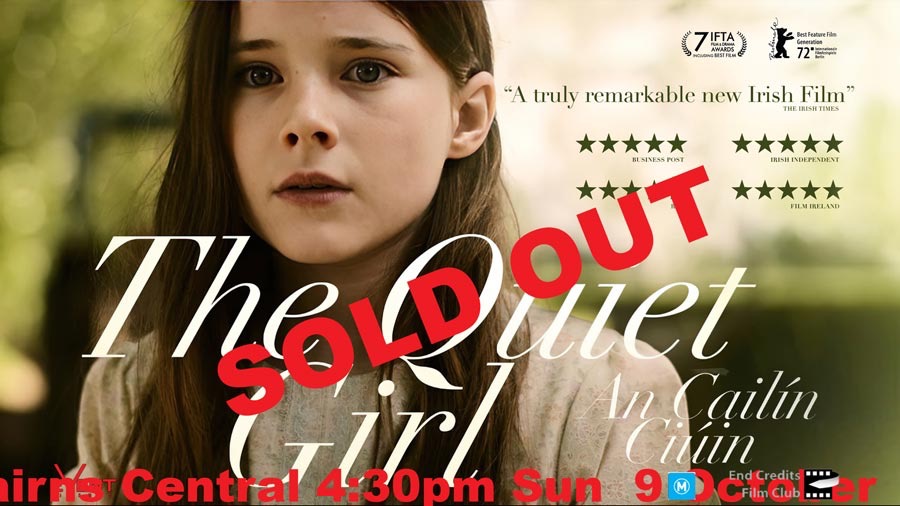 Rural Ireland, 1981. A quiet, neglected girl is sent away from her overcrowded, dysfunctional family to live with foster parents for the summer. She blossoms in their care, but in this house where there are meant to be no secrets, she discovers one painful truth. Based on the renowned story Foster by Claire Keegan.

Colm Bairéad's remarkable debut is invested with meaning, lyricism and life. The images sing but they also breathe. - New Statesman.

Oh my goodness, The Quiet Girl is a truly beautiful and deeply moving work of cinematic wonder. - The Mail On Sunday UK.

It is a jewel. - The Guardian

One of the most exquisitely realised films of the year. - The Observer UK.

One of the most beautiful movies I've ever seen. It is impossibly small, and emotionally immense, full of the most bittersweet of pathos that the coming-of-age genre offers. A treasure, and a gift. - MaryAnn Johanson - Flick Filosopher

In Gaelic - English subtitles.
Location
Event Cinemas Cairns Central
Cairns Central Shopping Centre, Cairns Queensland 4870
Contact Details