Through The Dark Door - Halloween Night Tours 2022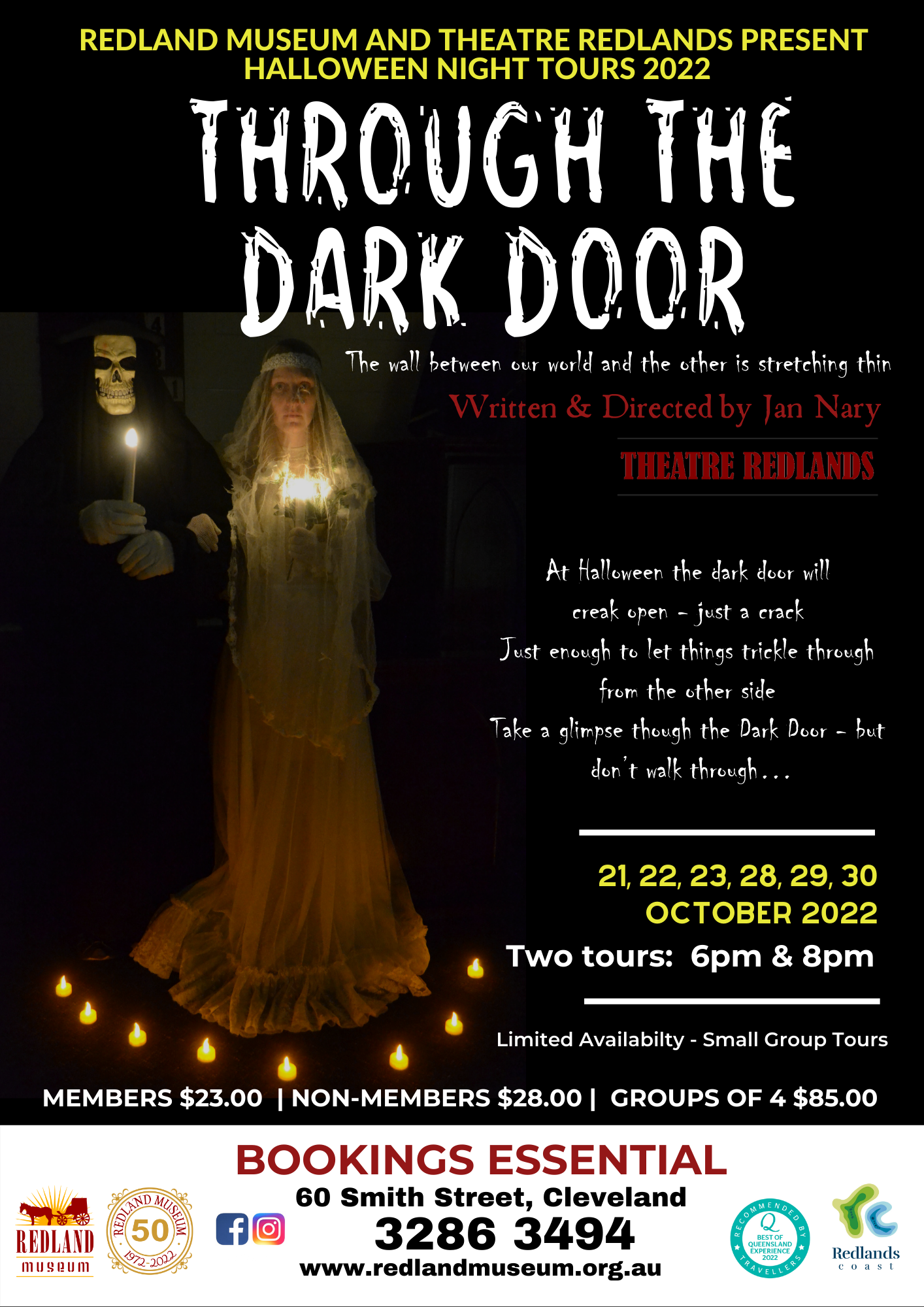 At Halloween the dark door will creak open - just a crack Just enough to let things trickle through from the other side. Take a glimpse though the Dark Door - but don't walk through…
THROUGH THE DARK DOOR …
Do you hear the ticking of the clock and the pages of the calendar rustling down? Do you sense the changes in the air? Have you felt an almost imperceptible shift in the world?
Time is passing unseen, the wall between this world and the next is stretching thin and soon the dark door will creak open… just a crack, just enough to let things trickle through from the hidden space beyond, trickle through into the world we know. Things that will stand silently behind you, just a chill breath on your cheek, a whisper of silence into your ear and a sense of something there…something…
At Hallowe'en memories and stories get mixed in a dark stream of awareness and seep out in the strangest places. If you're brave enough, join Theatre Redlands for a stroll around Redland Museum at the witching time of the year. Reacquaint yourself with Death – and live to tell the tale. Remember Death? The one that carries a cutty-scythey-reapy thingy and has a quirky sense of humour? You'll meet him – eventually.
Revisit the Dentist and meet some of his toothier clients –oh, and bring a clove of garlic for your own protection – and perhaps a suit of armour. Learn a little of life in the grave – you thought that there were only dead things down there, didn't you? Discover what happens after the axe sweeps down and the head rolls...
Take a glimpse though the Dark Door – but don't walk through. We can't be held responsible if you do. Don't bring the kiddies.
Friday 21st October | Saturday 22nd October | Sunday 23rd October
Friday 28th October | Saturday 29th October | Sunday 30th October 2022
2 Tours each night - 6pm & 8pm - limited to 25 people per tour
Location
Redland Museum
60 Smith Street, Cleveland QLD 4163
Contact Details