i3net - 10th Illawarra Industry Showcase 2022 - Dinner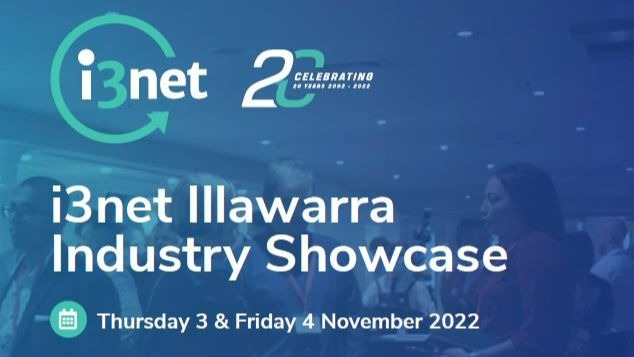 We are pleased to invite you to register to attend the 10th Illawarra Industry Showcase Dinner.
The Dinner features excellent networking opportunities, three industry panels, plus expo and celebration of i3net's 20th year anniversary.
Showcase Dinner
Thursday 3rd November 2022
5.30pm to 10:30pm.
Highlights:
Hear from three expert industry panels
A whole evening to network with showcase delegates
Visit the showcase expo
Enjoy a delicious dinner with drinks.
Ticket price: Special event price for i3net members, corporate partners or event sponsors: $130+GST.
$250+GST for guests.
Venue: The beautiful Novotel Northbeach. Located at 2-14 Cliff Road, North Wollongong, NSW, 2520.
We look forward to seeing you at this great event.
Event contact:
Michelle Christodoulou, Manager i3net. Phone 0439 625 620 or email i3net@i3net.com.au
Bianca Perry, Chief Executive Officer, i3net. Phone 0401 030 023 or email i3net@i3net.com.au
net