i3net - 10th Illawarra Industry Showcase 2022 - Breakfast (SOLD OUT)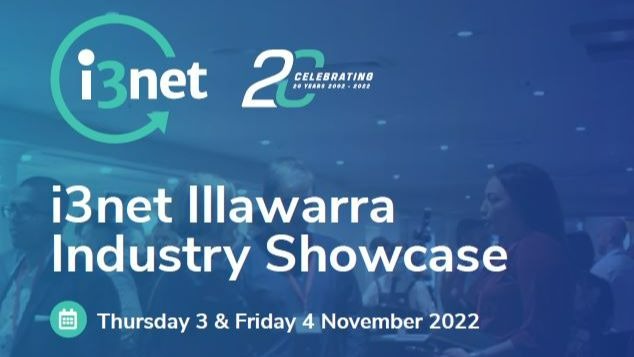 The Illawarra Innovative Industry Network, i3net, is pleased to invite you to register to attend the 10th Illawarra Industry Showcase Breakfast.
The Breakfast features:
Presentation
NEW! Speed networking session with Showcase Delegates
Showcase Expo.
Date: Friday 4th November 2022.
Time: 7:30am till 10:30am
Ticket price: $90+GST for members and partners. $200+GST for guests.
Venue: The beautiful Novotel Northbeach. Located at 2-14 Cliff Road, North Wollongong, NSW, 2520.
We look forward to seeing you at this great event.
Event contact:
Michelle Christodoulou, Manager i3net. Phone 0439 625 620 or email i3net@i3net.com.au
Bianca Perry, Chief Executive Officer, i3net. Phone 0401 030 023 or email i3net@i3net.com.au
"The views expressed herein are not necessarily the views of the Commonwealth of Australia, and the Commonwealth of Australia does not accept responsibility for any information or advice contained herein."