CCL: Virtue in an age of virtue signalling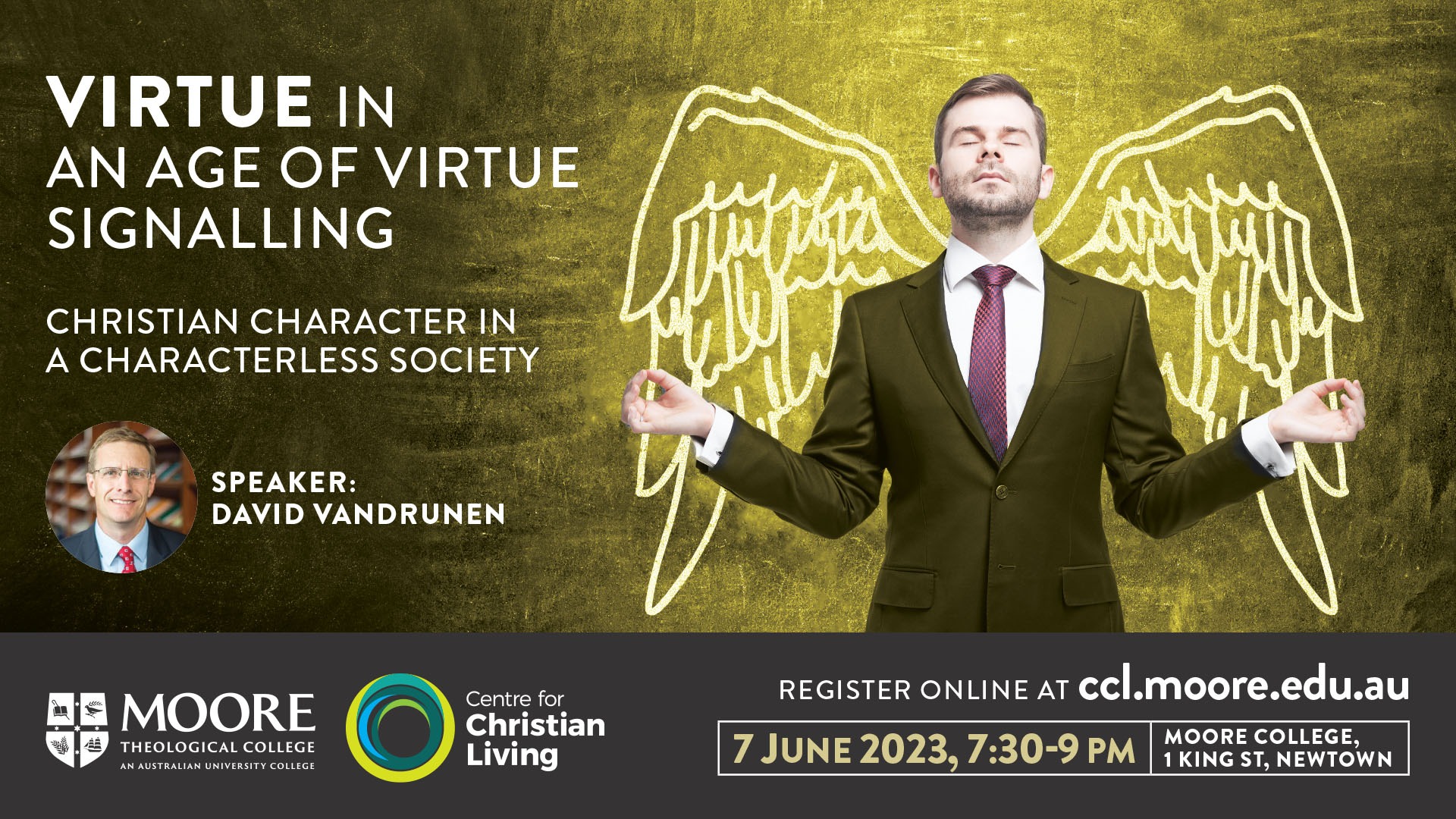 When?
Wednesday, 7 June 2023. Talks and Q&A: 7:30-9:00pm; supper for in-person attendees: 9:00-9:30pm (GMT +10 Australian Eastern Standard Time).
If you can't tune in on the night, the event will be recorded, and everyone who has registered will have access to rewatch the video almost immediately after the event's conclusion.
Where?
In person in Marcus Loane Hall, Moore Theological College, 1 King St, Newtown.
Via livestream (URL supplied upon registration).
Cost
FREE.
Please consider making a donation to the Centre for Christian Living. The Centre is a not-for-profit organisation. By supporting us, you'll be helping us to continue producing resources like our podcast and publications to help Christians all over the world continue to try to live well as Christian disciples.
Please note: gifts $2 and over are tax deductible. If you require a receipt, please select 'Yes' at the relevant question.
Please also note that once made, donations CANNOT be refunded.
All event attendees agree to the storage and use of their information in accordance with the Moore College Privacy Policy and use of photography/video footage in accordance with the Moore College Information Release Statement.
About
His divine power has granted to us all things that pertain to life and godliness, through the knowledge of him who called us to his own glory and excellence, by which he has granted to us his precious and very great promises, so that through them you may become partakers of the divine nature, having escaped from the corruption that is in the world because of sinful desire. For this very reason, make every effort to supplement your faith with virtue, and virtue with knowledge, and knowledge with self-control, and self-control with steadfastness, and steadfastness with godliness, and godliness with brotherly affection, and brotherly affection with love. For if these qualities are yours and are increasing, they keep you from being ineffective or unfruitful in the knowledge of our Lord Jesus Christ. (2 Peter 1:3-8 ESV)
In the information age and with the advent of cancel culture, public morality has taken an interesting turn: virtue is signalled by what we approve or cancel publicly. The deep irony is that this virtue signalling is, most often, not backed by true virtue—for example, in the fierce and cutting remarks commonly found on social media. The danger for Christians is following culture and becoming no better than whitewashed tombs (Matt 23:27). This is why, at this cultural moment, it is all the more pertinent for Christians to cultivate true virtue.
However, what do we mean by virtue? How do we acquire it? What's the difference between a virtue and a vice, and how do we live out our calling as Christians without falling into the error of virtue signalling? Join us as Professor David VanDrunen of Westminster Seminary in California reflects on the importance of Christian character today.
About our speaker
David VanDrunen is the Robert B Strimple Professor of Systematic Theology and Christian Ethics at Westminster Seminary California.
Location
Moore Theological College
1 King St, Newtown, Newtown NSW 2042
Contact Details
Centre for Christian Living
Moore Theological College
1 King St
NEWTOWN NSW 2042
Australia