NIIM 4th ANNUAL SYMPOSIUM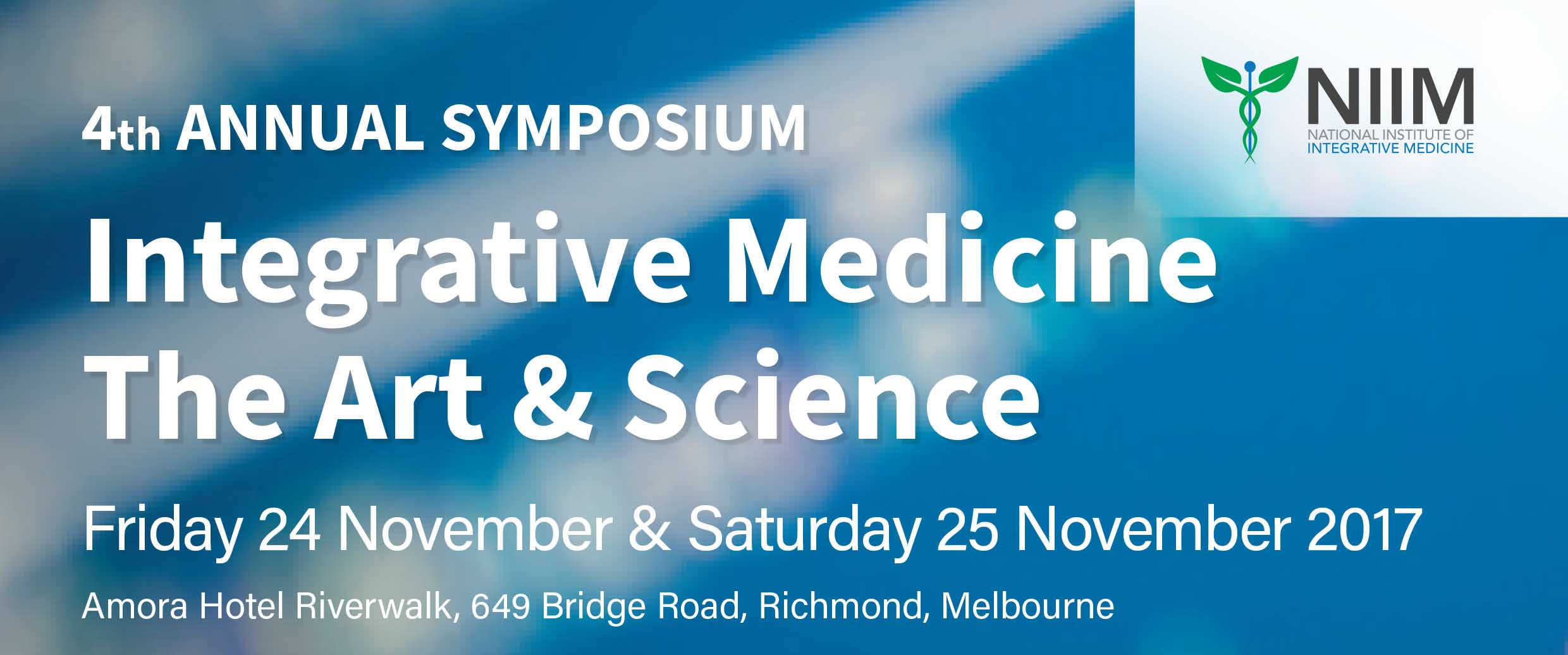 We extend a warm invitation to join us...
Please join us for an exciting program with over 20 International and Australian speakers who will present the latest evidence-based research, therapies, treatments and innovative technologies. Our highly qualified and experienced speakers will review the diverse challenges and opportunities facing various streams of Integrative Medicine.
Update your skills and knowlege at this supportive and vibrant event!
INTERNATIONAL SPEAKERS:
Dr Ioannis Papasotiriou (Greece), Prof Omer Kucuk (USA), Dr Tim Ewer (New Zealand)
AUSTRALIAN SPEAKERS CONFIRMED TO DATE:
Dr Michelle Woolhouse, Dr David Wilkinson, Dr Mark Westaway, Dr John Walters, Prof Luis Vitetta, Prof Andrew Sinclair, Prof Richard Silberstein, Prov Avni Sali AM, A/Prof Karin Ried, Gerald Quigley, A/Prof Kylie O'Brien, Prof John Munro, Dr Kevin Lee, Diana Kopatsy, Dr Ian Dettman, Vanita Dahia, Dr Valerie Cole
PROGRAM INCLUDES:
KEYNOTE LECTURES

INTERACTIVE WORKSHOPS

PANEL DISCUSSIONS

SCIENTIFIC ABSTRACTS

Q&A SESSIONS

A WIDE RANGE OF TOPICS INCLUDING:
Integrative Approaches to Healthcare

ASD - Clinical/Education Issues & Developmental Delays in Children

Autoimmune & Allergies

Brain Health

Cancer

Chronic Diseases

Diabetes & Obesity

Environmental Medicine

Genetics

Gut Health

Inflammation

Microbiome

Nutrition

Women's Health
....and much more!
Venue:
Amora Hotel Riverwalk
649 Bridge Road, Richmond, Melbourne
Enquiries to the NIIM Events Team:
E events@niim.com.au
T Anna 03 9912 9542