Great Alpine Arts Trail 2018
Natural Dyeing Workshop
BOOKED OUT.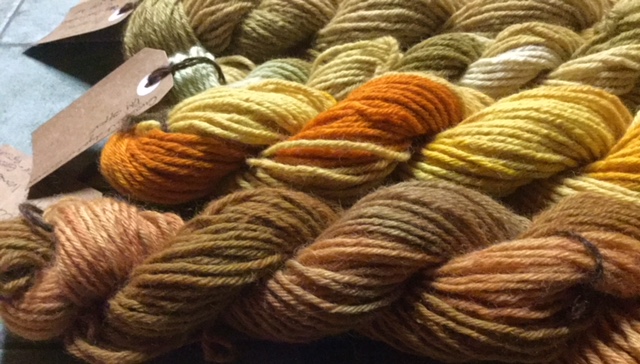 Eco Colour from your own backyard.
Discover the tantalizing world of hidden colour waiting to be unlocked, in the plants around you. Learn how to obtain yellow through to orange and then red with Eucalyptus leaves, adjusting the colours after dyeing to discover greens and browns with post mordants. We will also look at other plants on the day, including a brief look at Australian Native Indigo. Get ready for a fun packed day. This workshop is for people who want to eco colour their yarns or fibres for spinning, knitting, crochet, tapestry or weaving. We will be discussing different methods of extracting dyes. Pre and post mordants, what they are and how to use them. Then we will get hands on experience with dyeing yarn. Participants will go home with samples of their dyeing, plus teaching notes to help them remember what was covered on the day.
When: Saturday May 5, 2018, 10am - 3.30pm
Where: 3730 Great Alpine Road, Tambo Crossing (directions given before workshop)
Cost: $50
Bookings: Book now
Cath Rayment is obsessed with Natural dyeing and all things fibre!
I started my journey into the fibre world with an instant love of wet felting, boot making in particular. After exploring the art of making cosy footwear I discovered spinning. I am as obsessed with spinning as I am with all things fibre, including Natural Dyeing. I have spun yarn from Alpacas, sheep/wool, Samoyd Dog hair, Angora Goats (mohair), rabbits (Angora Yarn) – anything I can get my hands on really. I love colour and avoided Natural Dyeing as I felt the colours were too weak for my tastes. I didn't realise half the fun was the 'discovery of secrets' and I also hadn't yet seen colours that enchanted me. Now that I am conversant with methods that enable me to get colours I like, there is no stopping me. I love this journey I am on and hope to impart some of my enthusiasm to others.
Tea and Coffee provided.
The VIEW is free! Yes, we're on top of a mountain and it's worth coming just for the view!
Participants will be provided with the following: • Latex gloves • All dye equipment • All dye material and mordants • Yarn samples • Notes • A range of Dye books to look at on the day – for your enjoyment.
Participants need to bring: • BYO lunch and a treat for morning/afternoon tea to share. • Aprons • Comfortable shoes • Warm clothes
DESCRIPTION]
Location
Great Alpine Road
Tambo Crossing Victoria