2021 Mueller OSHC Fun Run (CANCELLED)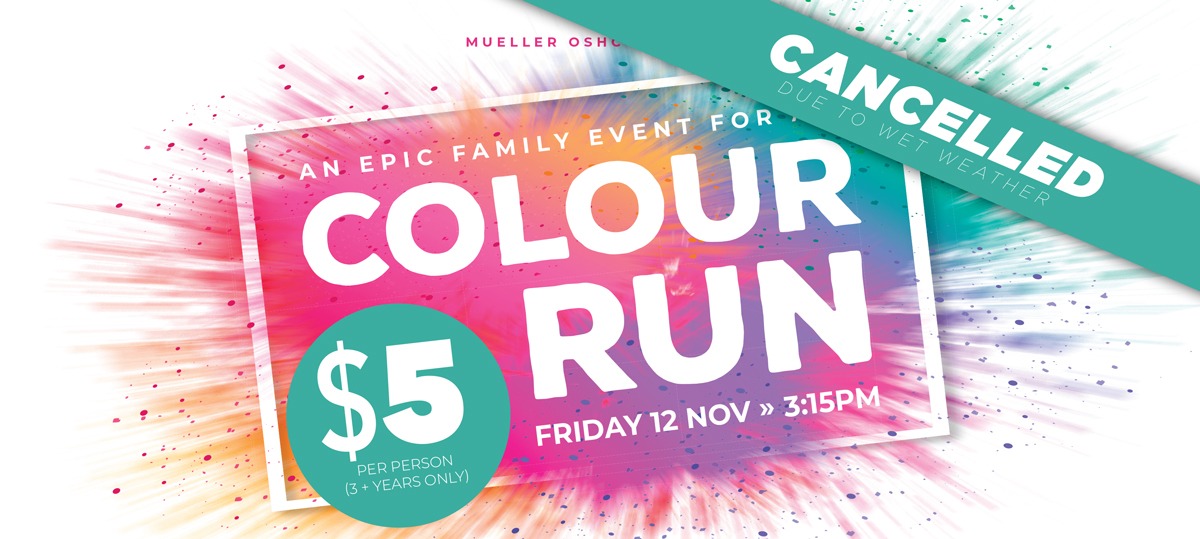 The Mueller College OSHC fun run is a run through various obstacles finishing with a colour chalk explosion. It is available to all people aged 3 to 103. At the end of the course we will have a sausage sizzle, cold drinks & snacks for sale as well as music and a photo booth to grab shots of the finished product. It is recommended you wear white or light colours to get the best effect. Registration opens 30 min prior to your start time, outside the Lacey Sports Centre.
Registration is outside the Mueller College Lacey Sports Centre near the Secondary oval, and opens 30 min prior to your start time.
Terms:
Covid: must sign in with QR code at registration
No shoes to be worn on inflatables, socks or bare feet only
Wear a white shirt for the full colour experience
By registering you agree that all runners participate at their own risk
Age (must be over 3) to participate and over 18 to register. All participants under 18 must be accompanied to the event by an adult (they do not have to run) and are the responsibility of that adult throughout the event.
The ticket allows one run through the course only. Once participants have gone through the colour powder they will not be permitted on the inflatables.
Starts will be staggered to avoid congestion on inflatables. Run times will not be recorded.
Location
Mueller Lacey Sports Centre
75 Morris Road, Rothwell, Brisbane Queensland 4022
Contact Details