CCL: Commanding the heart: Deception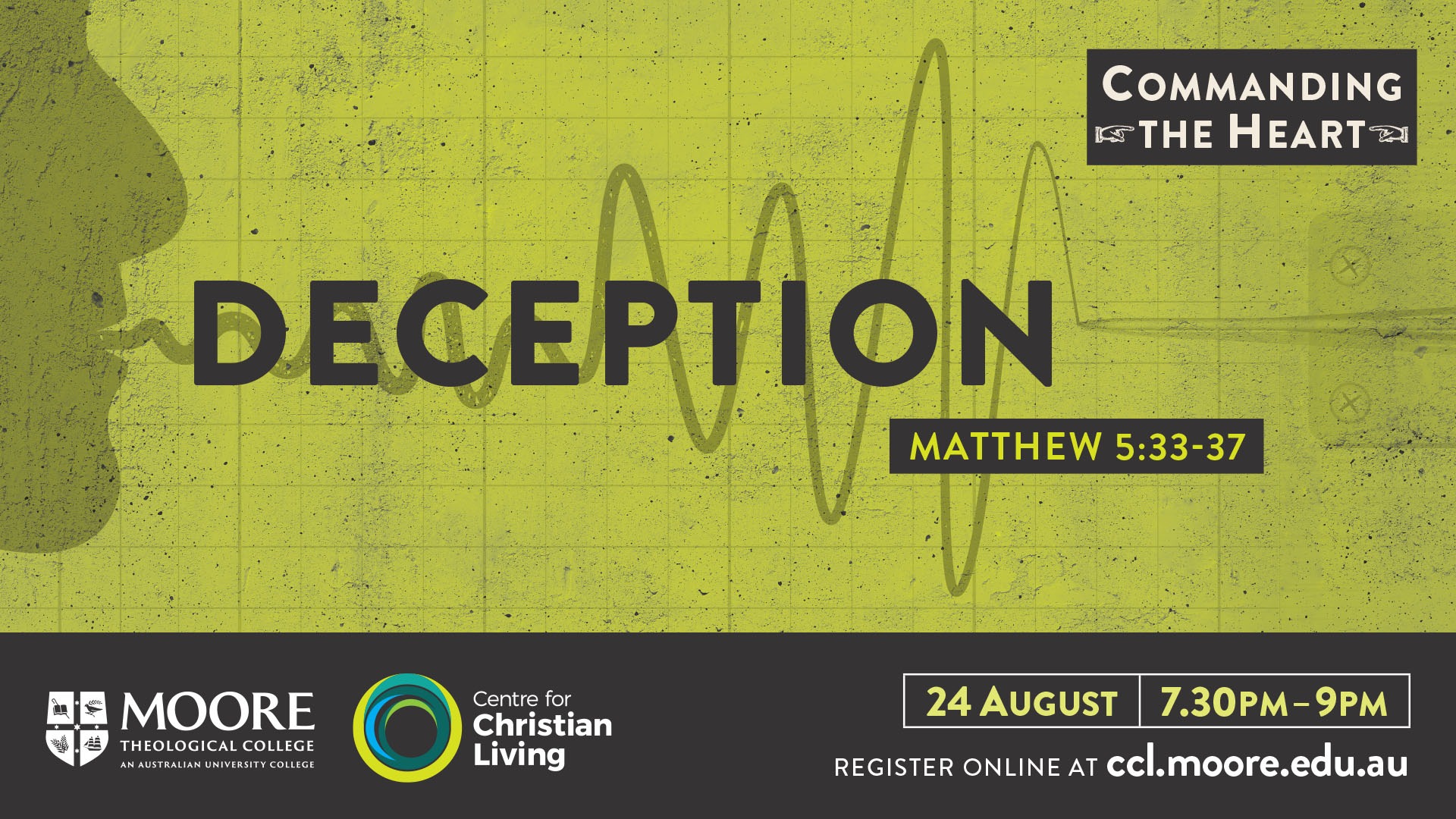 When?
Wednesday 24 August, 2022. Talks and Q&A: 7:30-9:00pm; supper for in-person attendees: 9:00-9:30pm (GMT +10 Australian Eastern Standard Time).
If you can't tune in on the night, the event will be recorded, and everyone who has registered will have access to rewatch the video almost immediately after the event's conclusion.
Where?
In person in Marcus Loane Hall, Moore Theological College, 1 King St, Newtown.
Via livestream (URL supplied upon registration).
Cost
In person tickets: earlybird: $15 ($20 after 17 August).

Please note: bookings for in-person tickets close 3pm Wednesday 24 August, but tickets will be available at the door for $20.

Household licence (livestream): $10.
Groups/churches licence (livestream): $60. (Please note: Under this licence, all members of the group may livestream the event from wherever they are.)
All event attendees agree to the storage and use of their information in accordance with the Moore College Privacy Policy and use of photography/video footage in accordance with the Moore College Information Release Statement.
About
"Again you have heard that it was said to those of old, 'You shall not swear falsely, but shall perform to the Lord what you have sworn.' But I say to you, Do not take an oath at all, either by heaven, for it is the throne of God, or by the earth, for it is his footstool, or by Jerusalem, for it is the city of the great King. And do not take an oath by your head, for you cannot make one hair white or black. Let what you say be simply 'Yes' or 'No'; anything more than this comes from evil."

(Matt 5:33-37 ESV)
Integrity seems almost mythical in our current culture. Suspicion runs deep—largely because of a history of lying and deception. At some points, our culture celebrates this sort of slight in order to gain the upper hand. This problem isn't novel; we may use a variety of "guarantees" to back up our words—for example, "I swear …", "On my mother's grave …", and so on. But often we fail to be people of our word.
However, Jesus says that Kingdom living leaves no room for deception. As recipients of the truth, disciples must live a life of truth. Join us as Dr Tony Payne leads us to discover discipleship without deception.
About our speaker
Tony Payne is the writer in residence and staff trainer at Campus Bible Study, a ministry of the Anglican Chaplaincy of the University of New South Wales, affiliated with the Australian Fellowship of Evangelical Students (AFES). He is also the former director of the Centre for Christian Living.
Hear Tony talk about the event:
Location
Moore Theological College
1 King St, Newtown, Newtown NSW 2042
Contact Details
Centre for Christian Living
Moore Theological College
1 King St
NEWTOWN NSW 2042
Australia