TryBooking Scanning Options
Scanning options for every type of event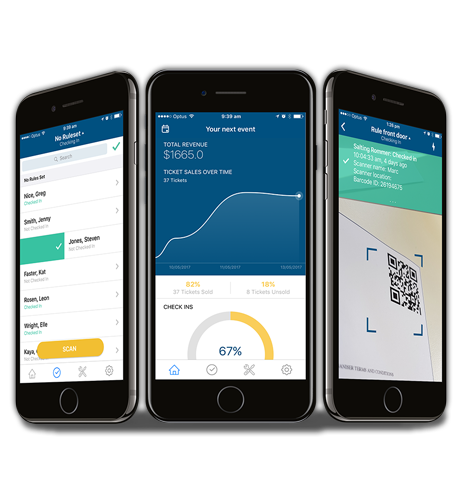 SMALL TO MEDIUM EVENTS: TRYBOOKING SCANNING APP
The best way to check in your guests
Manage entries to your event seamlessly with the TryBooking Scanning App. Scan people in at the door to ensure the queues move quickly, and stay on top of your sales with a real-time dashboard.
Features include:
Real-time sales dashboard with number of tickets sold and revenue.
Easily scan QR codes on paper and mobile tickets.
Track scanning at multiple doors/gates.
Offline mode available.
Enable or disable scanners.
Setup advanced rules to control scanning.
Manual check-in and attendee search.
Volunteer mode, with data access controls.
For more information, click here.
Event organisers who sell tickets online with TryBooking can download this app for free on the Apple App Store or Google Play Store.
MULTI-DAY FESTIVALS: RFID
Ideal for multi-day festivals
The RFID system uses radio frequency technology to scan wristbands without stress.
The RFID chip inside the wristband is read when placed within close proximity to the pod.
Patrons wearing their wristband simply hold their wrist up to the case as they walk through, and a light and beep signals to event staff if the wristband is valid.
TryBooking's RFID scanners are faster and easier to use than mobile phone RFID scanning.
They are ideal for check-ins and pass outs during multi-day festivals.
RFID hire options are available through TryBooking.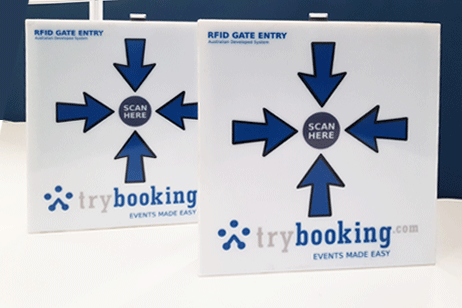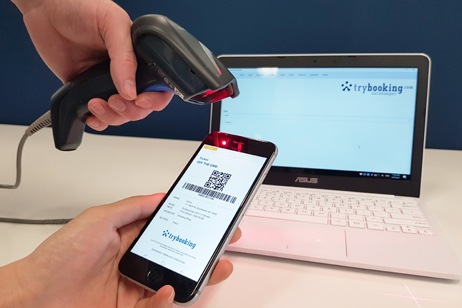 LARGE-SCALE EVENTS: GATEKEEPER
A perfect scanning experience for larger or regional events
Gatekeeper is TryBooking's custom-built application for quickly and easily checking tickets upon entry.
We understand that you will not always have an internet connection, so Gatekeeper's smart system doesn't require the internet to run.
Use Gatekeeper to validate that tickets are for the correct event and aren't duplicated. Scan or look up the person who booked the ticket.
Network locally if you need to connect multiple scanning points.
Review throughput velocity, accuracy of scanning, types of tickets scanned across the total events or by location/person.
The software can be downloaded for free from this website and installed onto a PC, Mac or Linux machine.
We also offer hire options for scanning equipment.
For multi-day festivals, you can also use RFID technology as an option.