Learning Centre
Learn more about features and system basics.
CREATE
CUSTOMISE
PROMOTE
MANAGE
RUN
REPORT
INTEGRATE
Re-Ordering Data Fields and Ticket Types
Missed a field in your form?
Need to change the order of the fields or ticket types in your list?
Need to add a new ticket type to your listing?

It's easy, Try this:
From Manage Events, if it's a data collection fields, select Data Collection, select the Once per Booking or Per Attendee form.
From Manage Events, if it's a ticket type you need to move, select Pricing Groups and the respective pricing group.
Locate the field or ticket type you wish to move.
Click on the icon on the RHS of this field.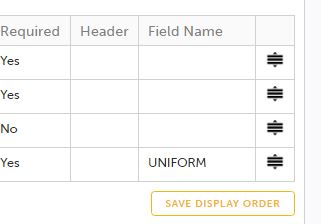 Now drag this icon to the new location of the field and release.
Once you've achieved the order you required, make sure you click save. Failure to click 'save' will mean your changes on the sort order will not be completed.
TIP: Remember when re-ordering whether or not you have headers in place. Remember these are attached to a field so will move to that new location in that new order.