Learning Centre
Learn more about features and system basics.
CREATE
CUSTOMISE
PROMOTE
MANAGE
RUN
REPORT
INTEGRATE
Setting up rules for scanning
Some events require scanning on a particular device or day to be restricted to sessions, section, ticket type or doors. If you have VIP line it might be useful to set up the scanner to reject any tickets that are not VIP tickets, or you may wish to only accept tickets for a Friday session.
TIP: Only set up a rule if you wish to refine which tickets will be accepted. Most events do not need rules to be set up.

From the

icon, select Rules and Add a Rule.
Enter the name of the rule and then define the criteria that you wish to use. Choose the appropriate session, section, ticket type and door. Then hit save up the top right.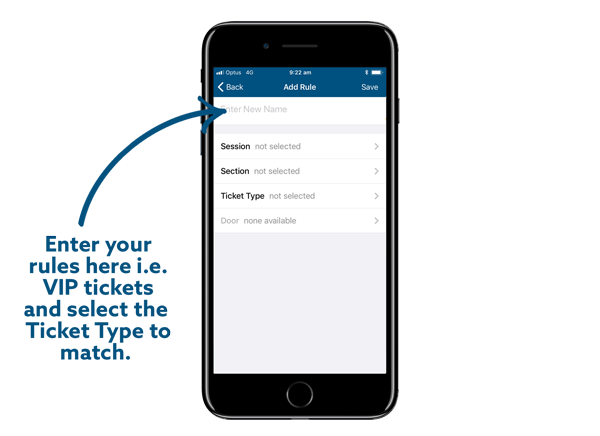 To apply the rule to your scanner, tap No Ruleset at the top of the ticket scanning or ticket list screen.
Then apply the rule to your device by selecting Rule set, adding your name, location where you scanning and if you are checking IN or OUT. Hit apply and the rule will be added to the scanning device.