Learning Centre
Learn more about features and system basics.
CREATE
CUSTOMISE
PROMOTE
MANAGE
RUN
REPORT
INTEGRATE
Handling Offline Payments
Transitioning your audience to online can take some time. Having your records complete with online and other methods of payments (i.e cash) is important and will streamline your workload come the day of your event. As there is no cost for processing such payment in TryBooking, we do encourage you to use this facility so that you have a complete set of reports both for the door and revenue.
Managing change and providing an incentive for your audience to change behaviour can be tricky. Handling loads of cash at the event is not ideal and knowing how many people will be attending has enormous advantages for planning too. So consider some incentives for those that book early such as:
Having a reasonable price difference for buying online prior vs at the door.
Buying online prior to the event enters them into a draw for a prize.
Make it clear that if they purchase via the office, it's only processed once a week based on best availability at the time (no choice of seat).

How to add a Promotional code
1. From Manage Events, select your event and then Pricing Group. Select your existing pricing group where you should see your ticket prices. From this screen, click the button, 'Add Promotion'.
Promotion (Discount) Name: Name that will show on your reports.
Promotion (Discount) Codes: Make sure you keep these codes secret otherwise you may find you have people coming to your event at your reduced rate.
Percentage: Select YES if you wish to apply a constant percentage Promotion / Discount to all tickets. E.g. If your patrons receive tickets at half price, select yes and set the value to 50. If you're using the promotion code for recording cash payments, set your percentage to Yes and the Value to 100.
Value: Defined amount you wish to discount from each ticket.
Start and End Date: You can set a validity date range around the code, as to when it can be used (optional).
Auto Apply: In most cases, you set this field to NO. If you select YES, patrons will automatically receive the Promotion / Discount within the defined date range. Alternatively, you can use a promotional discount code which can be entered and applied as they reach the booking shopping cart.
Inclusive to other offers: You only need to consider this option, if you have more than 1 promotional code in play, where the patron could receive a discount on more than one code being entered. Note: when they enter the code in the shopping cart, they will need to enter the codes with a space between both.
You can enter as many Promotion / Discount codes that you require. If you have made a mistake, you can go back and Edit or Remove Promotion.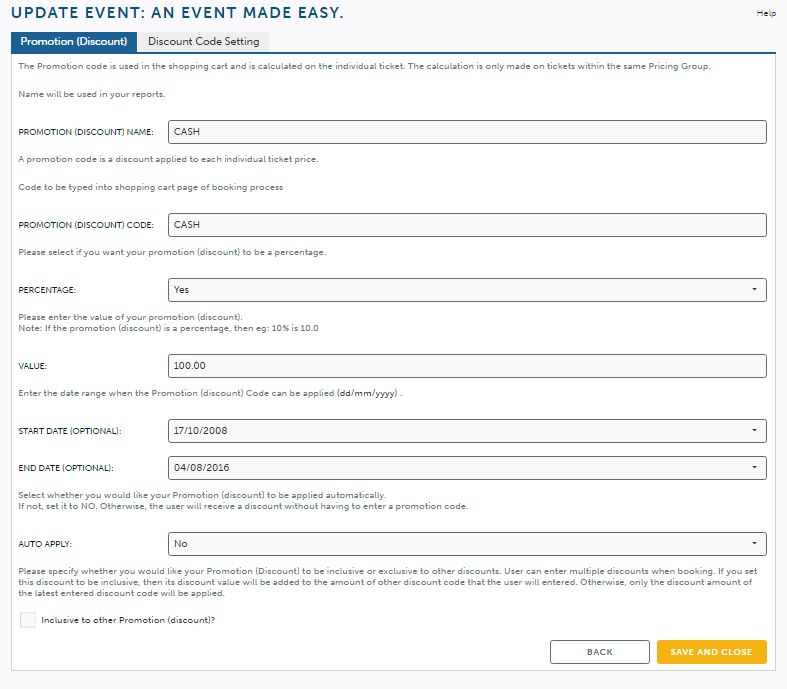 TIP: If your promotion only applies to one session time, consider setting up a second pricing group without the promotional code and link this to your session time (see pricing schema).

Reports for Offline Payments
Using a different Promotion / Discount code for cash and cheque payments ensures you still receive an overall outcome of your total revenue for that particular event.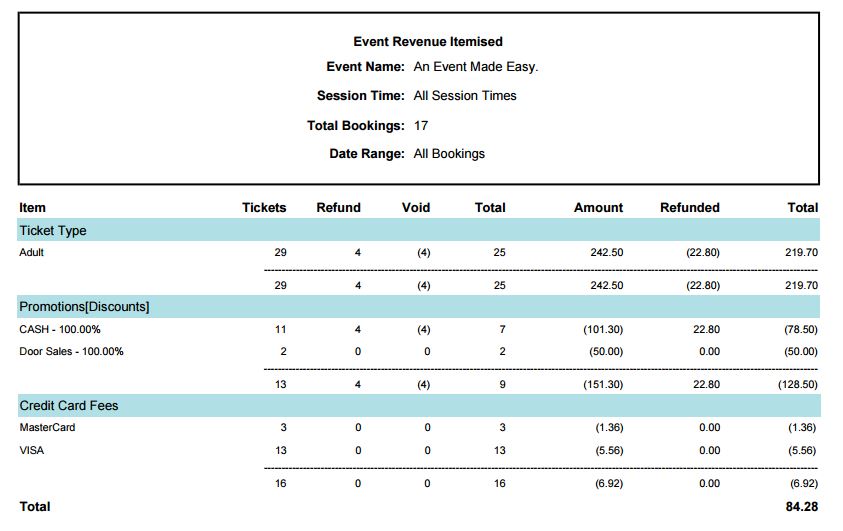 Consider your event revenue itemised report in the example above. All ticket sales will show in the total ticket area, no matter how payment occurred. Your promotional codes used will then be listed below, with the value and numbers of tickets processed by each. Taking away from the total ticket sales, your total promotional code sales and take away the processing card fees, leaves you with the amount processed by TryBooking clear of processing fees (ie the amount on the bottom line).
TIP: If you are to take door sales, consider putting these into TryBooking to establish a full record of bookings and revenue for later reference.