Learning Centre
Learn more about features and system basic.
Setting up a Registration Event
Events such as sporting team registrations, uniform orders, conferences, seminars / workshops generally require a level of data to be collected at the time of taking payment. This guide steps you through how setup the registration event and how to extract your data.
Planning these types of events before set up is key to getting the data exported as required. Consider if allowing the person to enter data in any format works for you when collating your reports, maybe a drop down listing will ensure quicker sorting for you long term. Look at what you do with your data and how you use it. If you're looking at your old manual forms and you find your asking questions that are never used, don't continue to ask them.
TIP: It's always a fine line between asking relevant information that you will use vs asking for too much detail that is never used and the level of frustration this will cause your end user.
All of your registration data collected at registration can be exported into either a .csv or spreadsheet file.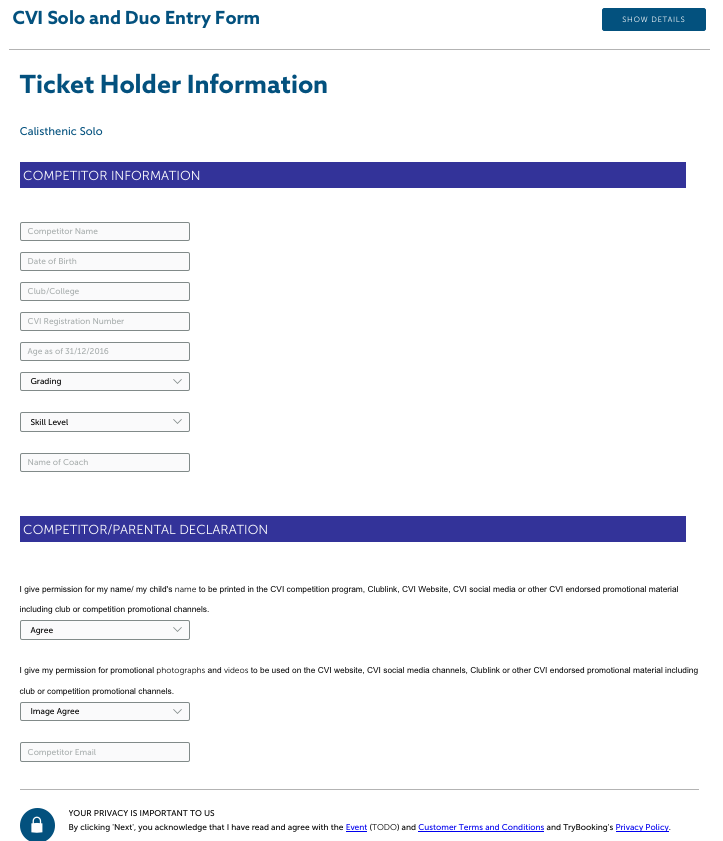 View our sample registration event for ideas.
Tips before you start:
Consider what questions you need to ask.
Consider how you work with the end data and will your spreadsheet sort best if you only allow people to select from a defined list (ie maybe you can only have certain uniform shirt numbers). If you allow for single line text fields you may find that people will enter their data in all sorts of ways which makes your sorting that little harder.
Work out the order on your questions. If you later need to add in a question, you will need to add it to the bottom of your list or re-enter your listing.
Add a couple of questions and then review your work by clicking on Make a Booking.
Work out if you must have that data in order for the customer to complete the booking or whether they can bi-pass questions. When you defined your questions, you will be asked if they are a mandatory field to be completed or not.
Questions you ask can be either a Single Line text, Multi-line text, list of questions, Yes/No response or Date field.
Consider if they are registering for 2 or more, can you ask some questions once for the overall process vs some questions per person.
Review the help section on

adding data collection

.

Steps to creating a form
1. List the things you need to know or take a manual form previously used and work out if all the fields are still relevant.
2. From your Dashboard, click on Create New Event to setup the basics of an event. Remember this will give you a unique URL for sharing.
3. With your event created it's now time to add your registration questions (Data Collection) such as player, sizes, ages, names etc and the order they need to be asked in.
4. Consider if you need to add headers to break up your form.
5. Adjust / add wording images to your homepage

6. Add your terms and conditions

7. Almost there, check your work by clicking through on make a booking as you go.
Reporting
As you registrations commence, these reports will be good to watch:
Event Revenue Itemised - to check how many and how much has come in.
Export Data - to review your data confirming it's all making sense and is working for you.
Tip: You may wish to share the reports with others in your group, so providing them producers access will provide read access direct to you data without having to hand over your full login.