Learning Centre
Learn more about features and system basics.
CREATE
CUSTOMISE
PROMOTE
MANAGE
RUN
REPORT
INTEGRATE
Overview of Ticket Types
Ticket types are found in each event within pricing groups. Each pricing group contains the ticket types, your promotional codes and the design of your ticket. Most events generally have only 1 pricing group, although, in some cases, you may wish to define another pricing group if your offering has a different price point for a date or section.
In each pricing group, you may have multiple ticket types (i.e. Adult, Concession and Group or Member and Non-Member) which could have different capacities or early bird rates or even defines a minimum purchase for a group booking.
Where you need the option to issue tickets to media or VIP's, you may wish to consider hidden tickets.
Images can be added to the ticket, issued and even be adjusted to be a tax invoice.
The default ticket contains the following relevant information: Event name, venue details, date and time, ticket price and name, booking name, section / seat (if relevant) plus a QR code and barcode with your ticket number.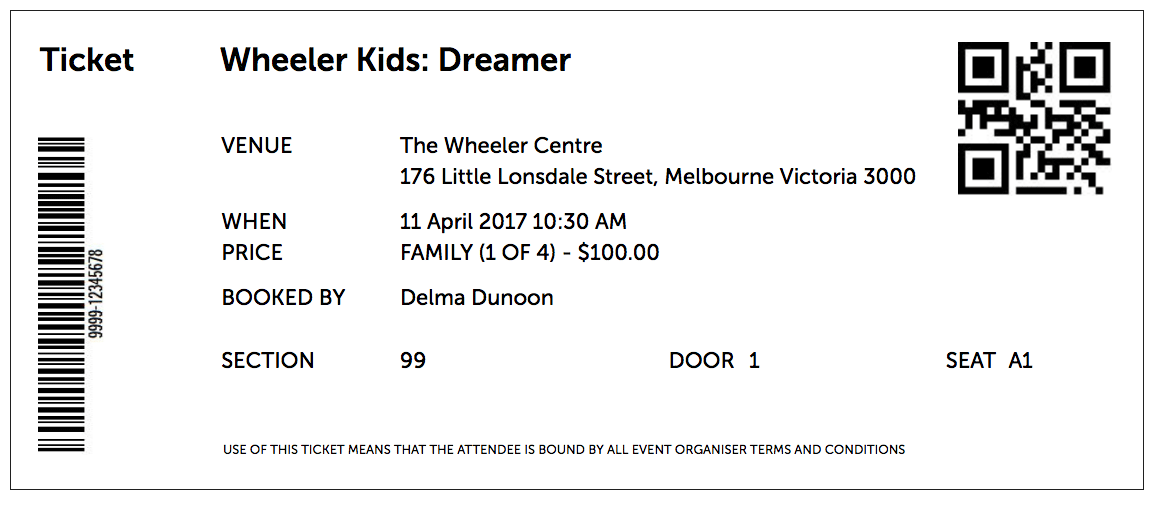 You can create a custom ticket, adding background images (see pricing groups) or adding in the custom data fields collected during the booking.
TIP: Consider the ticket type options you will need and enter these in the order of importance.Those listed at the top should be the most important, or the ones you'd like to encourage for purchase. If you need to change the order, just click on the icon at the far right-hand side and drag the ticket to where you'd prefer it to be located. Make sure you click the save button to set the location.