Learning Centre
Learn more about features and system basics.
CREATE
CUSTOMISE
PROMOTE
MANAGE
RUN
REPORT
INTEGRATE
Ticket Style as a Tax Invoice
The ticket can be converted to represent a ticket for entry and a tax invoice via a custom ticket style. To allow your ticket to be used as a tax invoice, you will need to add in the text below.
Australian users - Add your organisation name, ABN and that the price is inclusive of 10% GST.
New Zealand users - Add your organisation name, NZBZ and that the price is inclusive of 15% GST.
UK users - Your registered organisation name and that the price is inclusive of 20% VAT.
Working with custom ticket styles is easy:
1. Select Configuration and Ticket Styles.
2. Add a ticket style, name it and then save.
3. Change the word Ticket to Ticket / Tax Invoice, or add the word tax invoice under Ticket. Add your business number (ABN, NZBN, Company number) and registered name.
4. In the price field, add the wording, Price is inclusive of tax (GST or VAT) or add in the tag [TAXAMOUNT] which will automatically split off the proportion of tax into a seperate value.
5. Save.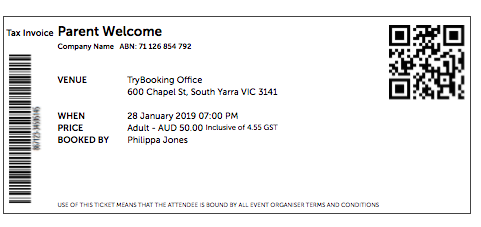 You now need to connect it to your event by selecting Manage Events, Your Event, Pricing Groups and finally the applicable group. Change the ticket style to your newly created custom ticket style and save.
TIP: If you are intending to use promotional codes, consider changing the [PRICE] field on your ticket style to [TICKET_TOTAL]. The ticket total will then correctly display the amount paid for any tickets, taking into account discounts given during the booking process.