NZ Mountain Film Festival 'National Tour' - Rotorua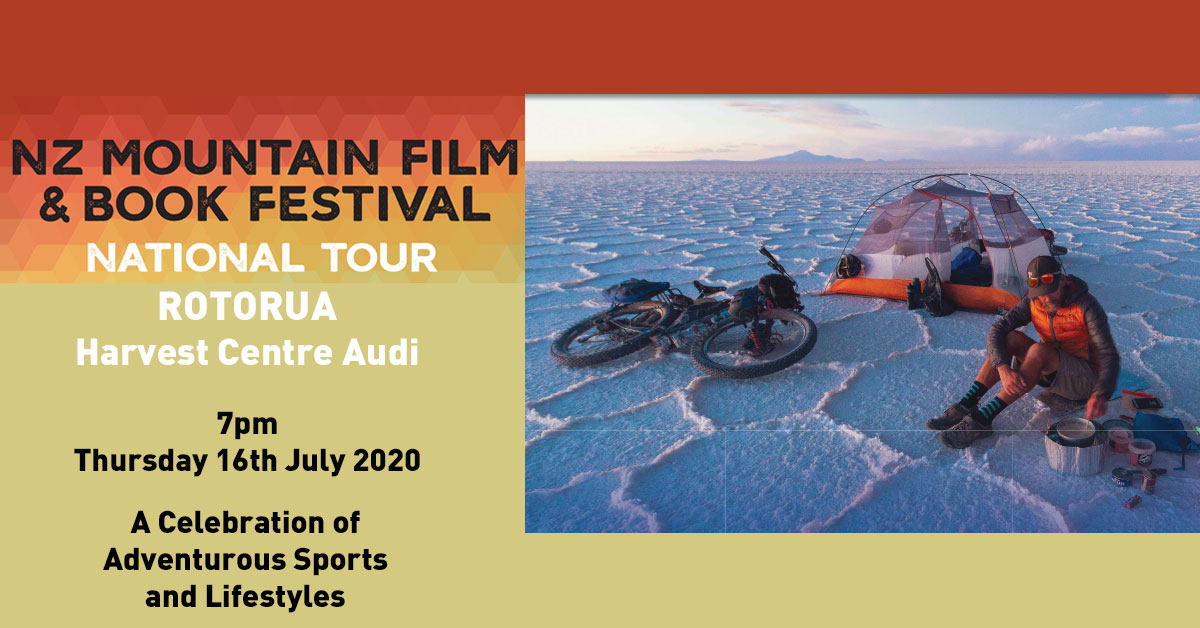 A popular package of amazing films celebrating people getting out there and doing it!

Internationally recognised as one of the world's premier mountain film festival events, an audience can expect up-close adventures, emotive and insightful cultural content, and the usual fast-paced, action packed adrenaline entertainment making for an impressive programme that will have outdoor enthusiasts inspired and entertained.
The collection has something for everyone and is the perfect environment to fuel your imagination and plan your next adventure.
2020 FILM COLLECTION (runtime 2 hours 40 minutes including interval)

The River's Call, 8 minutes, Director: Hugo Clouzeau, France.
Follow seven kayakers through the deep canyons and challenging whitewater of the Rio Apurimac the farthest source of the Amazon in the heart of the Andes.

Allein, 11 minutes, Director: Franz Walter, Germany.
Follow a climber out to Greenland for a solo expedition. He leaves the small village of Kulusuk with his sea kayak. After twelve days of paddling and carrying heavy loads he reaches his basecamp at the foot of Molar Spire. Calmly, concentrated and all by himself he begins the ascent of this 500m rock face, solo.

Wetterstein Ridge, 20 minutes, Director: Jakob Schweighofer, Austria, subtitles.
A professional mountaineer from Germany has set the bar high. He wants to cross the entire Wetterstein Ridge non-stop without a break. 70 kilometers and 7,000 meters altitude difference of exposed and brittle ridge climbing lie before him. Mistakes are not allowed.

The KFC, 29 minutes, Director: Richard Sidey, NZ. 
Join five local pilots on a paragliding adventure in Tanzania, with the ultimate aim to fly from the summit of Mt Kilimanjaro. No training, no sponsors, no worries!

Breathtaking: K2 - The World's Most Dangerous Mountain, 47 minutes, Director:Adrian Ballinger, USA.
K2 is known as a savage mountain that tries to kill you. But Adrian Ballinger and Carla Perez aim to summit the 8611m peak without the use of supplemental oxygen. Every step of the way the team faces hazardous conditions, terrifying setbacks, and crushing misfortunes.

Lhotse, 23 minutes, Director: Dutch Simpson, USA.
It's not always what we achieve that defines us, rather it is why we achieve such things that creates clarity in our existence.
Hilaree Nelson and Jim Morrison completed the first ski descent of the 8,516m Mt Lhotse, the fourth-highest mountain in the world.
INFORMATION
Ticket Bookings can be made from this page, or buy your ticket on the night at the venue (cash only). Adults $20, Under 16 year olds $16. If you would prefer to do a deposit in our bank account rather than through a credit card please fill in this enquiry form HERE. 
Location
Harvest Centre
324 Malfroy Road , Rotorua, 3010
This event is currently closed and no contact details are available