Levitate - Dance Showcase 2023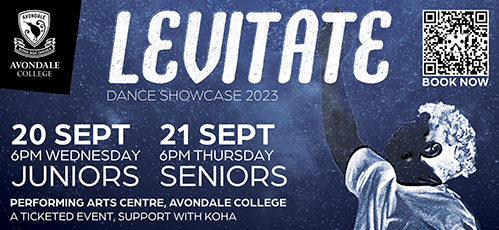 About
A showcase of Dance performance from Avondale College
The work of our talented Dance students will be featured next week in two very special performances!
Levitate is Avondale College's Dance Showcase for 2023, and over one hundred students will be taking to the stage to perform pieces from their classwork and co-curricular groups.
Many of these groups are already award winning - don't miss your chance to see them in action!
Wednesday 20 September - 6pm
Featuring Juniors: Year 10 Dance, Performing Arts Academy Dance, Junior co-curricular and award-winning group AcDc. With guest artists ADK (KPop Dance) and African Fusion
Thursday 21 September - 6pm
Featuring Seniors: NCEA Dance students, Scholarship Dance, Senior co-curricular groups
Entry is free, but seats are limited. This is a ticketed event - please book your seat
Location
Avondale College Theatre
51 Victor Street, Auckland 1026