The Snow Queen (SOLD OUT)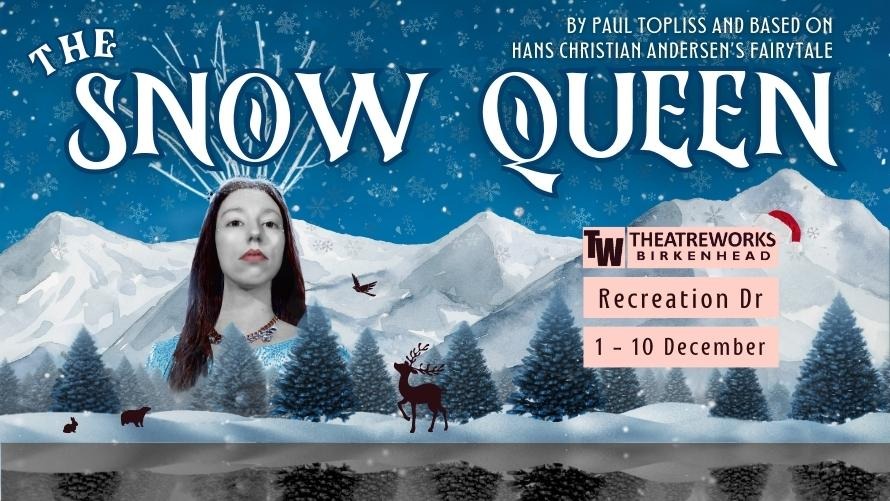 About
𝘉𝘺 𝘗𝘢𝘶𝘭 𝘛𝘰𝘱𝘭𝘪𝘴𝘴. 𝘋𝘪𝘳𝘦𝘤𝘵𝘦𝘥 𝘣𝘺 𝘑𝘦𝘯𝘯𝘺 𝘞𝘩𝘪𝘴𝘬𝘦𝘯.
𝘉𝘢𝘴𝘦𝘥 𝘰𝘯 𝘏𝘢𝘯𝘴 𝘊𝘩𝘳𝘪𝘴𝘵𝘪𝘢𝘯 𝘈𝘯𝘥𝘦𝘳𝘴𝘰𝘯'𝘴 𝘵𝘪𝘮𝘦𝘭𝘦𝘴𝘴 𝘧𝘢𝘪𝘳𝘺𝘵𝘢𝘭𝘦.

This is the story of two young friends, Kay and Gerda. They attempt to glimpse the Snow Queen and Kay's heart turns to ice as the Snow Queen takes him for her own. As Gerda goes in search of her friend to rescue him from the cavernous ice castle she experiences a journey of fun, fear and hope, meeting many wonderful characters along the way.
Christmas Toy Drive
This year we are helping the Glenfield Salvation Army with their hampers for those in need on the North Shore. We encourage patrons to bring an unwrapped gift for a child, and we'll discount GA tickets for you as a small token of our appreciation. Gift vouchers for teenagers are also warmly welcomed.
Important information
No show on Mondays or Tuesdays.

Weeknights at 7pm. Weekend matinees at 2pm.

Online bookings close 2 hours before each show.

Doors open 30 min before show time, with door sales subject to availability. Phone 028 418 1604 to check availability.

Please allow sufficient time to find parking.
Dates
Saturday 2 December 2023 - Sunday 10 December 2023 (UTC+13)
Location
TheatreWorks Birkenhead
TheatreWorks Birkenhead, Recreation Dr, Birkenhead, Auckland 0626