George Jackson & Brad Kolodner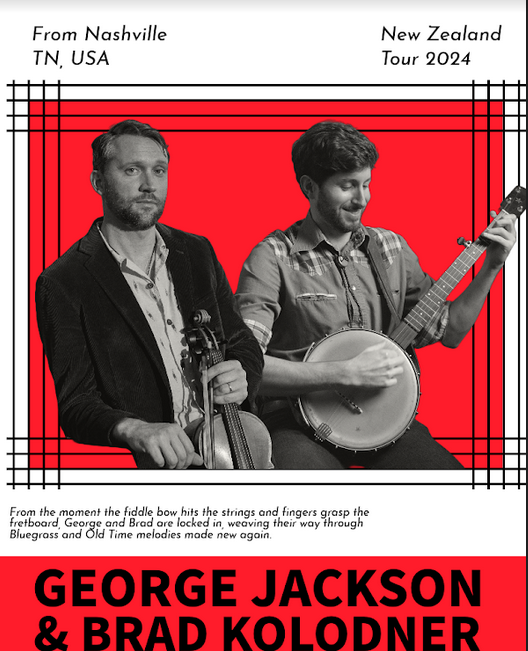 About
At the heart of all traditional music lies two important coordinates, the time and place of origin; objective definitions in the ever-evolving aesthetics of folk music. These coordinates are the concepts explored with infinite new possibilities by New Zealand-born, Nashville-based fiddler George Jackson and Baltimore-based American banjoist Brad Kolodner. The two musicians met years ago in a late-night jam session at the hallowed Appalachian String Band Music Festival in West Virginia and have since formed a musical bond that runs deep, across continents and through a number of recorded projects. From the moment the fiddle bow hits the strings and the fingers grasp the fretboard, George and Brad are locked in, weaving their way through ancient melodies made new again. From trance-inducing moody original tunes to classic barnburners, their show has something for serious or casual folk music fans alike. They play with a mischievous curiosity that keeps listeners on the edge of their seat
Date
Wednesday 28 February 2024 7:30 PM - 10:00 PM (UTC+13)
Location
Irish Society Hall
29 Domain Terrace, Spreydon, Christchurch 8024
For more information about this event: CLICK HERE
Doors open 7pm. Performance starts at 7.30pm

VENUE: Irish Society Hall, 29 Domain Terrace, Spreydon The hall is situated up the long driveway, directly next to Domain Park, and there is plenty of well-lit off-street parking.

DOOR SALES CASH ONLY: Tea, coffee, biscuits and cake available during the break, also bar facilities for cold refreshments throughout the night, Eftpos available for purchases only, no cash-out facility.
Folk Club and Irish Society members please remember to bring your membership card for licensing purposes. Non-members sign in at the bar if making purchases.