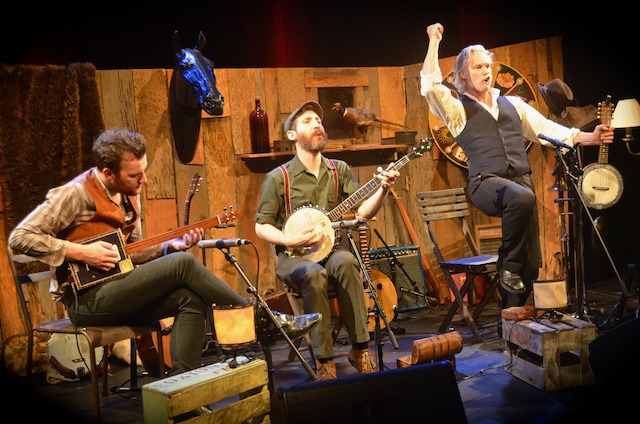 The Wheel of Experience (SOLD OUT)
STORIES UNTOLD FROM BETWEEN THE LINES OF HISTORY
WHEEL OF EXPERIENCE is a unique blend of music and theatre that tells the lives and legends of early New
Zealand through epic original song. Watch three consummate performers walk a fine line between history
and legend, humour and heart, as they paint stories of struggle, triumph and iniquity from another
time.
Led by Peter Daubé's (King Skinny, The Crucible) powerful vocals and commanding theatrical presence,
the music morphs with each unfolding story, as brilliant multi-instrumentalists David Ward (Ruckus,
Shindig) and Dave Khan (Reb Fountain, Marlon Williams) shift rhythm, pace and texture. Each song is a
journey unto itself as the performers move from haunting ballad, to wailing sea shanty, from blistering
bluegrass to pounding blues.
The trio performs live on a vast array of acoustics instruments including banjo, fiddle, mandolin, cigarbox
and zhong ruan, as well as hearty vocal harmony. Together they bring alive each rich story in a
production steeped in the history it exudes.
"Neither musical nor theatrical experiences come any more astonishing than the Wheel of Experience. You
hear about good performers bringing songs to life, but in this case, the songs seem to give birth to the
performers." - Nick Bollinger
DateS & Locations
Wednesday 2nd February 2022 - Clive Community Hall
Thursday 3rd February 2022 - Elsthorpe Community Hall
Friday 4th February 2022 - Porangahau Community Hall
Saturday 5th February 2022 - Twyford Raupare Community Hall
Sunday 6th February 2022 - Sherenden Community Hall