The Sound of Music (SOLD OUT)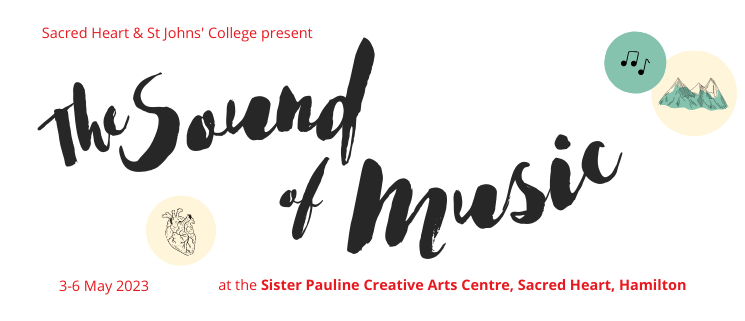 Music by RICHARD RODGERS
Lyrics by OSCAR HAMMERSTEIN II
Book by HOWARD LINDSAY and RUSSEL CROUSE
Suggested by "the Story of the Trapp Family Singers"
About
The story follows Maria (played by Samantha Richards), a devout young woman on the cusp of taking vows to become a nun. Life, however, takes an unexpected turn and Maria finds herself governess to a family of seven children. She falls in love with the spirited, yet loveable children in her care and their widowed father, Captain von Trapp (played by Josef Bavastro).

Building a life of love is a challenge when oppressive forces threaten to tear the tender shoots of happiness from the newly formed family. Ultimately, we see music unite the family, compelling them to stay true to the values they hold dear.

Our cast is made up entirely of Sacred Heart and St Johns' students (as well as little Gretl from Marian); who work together to weave together this uplifting story with all the songs you know and love, including "Do-Re-Mi", "My Favourite Things", "Edelweiss", "Climb Every Mountain", and of course "The Sound of Music".

A wonderful performance for all the family!
"The Sound of Music" is presented by permission of ORiGiN™ Theatrical on behalf of R&H Theatricals, A Concord Theatricals Company

Four evening shows running 7pm - 9:30pm
One afternoon Matinee on Saturday 2pm - 4:30pm
Location
Sister Pauline Creative Arts Centre
Sacred Heart Girls' College
52 Clyde St, Hamilton East, Hamilton 3216
CAMPUS ACCESS & PARKING
Access to the Creative Arts Centre is limited to the external west door. Approach via Clyde or Cook streets down the east-most boundary of the school (the side nearest to the river). As the heart of the school is secured with locked gates, those parking on Firth Street will need to walk around.
Public parking is available on Cook St. Audience members may also make use the limited parks available within the grounds, off Cook Street and Clyde Street. Please note, outside of school hours there is no access across the interior of the school campus.
PRIORITY SEATING FOR THOSE WITH ACCESS & NEAURODIVERSE NEEDS
The majority of the seating is tiered with limited floor-level seating available. The floor-level seats can be easily adapted to accommodate people in wheelchairs. The route to access this space has no steps & these seats will be prioritised for people with access needs.
We have one single row of seating available on the second floor, in the upper mezzanine. This space is accessible via a flight of stairs, with a landing halfway. As well as a clear view from a raised position, the seats are side-by-side in one single row offering a less people-ee, more isolated experience: no audience behind or in front. There is space on either side to accommodate those who need to stretch or step out into a quiet area.
Use the button below to send a message to specifically request one of these seats.
REFUNDS & TICKET TRANSFER
Tickets may be transferred (if Kahu can't make it, you can bring Keela to use that ticket). Sorry, no refunds will be given.