Digi Tech Shoestrings & Everyday Things Workshop - Tauranga (SOLD OUT)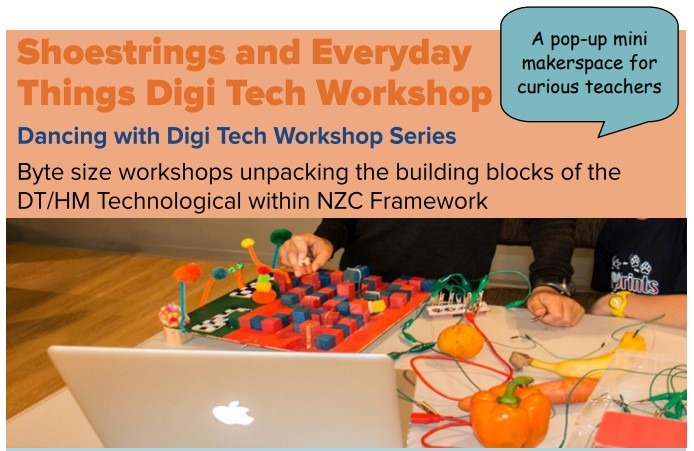 Dancing with Digi Tech Workshop Series Overview
Designed to suit the needs of curious teachers, this workshop will provide opportunities for teachers to immerse themselves in a variety of collaborative, hands on activities which explore some of the big ideas behind Computational Thinking. Unpack the links between Computational Thinking and Designing and Developing Digital Outcomes in our 21st Century Education Landscape.
A popup, mini makerspace for curious teachers.
Demystify the what and how of DT/HM and unpack where Computational thinking converges with designing and developing digital outcomes and IoT.
Pick and mix your workshops. Attend all or just 1 or 2. All workshops are unique and cover different aspects of implementing the DT/HM curriculum.
Workshop 1: Shoestrings and Everyday Things
An overview of the DT/HM Curriculum
Develop your Digital and computational thinking capabilities through a hands on discovery and exploration session.
Investigate the use of everyday things which can be used to help you integrate computational thinking into your classroom teaching and learning programme.
Location
Arataki Primary School
4 Kaimanawa Street
Mount Maunganui 3116