The Big Bike Film Night 'Feature Series' SOUTH: Taupō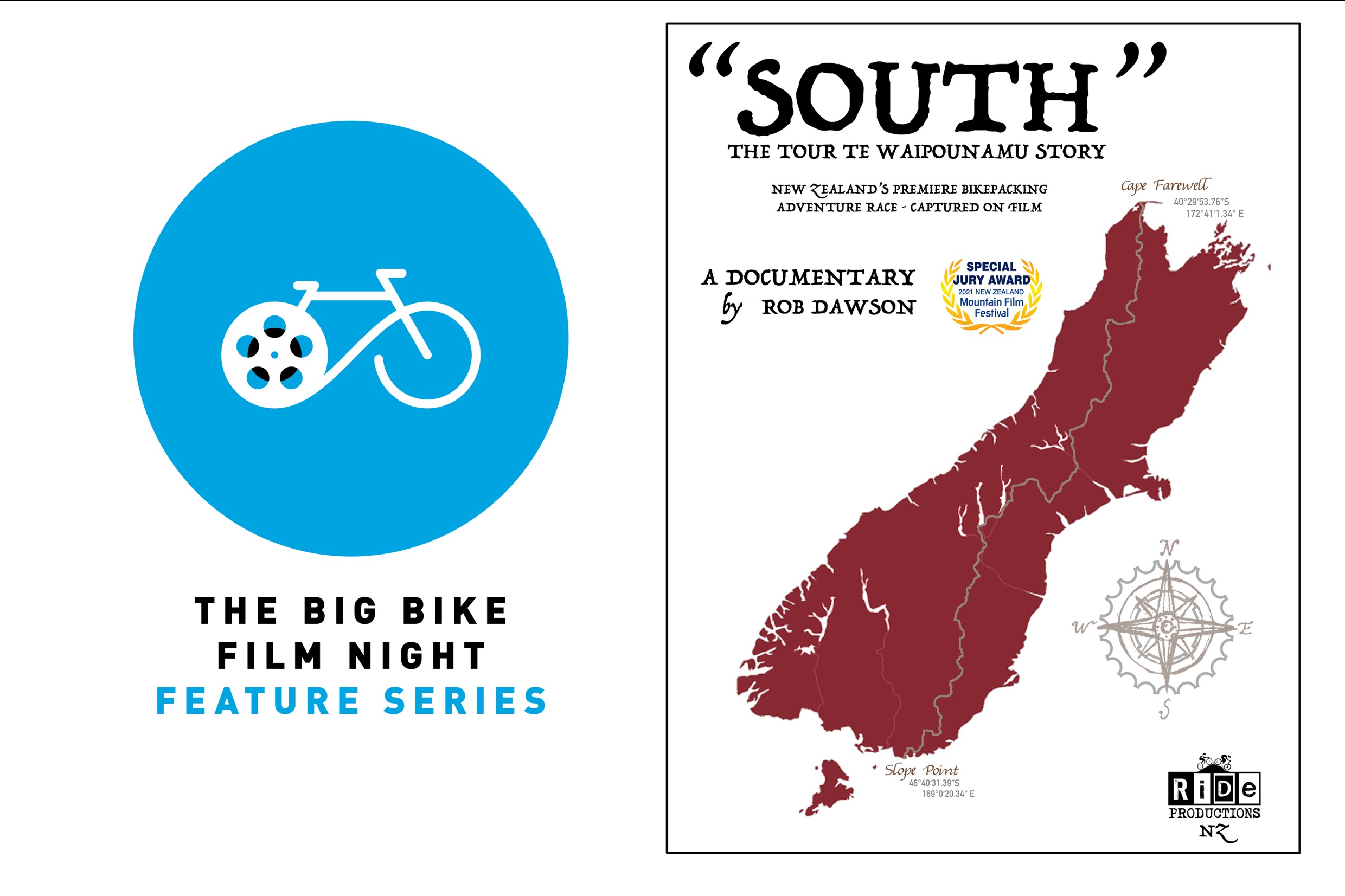 Our Big Bike Film Night 'Feature Series' concentrates on satisfying those cycling enthusiasts that crave even more bicycle drama with full length documentaries on a particular cycling genre.

This documentary explores what bikepacking is, and what it means to those who ride the Tour Te Waipounamu, a 1300+ kilometre race through some of the South Island's most scenic but harsh landscapes.
WE HAVE ORGANISED ANOTHER SCREENING AT 7:30PM. CLICK HERE TO BOOK YOUR TICKETS.
Born out of the pandemic, The Tour Te Waipounamu is the newest, and arguably the toughest bikepacking event on the New Zealand Calendar.
South - The Tour Te Waipounamu Story by Kiwi Director Rob Dawson explores what bikepacking is, and what it means to those who ride the TTW, from Cape Farewell in Golden Bay to the southernmost tip of the South Island at Slope Point, showcasing backcountry New Zealand through some of the most rugged and spectacular country that Aotearoa has to offer, much of it privately owned and normally inaccessible.
After the movie finishes, there will be a Q&A Session with Peter Maindonald, one of the participants of the TTW.
So listen to the voice inside you; it's telling you to go. Grab your mates, grab your tickets AND come along for the ride.
TICKETS
Adults $20, U17's $17.50, U12 $12.50 available on-line, as well as directly from Starlight Cinema
COVID-19 REQUIREMENTS
This screening has a maximum of 100 people allowed to attend, in accordance with the NZ Government rules at Alert Level 2. In attending this event, please sign in using the NZ COVID Tracer app at the Starlight Cinema; you legally must keep 1 metre apart from people you do not know, and we encourage you to wear a face covering if physical distancing is difficult.
Starlight Cinema may alternate occupied seats with vacant seats to support you to physically distance. Please follow the venue's safety measures and stay in your allocated seat.
We will be continuing monitoring the situation and Alert Level status, and ANY social distancing guidelines necessary.
Location
Starlight Cinema
26 Horomatangi Street, Town Centre, Taupo 3330