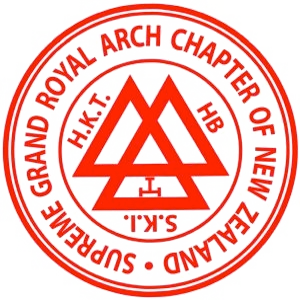 An Invitation
Welcome to our 2022 Grand Proclamation
On behalf of all New Zealand Companions, it is my sincere pleasure to extend a very warm invitation to our sister Constitutions, visitors, ladies and friends to join with us in Auckland, the beautiful City of Sails, to commemorate the 130th Convocation of the Supreme Grand Royal Arch Chapter of New Zealand which will be held over the weekend 11-13 March 2022.
We do look forward to welcoming you on this important occasion and your presence will ensure its success.
Over the past two years, the harsh reality of Covid-19 has deprived our colourful Masonic mosaic of so many opportunities to gather in harmony to share and participate in the celebrations associated with our various Orders. May the 2022 year be one which heralds a new era of optimism, of resurgence and of mutual co-operation for our Fraternity.
And may that special bond of companionship which has always existed between New Zealand and Australia be once again resumed with undiminished vigour.
The 2022 Convocation will be held at The Parnell Conference Centre which is centrally located and convenient to many of the major attractions Auckland has on offer.
To ensure your stay with us is an enjoyable one, the weekend has been planned with you in mind and we hope that when we bid you farewell, you will take with you many new friendships and long-lasting memories of an enjoyable and happy time in our company.
Kathy and I; and indeed all companions; look forward to renewing our acquaintance with many of our friends and having this opportunity to add many more.
ME Companion Ron Lane
First Grand Principal
The Companions of Auckland, look forward to welcoming you to the 2022 Convocation in our city. We hope you will have an enjoyable time at our various sessions, and we can promise you some interesting developments for the future of Royal Arch Masonry. We hope you will also be able to take some extra time to sightsee and do some shopping.
RE Comp Mike Downey
Friday 11th to Sunday 13th March 2022
Location
The Parnell
20 Gladstone Road, Parnell, Auckland
There are a number of different types of rooms available. Indicative prices are:
Studio $122.55
1 Bedroom - from $160.55
2 Bedroom - from $ $189.55
For a full list see www.theparnell.co.nz.
To book contact the hotel direct 09-303 3789 or on the web - www.theparnell.co.nz Quote 60595 or Royal Arch Convocation
Sessions
SESSIONS
DESCRIPTION
STATUS
Thursday 10th March
Management Council Gladstone 9am - 12pm
Lunch Knights Room 12pm – 1pm
Grand Superintendents Gladstone 1pm - 3pm
Rehearsal Endeavour/ Discovery 7-8pm
Friday 11th March
Grand Principals Disraeli 8.00am - 9.00am
Grand Masters Council Brasserie 9.00am - 10.00am
Great Priory Muster Brasserie 10.15am - 12.00pm
Great Priory Luncheon Knights Room 12.00pm - 12.30pm
(Wives and partners invited)
Forum Endeavour/ Discovery 1pm - 2.30pm
Intro to Cryptic Discovery 3pm - 4.30pm
Meet and Greet Endeavour/ Discovery 6pm - 8.30pm
Saturday 12th March
Business session Endeavour/ Discovery 9am - 11pm
Convocation rehearsal Endeavour/ Discovery 11.15am - 12.30pm
Convocation Ceremony Endeavour/ Discovery 3pm - 4.30pm
Banquet Endeavour/ Discovery 7pm - 11.30pm
Ladies Tours
Saturday 12th March
Kelly Tarlton aquarium incl Morning tea 9.30am – 12.30pm
Syvia Park Mall Shopping/viewing 12.30pm – 4.30pm
Lunch at own cost
Please note, for record keeping purposes, that at the registration stage you will be prompted to name each person attending each session