FREE Balclutha Video Gaming Event - SEPTEMBER 11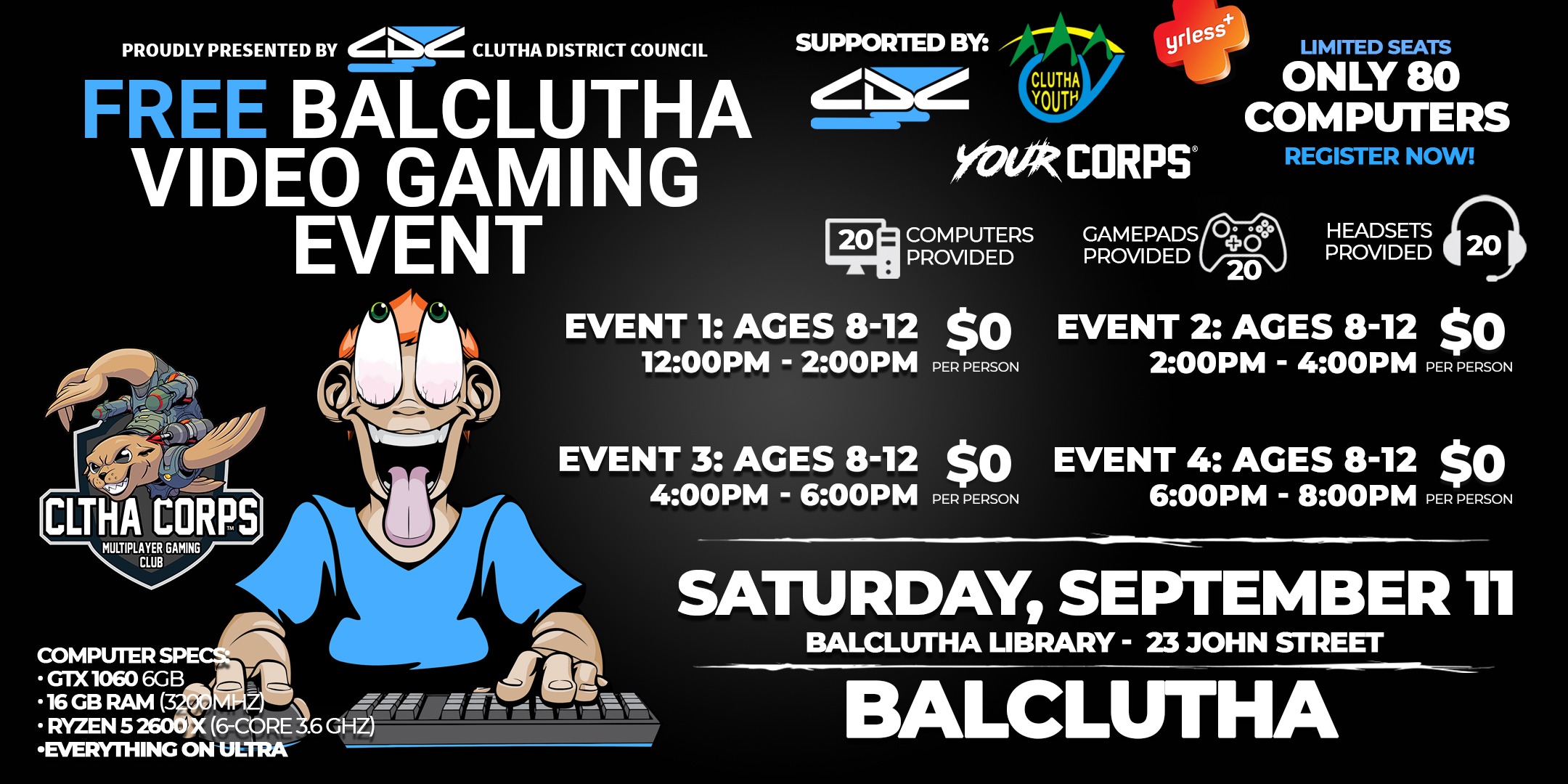 FREE Multiplayer Video Gaming Event at the Balclutha Library, 23 John Street.
20 x Computers all in the same room hooked up together to play multiplayer video games in the same digital space!

FREE to register and play for 2 hours!

All equipment is provided!

4 different events throughout the day:
•Event 1: Ages 8-12: 12:00pm - 2:00pm
•Event 2: Ages 8-12: 2:00pm - 4:00pm
•Event 3: Ages 8-12: 4:00pm - 6:00pm
•Event 4: Ages 13-17: 6:00pm - 8:00pm

Check out our website: www.yourcorps.co.nz
Location
Balclutha Library
23 John Street, Balclutha, Balclutha 9230
Contact Details


Terms and Condtions:

•Emergency Contact Numbers are required for all who wish to attend our events. You will be required to input one on each ticket, please ensure these are correct.
• All parents/ caregivers must arrange with their children how they are to be picked up from an event. Children must be informed by parents/caregivers what the plan is, and if they are to wait at an event, of make their own way home.
•Some games may contain violent content (such as FORTNITE and Call of Duty). Permission must be granted on the ticket section if you are happy with your child playing these types of games. By purchasing a ticket, you agree to the responsibility to inform event organizers at the event on the day if you do not wish for your child to play these kinds of games. Many other non-violent games are available at the event.

•Some parents allow their children to temporarily leave the venue to get snacks at a nearby dairy during our events. If you do not wish for your child to do so, please ensure they are provided with snacks. You must also inform and ensure your child is not to leave the venue under any circumstances if you do not wish for them to do so.

•By participating in our events, you understand and accept that your child may appear in photos and videos taken at the event to be used for promotion and marketing, that may appear online and social media.

•You will be required on each ticket to state any potential health concerns we should be aware of, such as allergies, history epilepsy etc.