Invercargill Video Gaming Event - Saturday, February 5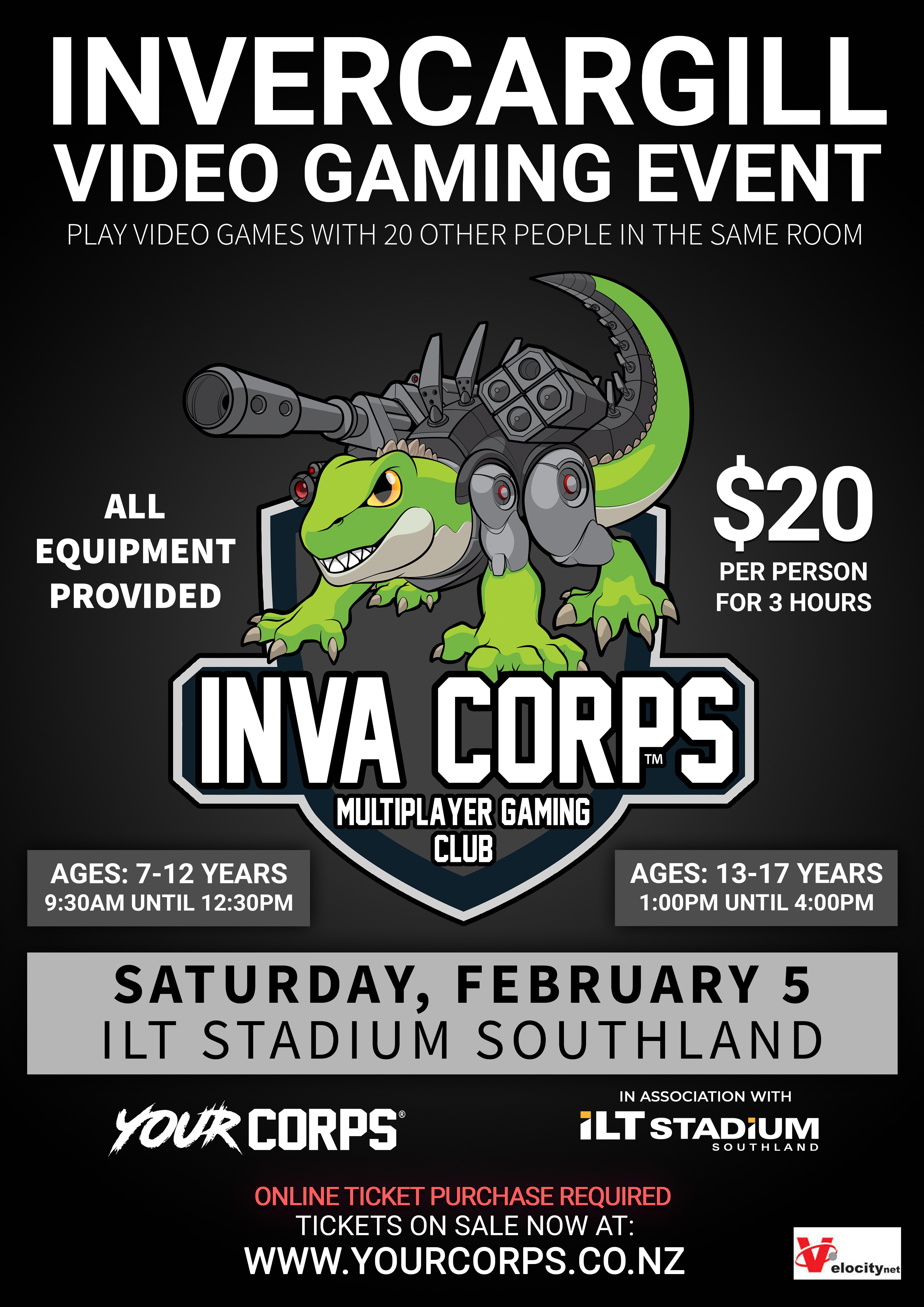 Multiplayer Video Gaming event at 'ILT Stadium Southland' - 18 Surrey Park Road. 20 x Computers all hooked up together to play multiplayer video games in the same digital space!

All equipment is provided!

2 different events throughout the day for 2 different age groups:
•Event 1: Kids, Ages 7-12: 9:30am until 12:30pm.
•Event 2: Teens, Ages 13-17: 1:00pm until 4:00pm.

Check out our website: www.yourcorps.co.nz
Location
ILT Stadium Southland
18 Surrey Park Road, Invercargill 9810
Contact Details
Terms and Condtions:
•Emergency Contact Numbers are required for all who wish to attend our events. You will be required to input one on each ticket, please ensure these are correct.
• All parents/ caregivers must arrange with their children how they are to be picked up from an event. Children must be informed by parents/caregivers what the plan is, and if they are to wait at an event, of make their own way home.
•Many of our games have age restriction classifications, and we abide by these guidelines according to the law, restricting certain games to certain age groups. However, we still offer many mild-violence games that have only received a 'Recommended Classification', and as such is not restricted by law, such as Fortnite. You will be required to grant permission for your child to play these kinds of 'Recommended Classification' games on each ticket purchase in order to attend. We are unable to provide tailored experiences for individual kids if you do not approve of 'Recommended Classifications', as it has caused many complaints from children and their parents who were not able to participate in the same experience as everyone else in the room. If you have an issue with this, then we apologize for the inconvenience, and recommend you do not attend.

•Some parents allow their children to temporarily leave the venue to get snacks at a nearby dairy during our events. If you do not wish for your child to do so, please ensure they are provided with snacks. You must also inform and ensure your child is not to leave the venue under any circumstances if you do not wish for them to do so.

•By participating in our events, you understand and accept that your child may appear in photos and videos taken at the event to be used for promotion and marketing, that may appear online and social media.

•You will be required on each ticket to state any potential health concerns we should be aware of, such as allergies, history epilepsy etc.