The Ultimate Interior Design Guide Talk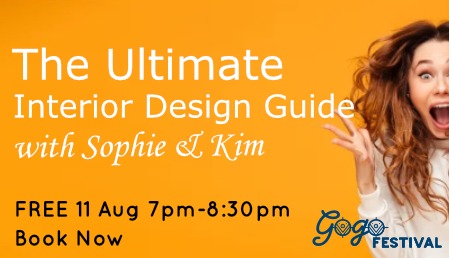 About
How to finally get all the ultimate tips n tricks from professional Interior Designers. Get an explosion of incredible ideas to inspire your indoor space in this one-off special talk.
Meet Sophs and Kim - the go-to interiors team! Between them they have extensive years of experience in the interior design space. Sophs and Kim will be armed with the hottest tips and ideas for your indoor spaces, and you'll come away feeling inspired, excited and wowed with ideas to immediately inject into your home or office. Feel free to check out their Facebook pages here and here.
This is a FREE activity and is part of the Porirua August Gogo Festival. See www.joinin.nz. A festival to celebrate giving local experiences a go!
Kim has a successful colour consultancy, All Colour Matters, where she helps homeowners and businesses come up with fabulous colour pallets to suit all interior and exterior spaces. Together with Sophs Fyfe (a highly sort after soft furnisher) and her many years at 'C & S at Home', they will teach you how to get the best out of curtain choice and application, pattern combining and matching and the best colour mood selection for a room (and learn the incredible range of shade choices and why not any ol shade of white works).
Spaces are limited - book early to secure your spot.
Date
Thursday 11 August 2022 7:00 PM - 8:30 PM (UTC+12)
Location
Get directions
The Doris Mills Lounge, Linden Community Centre
10 Linden Avenue, Linden, Wellington 5028
Parking available.