Teaching and Learning Conference 2019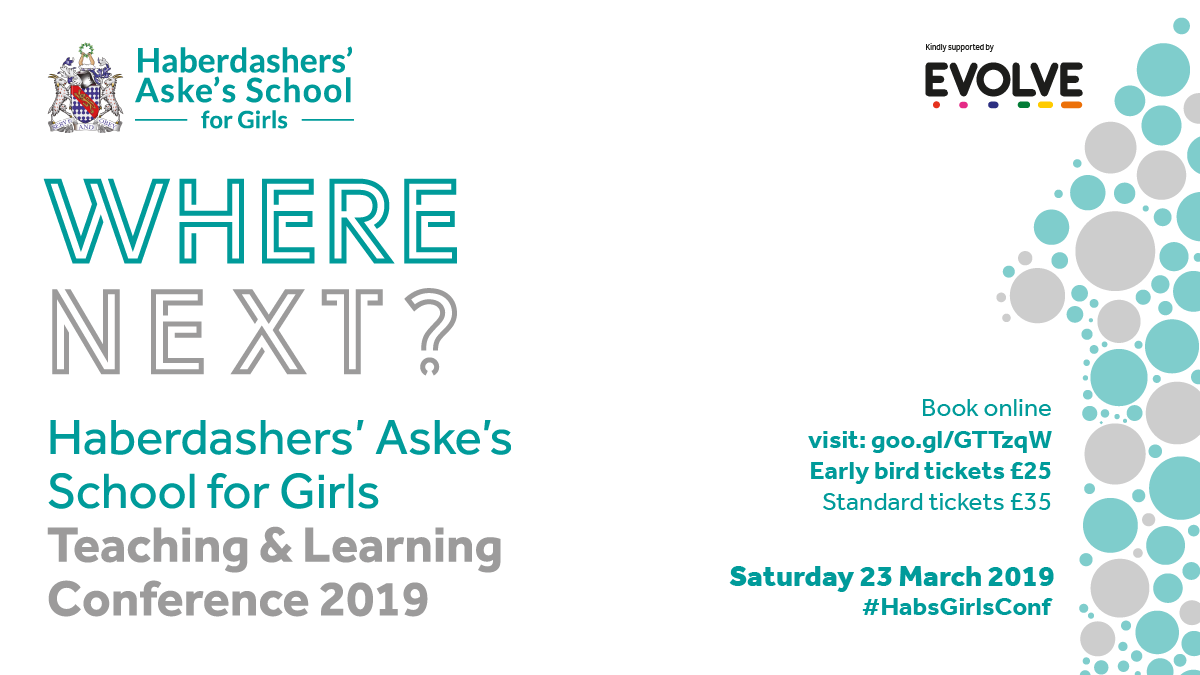 Following our very successful and sold out event last year, Haberdashers' Aske's School for Girls welcomes you to join us for our third Teaching and Learning Conference.
This year's event features an array of fantastic speakers and teachers, who will be sharing their expertise and knowledge that will support your practice in the classroom and in your school. This year's theme, 'Where next?', will ask delegates to consider the changing educational landscape and how this might ultimately impact their classrooms, departments and schools. 
Delegates will be able to choose from a wide range of talks in the following areas:
Primary, STEM, Humanities, English, Whole School, Research
We look forward to seeing you there!
Keynote Speakers:
Lucy Crehan (Teacher, an education explorer, author of Cleverlands and international education consultant)
Vic Goddard (Headteacher of Passmores Academy, Harlow)
Speakers confirmed for this year's event include (more to be added over the next few weeks):
Will Bailey-Watson – History teacher, Lecturer in Education, University of Reading
Kris Boulton – Maths Teacher, TeachFirst ambassador, Director of Education at Up Learn
Caroline Chapman – Primary School teacher, Forest School lead, Haberdashers' Aske's School for Girls
Dawn Cox – Head of Religious Education and SLE for North East Essex Teaching School Alliance
Jules Daulby – Director of Education at the Driver Youth Trust, co-founder and national leader of WomenEd and SEND Governor
Megan Dixon – Director of Literacy and Research, IEE/EEF Research School
Jo Facer – English teacher and Vice Principal, Ebbsfleet Academy
Beth Grenville-Giddings – Teaching Assistant and Research Lead at an SEMH Special School
Grainne Hallahan – English Teacher, TES contributor
Victoria Hewitt – Subject leader for Geography and Environmental Studies, Blogger (aka Mrs Humanities), UK Blog of the Year nominee 2016 and 2017
Niki Kaiser – Chemistry teacher and Research Lead, Norwich Research School
Priya Lakhani OBE – Founder and CEO, Century Tech
Stephen Lockyer – Primary teacher, School leader, Author ('Lesson planning for Primary Teachers', 100 idea for Primary Teachers: Interventions', 'Hands Up: Questions to ignite thinking in the classroom')
Jo Morgan – Maths teacher and blogger, Member of TES Maths Panel and AQA Expert Panel
Kathryn Morgan - Director of CPD and Research Based Learning, The Prince Albert Community Trust, Birmingham
Mary Myatt – Education writer and speaker, Author ('High Challenge, Low threat: How the Best Leaders Find the Balance', 'The Curriculum: Gallimaufry to coherence')
Joshua Plotkin - Deputy Head of English at Habs Boys
Sam Pullan – History and Politics teacher, Head of Lower School, Highgate School
Tickets cost £25 before 31 December and £35 thereafter and include a welcome breakfast, refreshments and a hot lunch
Delegates will receive an email towards the end of January asking for their session choices.  Please ensure that the email address provided on booking is that of the conference delegate.
Venue: Haberdashers' Aske's School for Girls, Aldenham Road, Elstree, WD6 3BT
Arrival and breakfast: 8.30-9.20am
Welcome and Keynote: 9.30am
Finish: 3.30pm
For all enquiries please contact
Daniel Sabato, Assistant Head (Teaching & Learning): dsabato@habsgirls.org.uk or 020 8266 2436
IMPORTANT BOOKING INSTRUCTIONS :
If you would like to be invoiced, you must enter the code
'

invoice

' (no caps)
in the
Gift/Promotion Code
box and hit 'Apply' at checkout. Failure to do this will result in the generation of a credit card order.
This event is currently closed and no contact details are available