Better Smartphone Video with John McKeown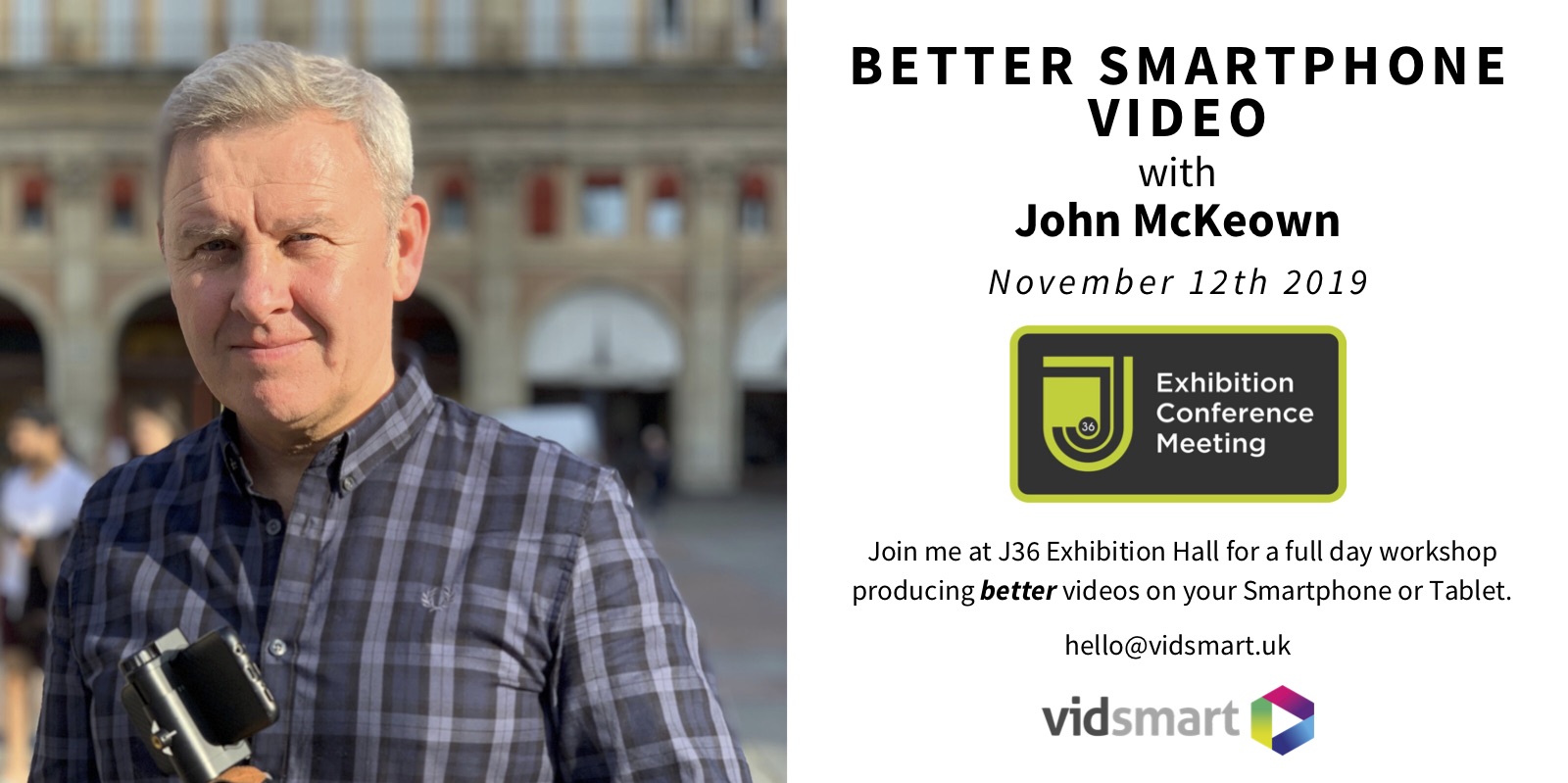 Creating videos is now an essential part of promoting your business or organisation online, so on this training day with TV Cameraman and Video Marketer John McKeown, you will learn how to make smartphone videos that help you stand out in your social media marketing.
DESCRIPTION
"What a great day! Good mix of theory and hands on stuff and John McKeown was a great trainer. Really liked his approach – laid-back but clearly knew his stuff." - Rachel Suddart, Words by Rachel
A short video on social media is likely to reach more people than other types of posts and increasingly there is an expectation that videos will be used to explain and promote services on websites.
For that reason, I'm putting on a Smartphone Video Training Workshop aimed at businesses, at the conveniently located Junction 36 Rural Exhibition Centre, M6 Cumbria.
The aim is to provide you with the basic skills to produce quality short videos using your mobile device. We will cover:
Using your native camera App
Composition
Filming techniques
Recording better sound
How to edit
Specialist Apps
What low cost equipment to buy.
Who is this for?
This training day is aimed at small businesses and marketing professionals that want to get more from their social media marketing by utilising video in a more professional manner. Participants must have a good working knowledge of their mobile device and be familiar with its camera.
The Trainer.
I am an ITV trained TV Cameraman of 23 years and Corporate Video Producer of 11 years, with credits such as The World Cup Finals and Opening and Closing Ceremonies of the Winter Olympics. I love meeting new people and helping businesses getting better marketing results through the use of video. John McKeown.
Come and join other like minded business for a fun workshop that will provide you with a valuable new skill and you will gain access to further support by email and our special Facebook Group.
Lunch and refreshments are included, so let us know of any dietary requirements.
Free parking is available at the venue.
Price for the full day is £150.
Location
The Elder Conference Room
J36 Rural Auction Centre, Crooklands, Cumbria, LA7 7FP.
This event is currently closed and no contact details are available