Mastering Public Speaking with Cheryl Chapman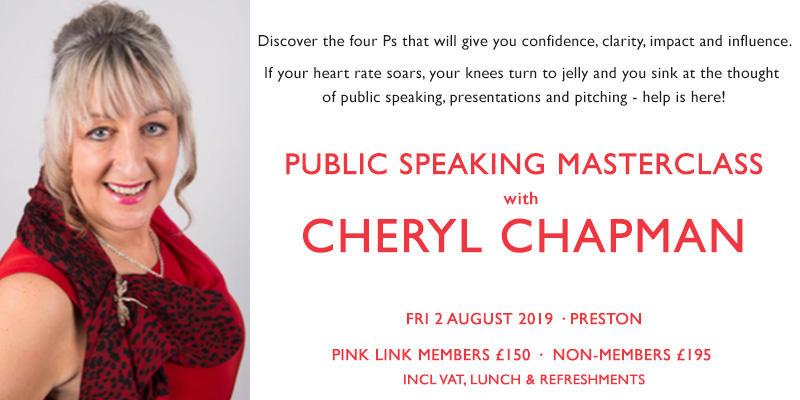 Calling all female business owners, consultants, freelancers, employees – do you have a message that you want to share.
Do you get anxious or nervous at the thought of public speaking?
Whether you're running a business or represent one, you need to be able to speak confidently and professionally. From presentations, pitches for sales or investment or simply answering the question "What do you do?", you need to capture the attention and engage the audience.
Mastering Public Speaking is a one day masterclass with award winning author and coach, Dr Cheryl Chapman, that is created specifically for women.
Cheryl Chapman is an international speaker, mentor and the creator of Find Your WHY Foundation.
As a multi award winning speaker, coach and mentor, Cheryl has spoken on stages across the world including Australia, South Africa, Thailand, Dubai, Europe, USA and UK presenting to tens of thousands of people.
She is an instrumental figure within the Professional Speaking Academy where she is responsible for mentoring the next generation of strong female speakers who now in turn perform on big stages, win awards and generate huge incomes from sharing their message in a creative and collaborate way.
This one-day workshop will teach you to master the art of effective presentation skills and techniques for public speaking, personal impact and influencing, both inside and out of the workplace. Whether your audience is thousands or just one person, you need to be able to engage them quickly and deliver your message clearly and effectively.
Cheryl will help you to understand what it is that holds so many women back when it comes to standing up and speaking out. She will share with you what not to do as a woman if you want to be taken seriously when it comes to business.
If you are struggling to get your voice heard above the competition, Book This One-Day Masterclass now! 
In this workshop, you will learn:
How to PRESENT in a confident and clear way
How to POSITION yourself as the go-to person in your industry
Understand why you should create PRODUCTS that mean you don't have to be there
How to PITCH your products in a way that people want to do business with you.

You will discover how to impact, inform, inspire and influence your audience so that you gain the recognition, rewards and income that you are striving for.


 
Cheryl can help you to stand up and speak out, which will help you to transform both you & your business
Places are limited. Book Now!
Location
Cotton Court Business Centre
Cotton Court, Church Street, Preston, Lancashire PR1 3BY
This event is currently closed and no contact details are available