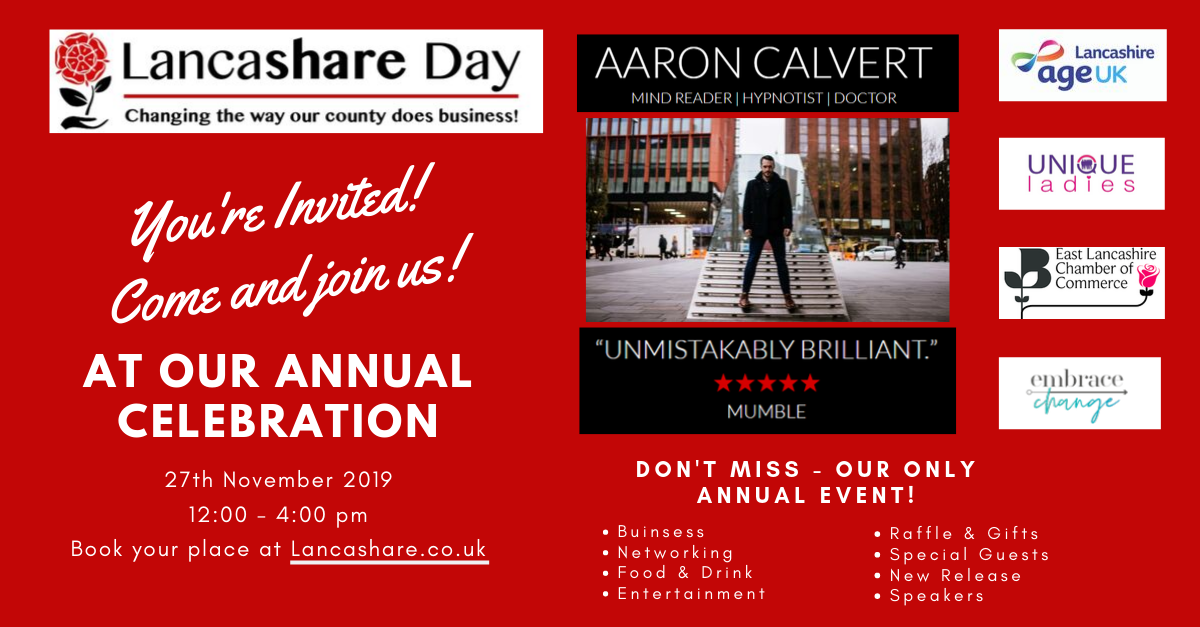 Every year we bring hundreds of businesses together from across the county, to network, dine, be inspired and entertained, Lancashire style, at our only annual event! Join us at this unique Lancashare Day celebration, where we promise to both amaze and disrupt our county, yet again, with this modern twist to our traditional day!
Join us for our 3rd birthday to celebrate all things Lancashire & Lancashare!
It's that time of year again where we host our annual celebration, the only event we do every year which attracts hundreds from across the county.  It's our way of saying thank you to yourself and hundreds more from across the county for supporting Lancashare so you're invited!!  

Every year on Lancashire Day - we celebrate, and, as expected, we're shaking it up again!  This years event will be a uniquely 'inclusive' event.  Our traditional Lancashire Hotpot, will be replaced with a traditional Lancashire curry as hundreds descend on the £1m Grand Venue in Blackburn where we will showcase every corner of our county! 

We'll be celebrating our Asian business communities, our elder generations will be represented by Age UK Lancashire with words from their CEO Teri Stephenson, there'll be a special address by Generation Z Specialist & Speaker, Francesca Hall, the fabulous Suzy Orr of Unique Ladies will ensure our female business owners are showcased, you'll also hear from Miranda Barker, CEO of East Lancashire Chamber, Denise Park, CEO of BwD Council and of course the business community of Lancashire will be there too along with another thought provoking launch from Lancashare, to ensure all are involved in this inclusive event.    

Sprinkle on top of that a bit of magic from Lancashire's resident, sell out, mind bender, Aaron Calvert, and we've got an event to blow you away, I do hope you will be able to come along.
 
It's the only event we do each year and we never disappoint, we hope you'll join us in celebrating our company and our county!  
- 4:00 pm
Location
The Grand Venue
2 Harrison Street, Blackburn, Lancashire BB2 2HZ
Ample free parking on site.
Contact Details
This event is currently closed and no contact details are available