Museum of Witchcraft and Magic (SOLD OUT)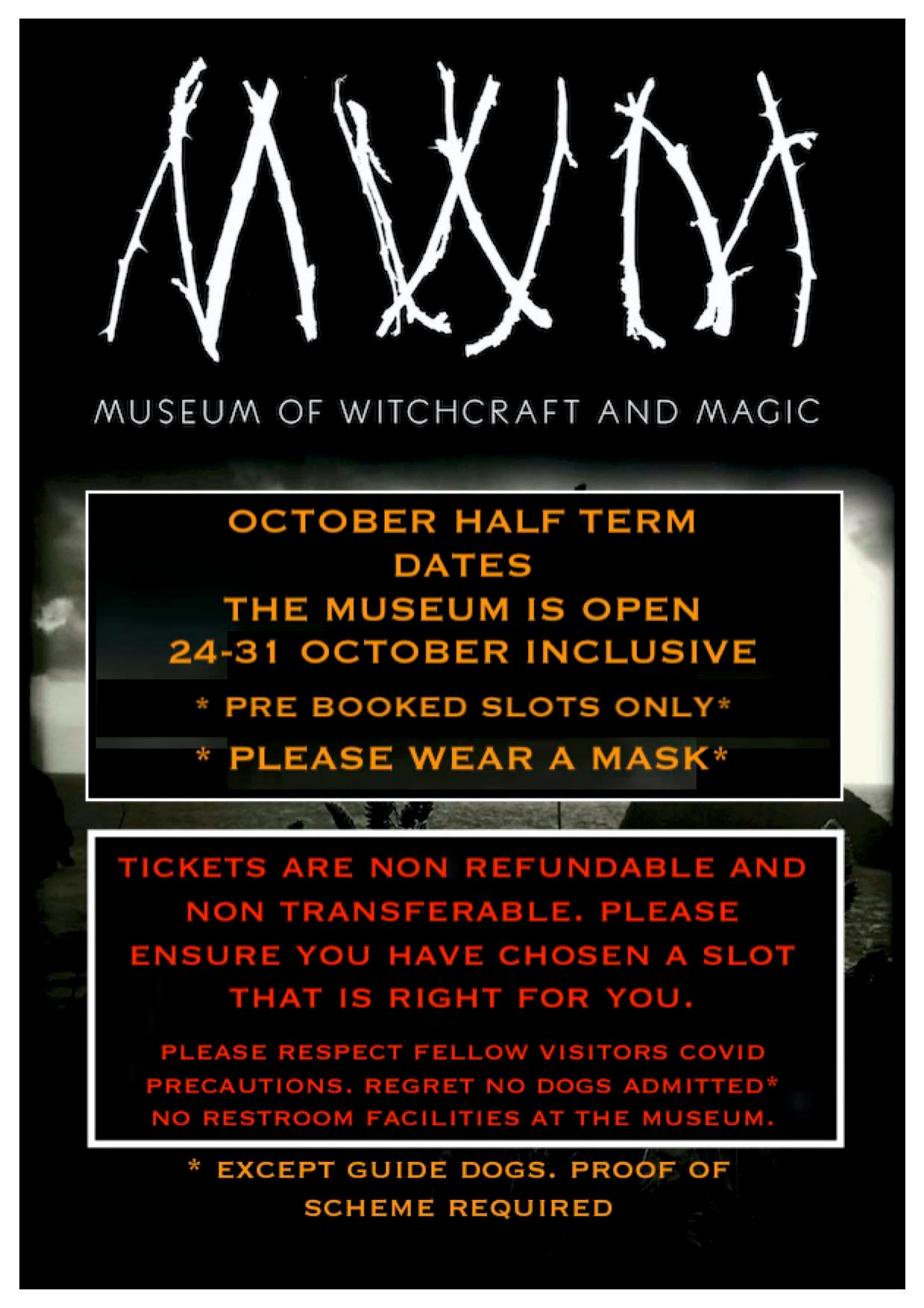 Please make sure you book the right date and time as tickets cannot be changed or refunded. For the time being, you can only book one week in advance.
Your slot lasts for one hour from the time of entry. It is vital that you arrive on time. Due to social distancing requirements, the Museum may admit 34 persons at any given time. The hourly slot, every five minutes, helps us meet this goal. It is not helpful if you arrive late, and you may lose your slot altogether when the Museum is busy. Thank you for your assistance.
*** A NOTE ABOUT PARKING. THERE IS NO PARKING AT THE MUSEUM. PARKING IS IN THE SPAR CARPARK FIVE MINUTES AWAY. IN HOLIDAY SEASON, BE SURE TO ARRIVE EARLY FOR PARKING IN ORDER TO GET A SPACE.***
Please assist your fellow patrons by moving through the museum within one hour and by observing 2 metres social distancing.
- Strictly no unaccompanied children.
- No dogs except official Assistance Dogs. Proof of scheme neccesary.
- Stay within your group.

- Observe 2 metres between other visitors.
- Wheelchair users are requested to contact the Museum prior to booking. Narrow corridors on the ground floor, narrow, steep stairs with restricted access, and a mandatory one way system to comply with social distancing mean that it is not always possible to provide the pre COVID19 service that wheelchair disabled visitors are used to. During the Pandemic, In order to accommodate the wheelchair disabled, the last slot of the day is bookable, every day, where available, allowing for the temporary removal of the one way system. Alternatively, please contact the museum by email to make an alternative arrangement. Every effort will be made to find you a slot.
- Friends of The Museum book via email to the Museum to secure their slots.
MASKS ARE MANDATORY. The Museum is a confined space. Please ensure you are wearing one for the entire duration of your visit.
Dates are released one week at a time.
Location
Museum of Witchcraft and Magic
The Harbour, Boscastle, Cornwall PL350HD