Eastbourne Eagles v Newcastle Diamonds - Double Header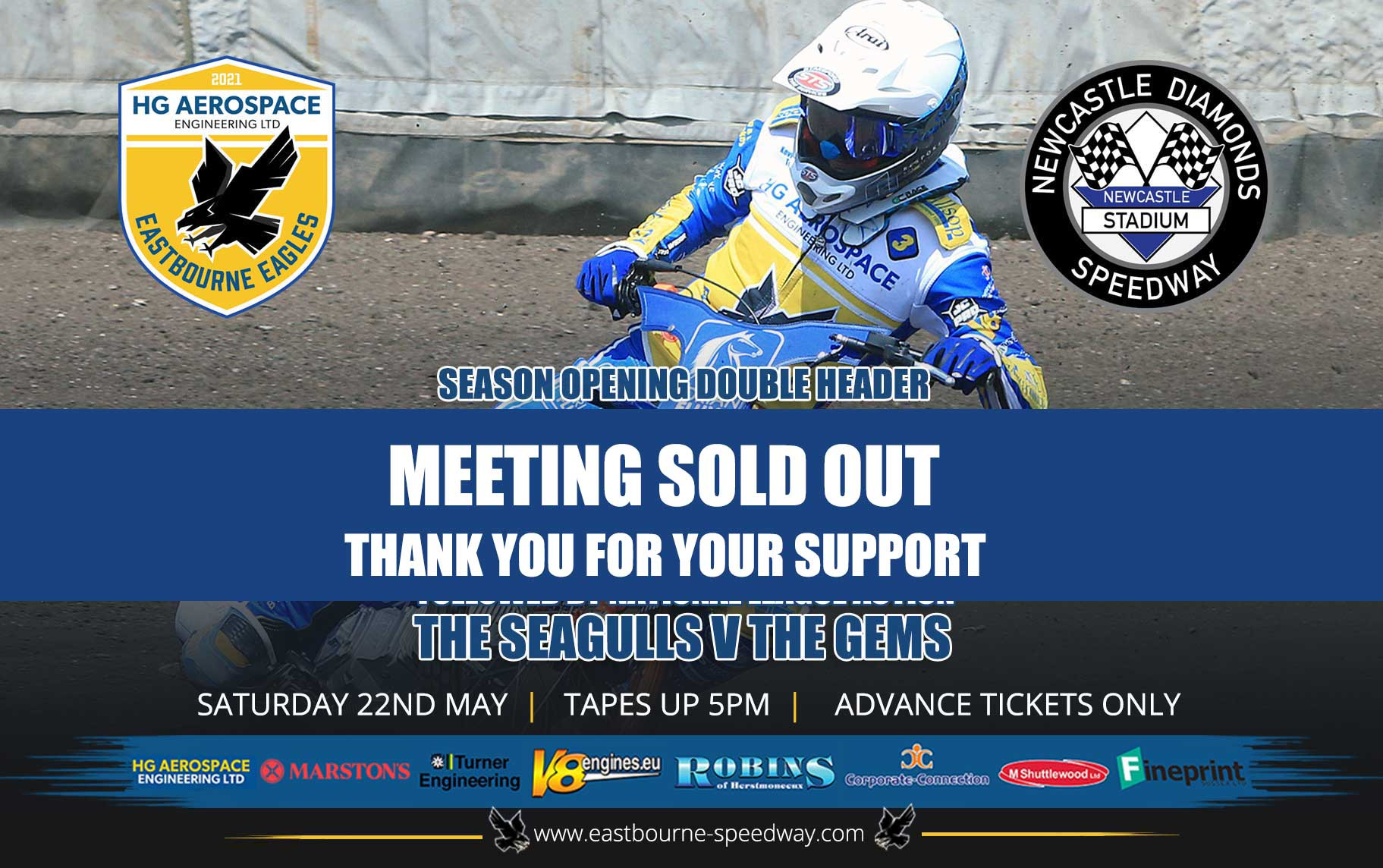 .
The Eastbourne Eagles / Seagulls Speedway Team, racing at Arlington Stadium
Please note that this is an online ticket event only.
Strictly, No card or cash admission on the day or night of the Event under any circumstances.
Welcome to Eastbourne Eagles online ticket portal for the meeting between
Eastbourne HG Aerospace Eagles v Newcastle Diamonds - SGB Championship
(15 Heats of Championship Speedway)
&
Eastbourne Seagulls v Newcastle Gems
(15 Heats of National Development League Speedway)
The meeting at Arlington Stadium will be run following the government guidelines regarding COVID-19 and spectator attendance will be strictly restricted and monitored.
Entrance will be via e-Tickets or previously purchased Season / Block Booked Tickets only.
To purchase a ticket click on the BOOK NOW button at the top of the page
(For full terms & conditions, see information below).
Please note that all events will be strictly ADVANCED TICKET BOOKING ONLY, Face masks MUST BE WORN on entry to the stadium if required by Legislation.
ENTRY will be via designated open-air wide access Gates (not enclosed Turnstiles) to reduce the risk of any Covid 19 cross infection in enclosed spaces.
As the Stadium is an "open space" masks must be worn or not at your discretion once inside the Stadium but MUST be worn on arrival. (This Policy may be subject to change)
Masks MUST be worn at all times in any internal area such as Toilets and Bar / Food Outlets.
(see full information below)
Location
Arlington Stadium
Arlington Road West, Hailsham, Sussex BN27 3RE
Terms & Conditions:
For full Terms & Conditions, please see the contact page on the Eastbourne site. The event is to be run whilst following the government guidelines regarding COVID-19 and spectator attendance will be restricted. Please note that this event is strictly ADVANCED TICKET BOOKING ONLY!
Tickets will not be issued on the day. Failure to produce a valid e-ticket will cause you to be refused entrance to the stadium. There are no exceptions to this rule. If you have a pre-purchased 2020 Season / 10 Match or 2021 10 or 5 Match Pass it will be VALID for Entry by a dedicated Turnstile. If you are attending with anyone with a Match e-Ticket - they will have to enter via the allocated E-Ticket Gates
Please note that we WILL require a valid e-mail address and contact number when ordering your ticket(s) for us to be able to send your electronic tickets to you. (We can accept no responsibility if invalid email addresses are provided)
The Spectator Viewing Areas of the stadium may be restricted to defined areas. Specific Seats cannot be pre-booked and will be strictly limited to be available within set social distancing guidelines and criteria. If Seated / Sitting you will be shown to your Seats by a Steward and will be socially distanced from anyone outside of your Group once seated. We will attempt to seat you in your preferred area but seating will be on a first come first served basis.
Please be aware that the Stadium will be segmented into the following areas: Area 1: Home Straight covered Stand and Stock Car Track and 1st / 2nd Bend Terracing Area 2: Back Straight Grandstand + Hailsham Bend 3rd / 4th Bend and Home Straight area from 4th Bend up to Turnstile Area DISABLED - We have space for 5 Wheelchairs and nominated Carers - This is located in Area 1 - Please contact us at commercial@eastbourne-speedway.com for further details
Once capacity is reached in any Area - Online Ticket Purchase option will be removed. Further Tickets may become available if Government Restrictions ease and will be advertised as and when they become available.
You must make your way to the designated Area on arrival and accept that you may be directed by a Steward to ensure optimum public safety. Clearly defined walkways will be identified between Areas and will NOT be available for loitering or viewing under any circumstances to ensure fast and safe flow of spectators. Clear Entry and Exit signage will be in place around the Stadium and to Toilet and Food/Beverage facilities. All Toilet and Food/Drink areas will be closely stewarded and regularly cleaned & re-stocked to ensure Covid 19 safety compliance.
Face Masks MUST be worn on arrival and when using Toilets and/or indoor Food + Drink under current Guidelines, this may be eased / amended by the date of the Event. Some Food and Drink Facilities may have defined Entry and Exit Doors and strict limits on numbers inside at any one time, we ask for your cooperation at all times
A maximum of 6 tickets can be purchased per order. As this is a DOUBLE - HEADER Adult Tickets at £24.00 are classed as 16 years and older on the date of purchasing the Ticket. All Age restrictions should be applied as the date on which you purchase the Ticket and NOT the date on which the Event takes place. - Children aged OVER 5 but under 16 will be charged at a reduced rate of £5.00. - Children Under 5 are FREE but you must purchase a FREE Ticket for this age Group and signify how many children in this category are attending to enable us to manage numbers. We will accept a maximum of 2 supporters under the age of 16 with each paying Adult.
(Specific exemption to this can be obtained if you wish to contact us at commercial@eastbourne-speedway.com prior to purchasing Tickets)