Eastbourne Eagles 90th Anniversary Meeting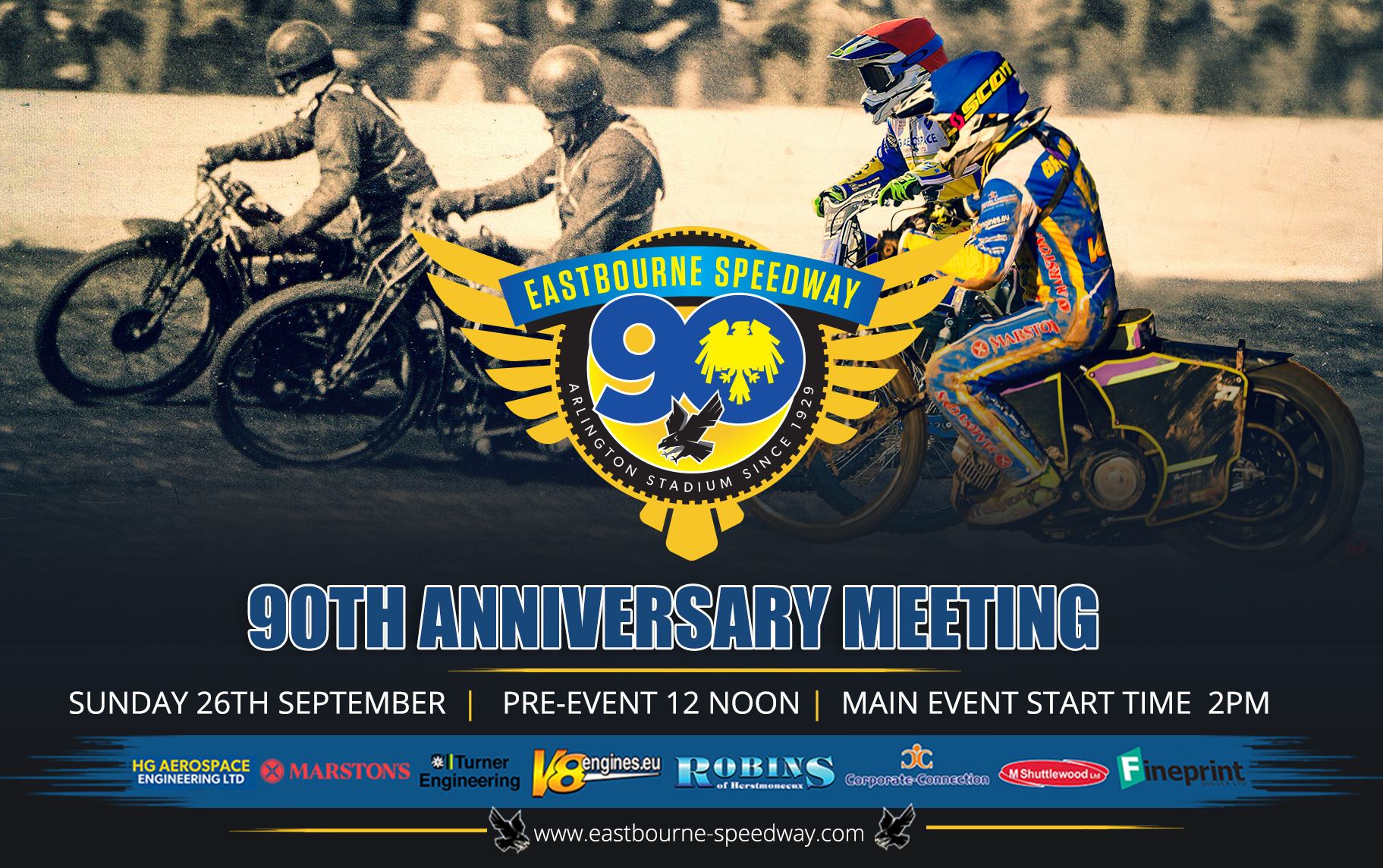 .
The Eastbourne Eagles / Seagulls Speedway Team, racing at Arlington Stadium
Welcome to Eastbourne HG Aerospace Eagles online ticket portal for a very special Event
90th Anniversary of Speedway at Eastbourne / Arlington Stadium 1929 - 2019 (2021)
Please note that although this Event is due to take place after Covid 19 Restrictions are eased on Monday 19th July; we strongly suggest prior booking in order to ensure that should any form of restrictions be re-applied in the early Autumn, that you have guaranteed entry.
Details will be provided shortly for a range of Limited Edition 90th Anniversary commemorative publications and products for purchase via PRE-ORDER. This includes a limited Match programme, and a limited printed edition of Flying High magazine.
--------
Guaranteed Entrance will be via e-Tickets
To purchase a ticket click on the BOOK NOW button at the top of the page.
Gates Open at 12 Noon for Entry to Fan Zone / Static Displays / Speedway Memorabilia / Bike Displays + Rider Photo / Autograph zones. Championship of Sussex Individual Meeting + Races and Rides from Machines + Riders of the Past commence at 2.00pm promptly.
The Event is scheduled to last 3 hours from 2.00pm to 5.00pm closing with a GRAND PARADE and Award Presentations.
There will be NO Live Streaming of this Event, due to logistical problems caused by remote the stadium location which means that streaming is currently not financially viable.
(For full terms & conditions, see information below).
Location
Arlington Stadium
Arlington Road West, Hailsham, Sussex BN27 3RE
Terms & Conditions:
Pre-Booking of Tickets to 90th Anniversary Meeting on Sunday 26th September 2021
Gates Open to FANZONE / Stadium at 12.00 noon. Meeting Starts 2.00pm includes CHAMPIONSHIP of SUSSEX Individual + 90th Anniversary Event. Meeting Closes approx 5.00pm with GRAND PARADE and AWARD Presentations
Please note that we WILL require a valid e-mail address and contact number when ordering your ticket(s) for us to be able to send your electronic tickets to you. (We can accept no responsibility if invalid email addresses are provided)
Please be aware that the Stadium will be segmented into the following two areas:
LOWER TIER Seated Grandstand: Reserved Seats only to guarantee a Seat on the day of the Event(specific Seats cannot be Booked)
ALL AREAS: All other Areas (excluding Lower / Upper Grandstand Bar / Hospitality Suites).
For details of Upper Grandstand Hospitality Packages please contact Lee or Ian at commercial@eastbourne-speedway.com
Adult Tickets at £18.00 are classed as 16 years and older on the date of purchasing the Ticket. Concessions are £16.00. All Age restrictions should be applied as the date on which you purchase the Ticket and NOT the date on which the Event takes place. Children aged OVER 5 but under 16 will be charged at a reduced rate of £5.00. - Children Under 5 are FREE but you must purchase a FREE Ticket for this age Group and signify how many children in this category are attending to enable us to manage numbers. Family ticket: £37.50 (2 Adults and up to four children to the age of 15)
We have a number of DISABLED spaces that can be purchased separately and include 1 FREE Carer. Purchasing online gaurantees entry, with the first 250 tickets sold also receiving a special, unique memento of the meeting.
When ordering your tickets you will go through the following process:
• Select the number of tickets & area you wish to purchase.
• Complete your details as specified within the process.
• Complete your payment details and order.
• Order will now be complete.
On completion you will receive an email to show what you have ordered. The e-mail will arrive shortly after booking is completed to your INBOX. If it is not in your INBOX please check your SPAM Folder. This is your e-ticket. It must be PRINTED if at all possible and brought with you on the day.
If you have not received a confirmation it is most likely that you have mis-typed your e-mail address. Please therefore email us at commercial@eastbourne-speedway.com and we will re-issue the Ticket to the e-mail address you have mailed us from.
You MUST bring this e-ticket with you printed off or CLEARLY visible on your phone for our team to check prior to allowing your admission into the stadium. Evidence can be taken from phones or tablets, but it would be appreciated if a printed paper proof is obtained if at all possible.
REFUND / CANCELLATION Policy - If the Event has to be delayed or cancelled for any reason on or prior to the day a RESTAGING Date will be announced in early October 2021. In which Event Tickets will be valid for the Re-Staging Date and Refund requests will be dealt with on a case by case basis should the Event on Sunday 26th September not take place.