Eagles v Plymouth Gladiators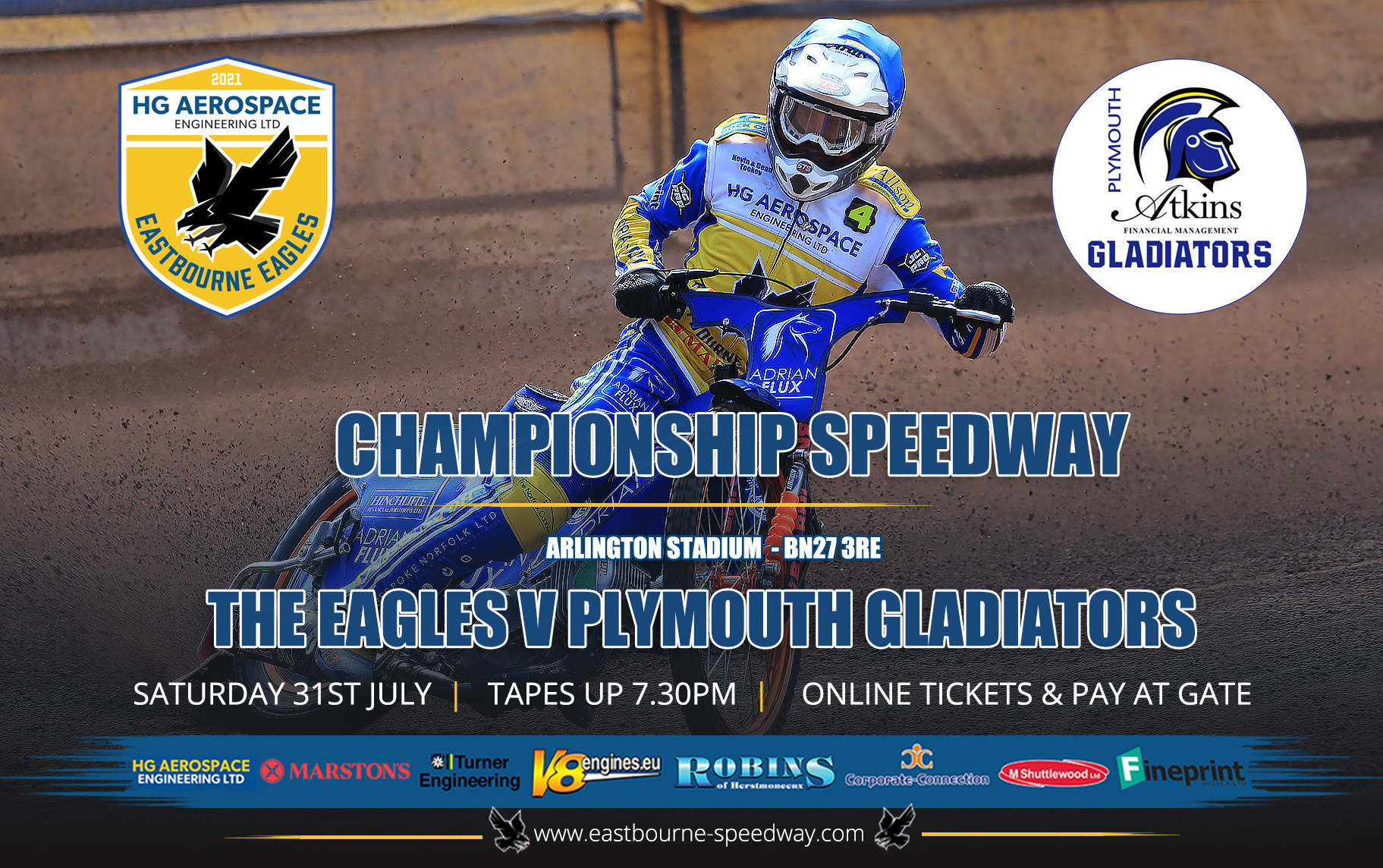 .
The Eastbourne Eagles / Seagulls Speedway Team, racing at Arlington Stadium
Welcome to Eastbourne HG Aerospace Eagles online ticket portal for the Championship meeting:
Eastbourne HG Aerospace Eagles v The Plymouth Gladiators
15 Heats of Championship Speedway
Card payment for tickets is available online here up to 7.45pm or outside the stadium via your smartphone, or pay at the gate (cash) on the day.
Card payment must be via TryBooking System, with savings per ticket as opposed to cash payments.
Please note - masks are not obligatory, but we encourage those who wish to wear them to do so.
(For full terms & conditions, see information below).
Location
Arlington Stadium
Arlington Road West, Hailsham, Sussex BN27 3RE
Terms & Conditions:
Please note that we WILL require a valid e-mail address and contact number when ordering your ticket(s) for us to be able to send your electronic tickets to you. (We can accept no responsibility if invalid email addresses are provided)
Please be aware that the Stadium will be segmented into the following two areas:
LOWER TIER Seated Grandstand: Reserved Seats only to guarantee a Seat on the day of the Event (specific Seats cannot be Booked)
ALL AREAS: All other Areas (excluding Lower / Upper Grandstand Bar / Hospitality Suites). NO SEGREGATION
Adult Tickets at £16.00 are classed as 16 years and older on the date of purchasing the Ticket. Concessions are £14.00. All Age restrictions should be applied as the date on which you purchase the Ticket and NOT the date on which the Event takes place. Children aged OVER 12 but under 16 will be charged at a reduced rate of £5.00 for their first visit, but will receive a Free season pass which will entitle them to FREE entry for all subsequent visits. - Children Under 12 are FREE but you must purchase a FREE Ticket for this age Group and signify how many children in this category are attending to enable us to process entry at the turnstile.
When ordering your tickets you will go through the following process:
• Select the number of tickets & area you wish to purchase.
• Complete your details as specified within the process.
• Complete your payment details and order.
• Order will now be complete.
On completion you will receive an email to show what you have ordered. The e-mail will arrive shortly after booking is completed to your INBOX. If it is not in your INBOX please check your SPAM Folder. This is your e-ticket. It must be PRINTED if at all possible and brought with you on the day.
If you have not received a confirmation it is most likely that you have mis-typed your e-mail address. Please therefore email us at commercial@eastbourne-speedway.com and we will re-issue the Ticket to the e-mail address you have mailed us from.
You MUST bring this e-ticket with you printed off or CLEARLY visible on your phone for our team to check prior to allowing your admission into the stadium. Evidence can be taken from phones or tablets, but it would be appreciated if a printed paper proof is obtained if at all possible.
Refund Policy
Card / Pre-Booking using Try Booking : The Ticket can be used for the Rescheduled Meeting and an rearranged date will be notified asap.. As an alternative the Ticket can be transferred to any other future Meeting in 2021 on the same Price Band; and all Ticket Holders will be contacted within 48 hours of the Abandonment with details of forthcoming Fixtures and details of how to request a transfer. This will be in the form of a printed Admission Ticket of identical value to be collected from a designated Turnstile at the meeting of choice on production of a Printed or smart phone validation of the cancelled Meeting Ticket. No automatic Refunds will be sent until the Restanging or Replacement Fixture options have been fully considered. If anyone is not genuinely able to attend a future Meeting in 2021, a written request will be considered sympathetically and a Refund can be agreed on a case by case basis.
Cash Sales : Standard BSPL/SCB Regulations Apply (link) . In the Event of a Rain Off with fans inside the Stadium a Refund of 10% of the Entry Fee up to Heat 10 will be applicable in the Form of a Readmission Ticket being issued on Exit all Supporters. To be at any future Home Meeting in full / part payment depending on the number of Heats run. No Refund once Meeting runs past Heat 10. If anyone is not able to attend a future Meeting in 2021, a written request will be considered sympathetically and a transfer payment agreed on a case by case basis.