Active Hope and the Great Turning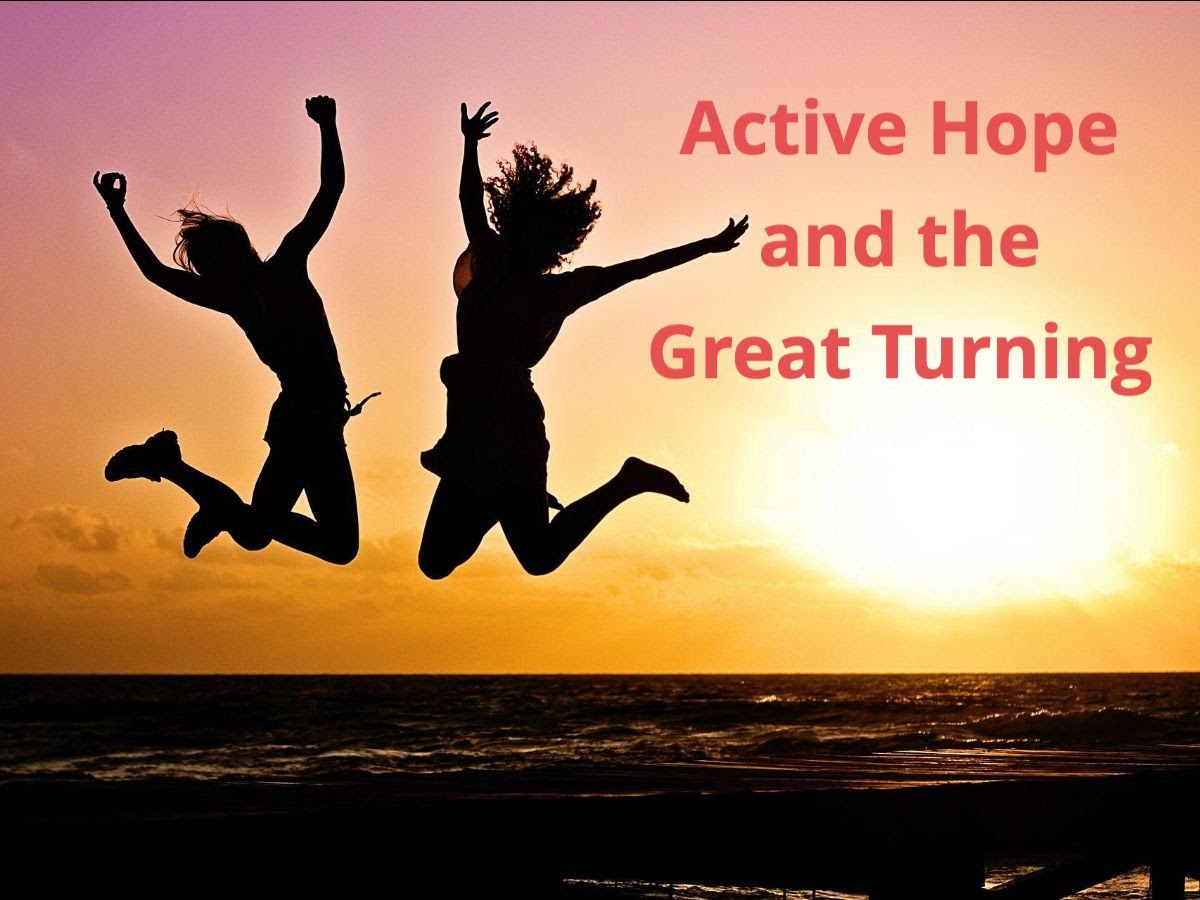 About
Online course starting Thursday 13 October 7-9pm UK time, eight sessions.
The Zoom link will be send when you register.
Active Hope and the Great Turning
Online course with Margo van Greta, starting Thursday 13 October, 8 sessions
This event is now cancelled due to low booking numbers.
Check www.heartbeatfindhorn.com for other upcoming events.
What?
"The Work that Reconnects helps people discover and experience their innate connections with each other and the self-healing powers of the web of life, transforming despair and overwhelm into inspired, collaborative action." Joanna Macy
Let's find out where and how we can make a difference. Let's cultivate the courage and creativity to follow our heart, and be part of creating a regenerative world. It may include making radical changes in our lives. Or it involves a fine-tuning of our inner being. Join me to explore this this in a safe and supportive group
So What?
The Great Turning is a shift from the Industrial Growth Society to a life-sustaining civilization. Its three dimensions are:
Actions to slow the damage to Earth and its beings.

Creating structural alternatives

Shift in Consciousness
We will move through a journey called the SPIRAL, which includes:
GRATITUDE: building up resilience as we do so.

HONOUR OUR PAIN for the world, as grieving is an essential part of stepping into wholeness. With Truth Mandala.

SEEING WITH NEW EYES, shift our perspective and integrate this in our life.

GOING FORTH, where we explore our vision of the world we do want to live in, and identify steps we are willing and able to take, no matter how small or large.
Using practices from The Work That Reconnects and Active Hope, we engage in
Inner work, art and ritual, bodywork and breathing, sharing in small and medium size groups.

You will be part of a small buddy group meeting during the week.

There will be integration activities in between sessions, and some inspirational videos.
What participants of Margo's previous courses said:
'The Work That Reconnects is a vital social technology of our time. Many people need safe spaces to collectively process the fear and pain around the deepening crises of this unprecedented time. I highly recommend Margo as a facilitator.' July 2022
'This is a wonderful course, gives us insight into our thoughts and perspectives and helps us to clarify our place and activity in the world.'
'Margo's course enabled me to connect more deeply with myself, places of gratitude, pain, and hope and also with others. I enjoyed building relationships, getting support in planning projects, and processing my feelings in regards to the state of the world. The course was a great balance of input, body work, meditation, and group sharing and Margo was an empathetic, kind, and well-organised facilitator.'
'This course has helped me to know my truth. And has given me the courage to follow my heart and make some big changes in my life.'
Margo van Greta is deeply inspired by the work of Joanna Macy, whom she met in her home in the Findhorn Ecovillage Community. She created Heartbeat Findhorn, Inner Work for Outer Action, facilitating the journey of spiritual deepening, resilience building and the transformation of consciousness.
Now What?
This course is for you if:
You are a social activist.
You care for our planet and wish you could do more for its sustainability.
You experience with burnout or anxiety.
You want to join a supportive group, engaging with inner resilience.
Want to develop a sustainable life for yourself and others.
If this inspires you, please join me on this journey!
Dates: Thursday October 13, 27, November 10, 17, 24, December 1, 8, 15. (8 sessions),
7-9pm (UK time)
Check for times in your own time zone here.
Please note: on 30 October the clocks change in the UK from summertime to winter time.
Please note: no session October 20, November 3.
Suggested Donation: £300 / £200 / £100 – sliding scale
There are 3 prices, in order to make this course available to all:
£300: Generosity price: to financially support those without the means to participate.
£200: Sustainable price: the regular price to sustain this course.
£100: Subsidised price, for those on low income and in need of financial assistance.
Please contact me if you want to particpate, but require financial assitance.
Margo van Greta is a pioneer of holistic spirituality and a facilitator of transformation, creating a safe and supportive space for deepening the inner journey. She met Joanna Macy in 2000, fell in love with the Work That Reconnects, and facilitates course based on Active Hope and The Work That Reconnects. Since 1991 she lives and works in Spiritual Ecovillage Findhorn in Scotland, UK, she works with Spiritual and Personal Development. One of her projects was the Inspired Action Conference in 2010. She is passionate about integrating spiritual practice in daily life, and created Heartbeat Findhorn: Inner Work for Outer Action, providing online courses. She is a Buddhist practitioner since 1987, and teaches Buddhism. She lives in a small eco house, and loves her daily walks to the beach.
Location
Online event access details will be provided by the event organiser