Marketing and Admissions Wednesday Wisdom Webinar Series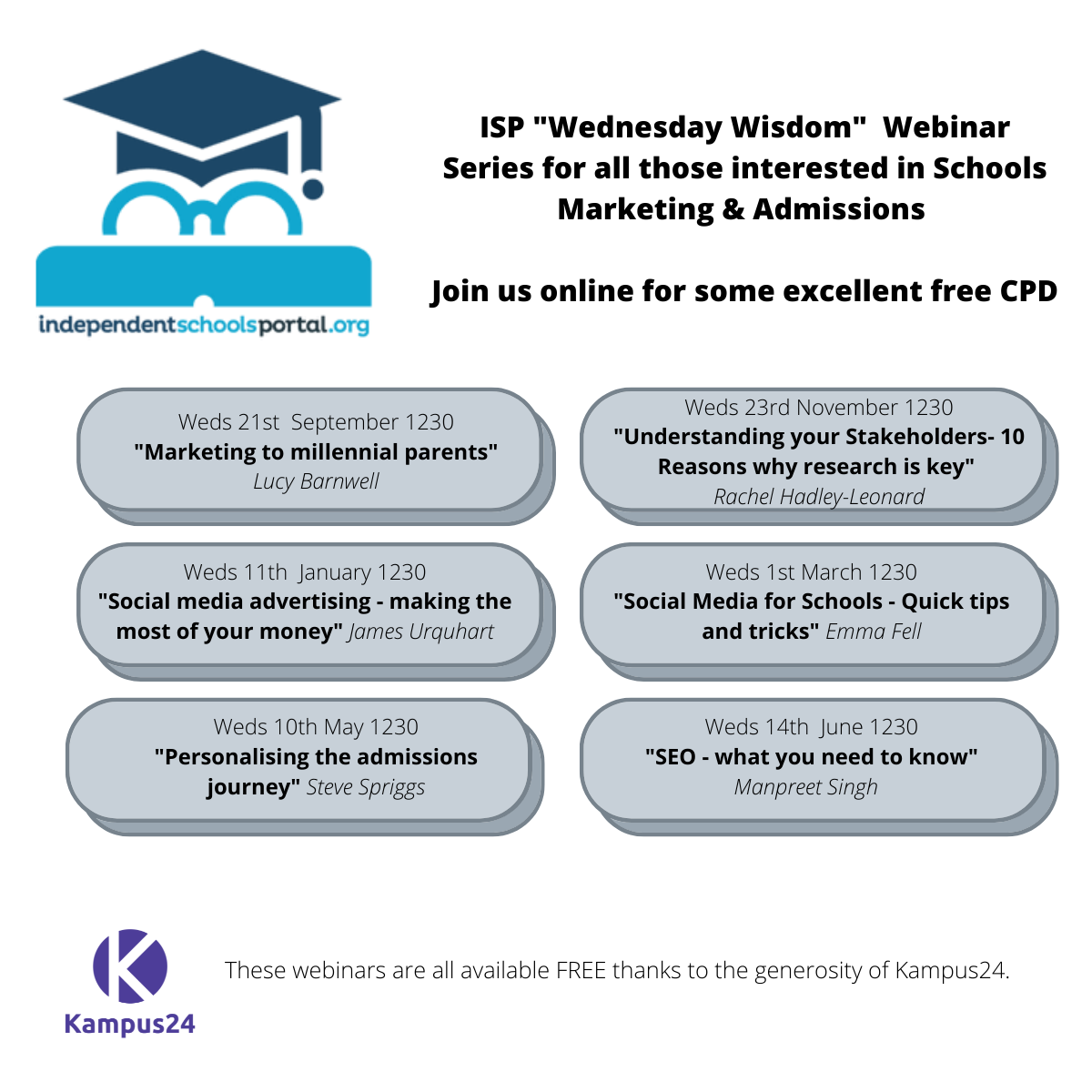 We are delighted, thanks to the generosity of Kampus24, to bring to you our half-termly Wednesday Wisdom webinars aimed at all those with an interest in Marketing and Admissions in Schools. Each half-term we will hear from a leading expert on a key topic for those in the sector. All those who book will also receive a recording of the webinar if they are unable to attend on the day. Do try and join us though - we have had some brilliant collaborative discussions on previous webinars.
Our webinar series brings leading professionals in both the marketing and education sector to provide high quality CPD. Designed so that you can watch from the comfort of your desk you will have the opportunity to hear from leading experts and discuss best practice. The programme has been chosen after extensive research with our audience and we hope you will find at least one session that hits the mark topic wise for you. With the wide reaching remit of Schools Admissions and Marketeers it is difficult to cover everything you are meant to know - but we are giving it our best! All our sessions take place at lunchtime - and those who book will also be sent a recording afterwards.
Marketing to Millennial Parents, Lucy Barnwell, Weds 21st September
Understanding your Stakeholders: 10 Reasons why research is Key, Rachel Hadley-Leonard, Weds 23rd November
Social Media Advertising: Making the most of your money, James Urquhart, Weds 11th Jan
Social Media for Schools - Quick Tips and Trips, Emma Fell, Weds 1st March
Personalising your admissions journey, Steve Spriggs, Weds 10th May
SEO: What you need to know, Manpreet Singh, Weds 14th June
Comments from previous events:
'Thank you for such a great day. I have gone back to the office feeling inspired and energised having felt a little lost.' Marketing Manager, Yorkshire
'Great session as ever - thank Team ISP' Head, Buckinghamshire
'Thank you for a great day! The online format worked well.' Registrar, Sussex
' Great to see affordable CPD and I enjoyed the chance to network too.' Marketing Director, Dubai
The Independent Schools Portal is currently working alongside the Chartered College of Teaching to develop a professional development accreditation programme for all education training providers.
What is our CPD like? Why not take a look and subscribe to the Independent Schools Portal YouTube channel?
Location
Online event access details will be provided by the event organiser