UKLA Student and Teacher Conference: Reading Comprehension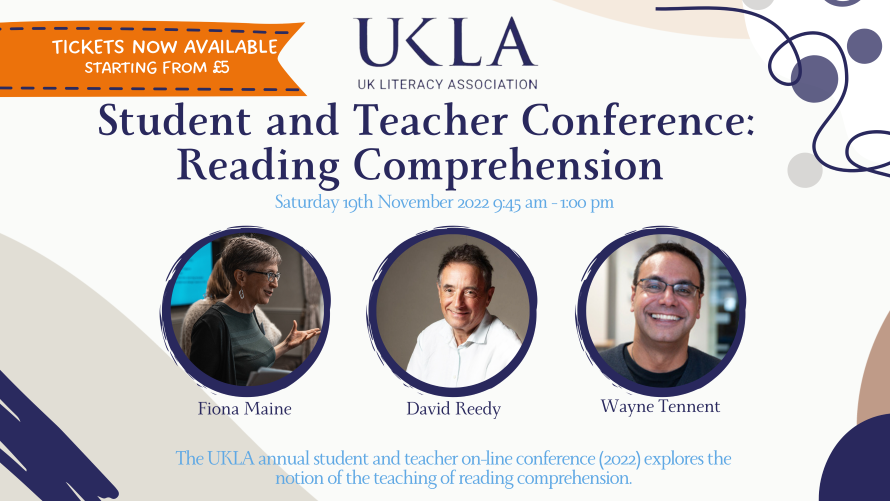 About
This year's UKLA annual student and teacher on-line conference explores the notion of the teaching of reading comprehension. Through the conference delegates will, through three expert-led sessions, develop their subject knowledge and gain practical strategies and lesson ideas to teach comprehension confidently in the classroom.

Designed for both student teachers and teachers, this conference will prove to be invaluable professional development.
Location
Online event access details will be provided by the event organiser

10am Session 1 Wayne Tennent - Comprehension: of What? By Whom?
In the opening session, Wayne will consider what we mean by text comprehension. He will explore the point that the process of comprehending text involves the reader applying numerous linguistic, metalinguistic, cognitive and knowledge components. The ability of children to apply these components will vary from reader to reader and from text to text. Wayne will consider the implications of this for teaching and assessment.
11am Session 2 David Reedy - Developing Comprehension through Inference Making: The Key Role of Teacher Questions
David will draw out how inference is central to making sense of texts and then identify the key types of inference that teachers should be developing through targeted questions with children in reading lessons. This will be a practical session looking at short texts and considering what questions would enable inference making to occur.
12pm Session 3 Fiona Mayne - Talk for Comprehension: How Can Visual and Multimodal Texts Support Reading for Meaning?
Fiona will look at how short animated film can be used as a tool to enhance children's use of different comprehension strategies. She will share practical ideas for helping children to articulate their ideas, using dialogue as a tool for comprehension and capitalising on the motivating power of moving image.
Fiona Maine is Professor of Language and Literacy in Education at the University of Exeter. A primary teacher at heart, she has spent many years supporting teachers to reflect on and enhance their literacy teaching. Her research investigates how children make meaning together from visual, moving image and digital narratives, and it highlights the possibilities afforded by working with wordless and ambiguous texts in the classroom. She is the author of Dialogic Readers: Children talking and thinking together about text
David Reedy is a past President and former Hon. Secretary of the U.K. Literacy Association (UKLA). Until 2014 he was Principal Adviser for primary schools in the London Borough of Barking and Dagenham as well as Co-Director of the Cambridge Primary Review Trust (CPRT). In 2019 David was elected a Fellow of the Chartered College of Teaching. His most recent publications are Talk for Teaching and Learning: The Dialogic Classroom ( UKLA 2021), Teaching Primary English: Subject Knowledge and Classroom Practice (Routledge 2018), Teaching Grammar Effectively in Primary Schools (UKLA 2019), all co-written with Eve Bearne. David is particularly interested in the role of talk at the heart of pedagogical practices, as well as effective classroom approaches to reading comprehension and continues to work extensively with primary teachers and schools to develop these areas.
Wayne Tennent is a Senior Lecturer in Education at Brunel University London. He spent many years as a primary teacher, in London and abroad. It was in New Zealand that he developed an interest in children's reading comprehension. Recent publications include Understanding Reading Comprehension - Processes and Practices (2015) and Guiding Readers - Layers of Meaning (2016), the latter co-written with Angela Hobsbaum, Nikki Gamble and David Reedy. Wayne has worked with schools across the country in developing pedagogical approaches to the teaching of reading comprehension.