UKLA National Conference 2023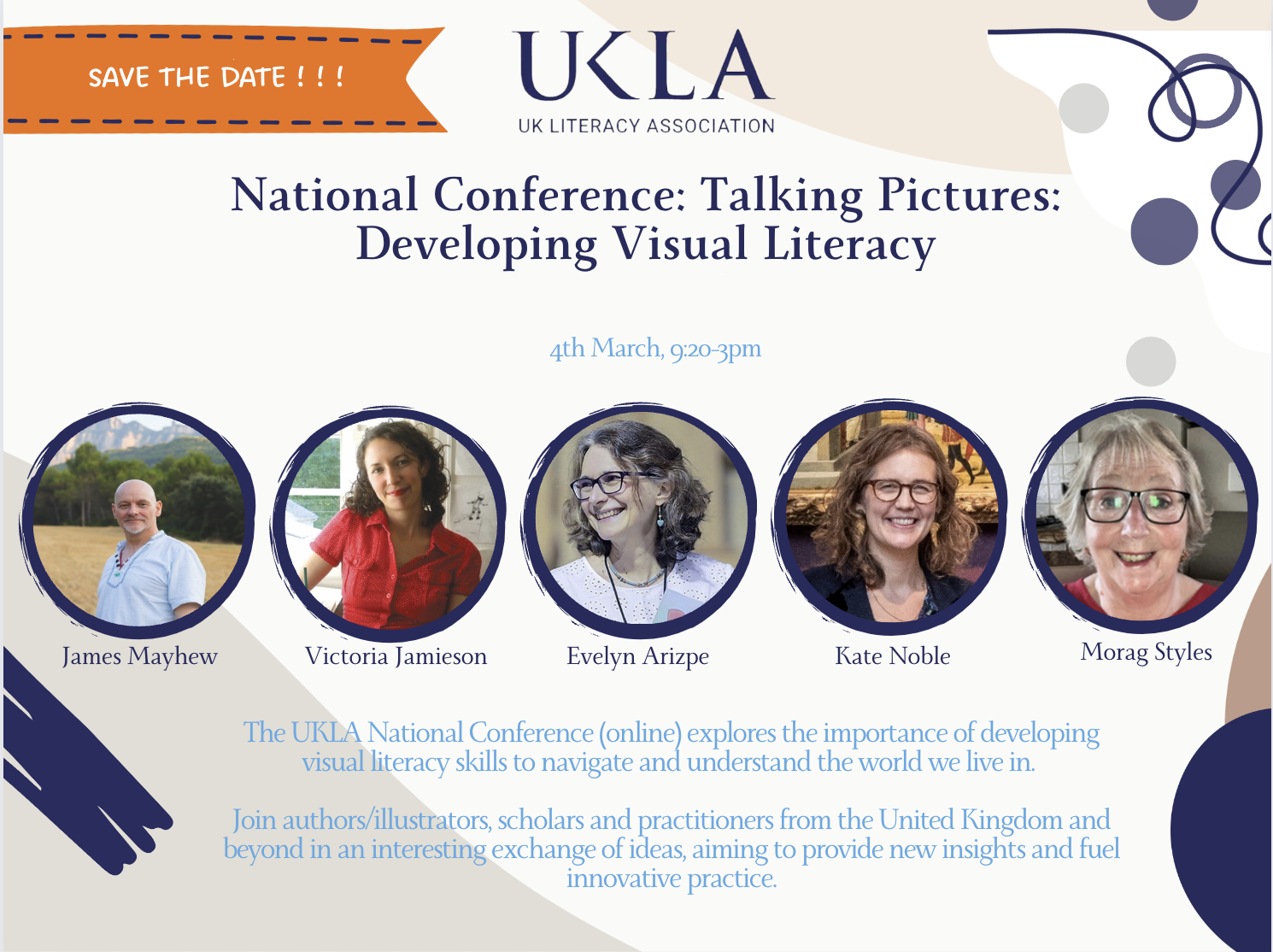 About
The UKLA Annual National Conference - Talking Pictures: Developing Visual Literacy

This year, UKLA's National Conference explores the importance of developing visual literacy skills to navigate and understand the world we live in. Join authors/illustrators, scholars and practitioners from the United Kingdom and beyond in an interesting exchange of ideas, aiming to provide new insights and fuel innovative practice.

This will be an online event, with full joining details provided for those who sign up!
Location
Online event access details will be provided by the event organiser

09:20 - 09:30 Welcome and Introductions
09:30 - 10:30 Keynote 1: James Mayhew
The renowned illustrator James Mayhew will talk about his inspirations, and how learning to read through illustration really inspired him to become an illustrator.
10:45 - 11:30 Workshop 1 (full details of the different workshops available can be found on the UKLA website)
11:30 - 11:45 Break
11:45 - 12:45 Keynote 2: Victoria Jamieson
Victoria is a New York Times bestselling author and illustrator of books for children. Victoria will be discussing When Stars Are Scattered, co-written with Omar Mohamed, which recounts Omar's life growing up in Dadaab refugee camp in Kenya.
12:45 - 13.00 Break
13:00 - 13:45 Workshop 2 (full details of the different workshops available can be found on the UKLA website)
14:00 - 15:00 Closing Keynote & Plenary: Evelyn Arizpe, Kate Noble & Morag Styles
In this keynote, Evelyn, Kate and Morag will present some of the new lines of research on the response of children to picturebooks based on the up-to-date material they have included in the third edition of Children Reading Pictures, now subtitled New Contexts and Approaches to Picturebooks.
Please note: all participants will select their workshop choices on the day by simply entering the break-out room of their choice
James Mayhew has been creating books for children for over 30 years. His many titles include the classic best-selling Katie series, Ella Bella Ballerina, Once Upon A Tune, and illustrations for the Mrs Noah books by Jackie Morris, Joyce Dunbar's Mouse & Mole series, Zeb Soanes's Gaspard the Fox and the Polari Prize-winning Nen & the Lonely Fisherman by Ian Eagleton. Alongside his work in publishing, James also presents classical concerts for children that incorporate art created live on stage in time to the music.
Victoria Jamieson is a New York Times bestselling author and illustrator of books for children. WHEN STARS ARE SCATTERED, co-written with Omar Mohamed, was named a National Book Award Finalist in 2020. The book was also awarded the Shadower's Award for the 7-10 age bracket, and shortlisted for the UKLA Book Award. She lives with her family in Pennsylvania.
Evelyn Arizpe is Professor of Children's Literature at the School of Education, University of Glasgow, and is co-founder of the Erasmus Mundus Joint Master's programme, 'Children's Literature, Media and Culture'. She has taught and published widely both nationally and internationally and her current research involves children's literature and the arts in projects on migration, conflict and peacebuilding. Evelyn is a judge for the Han C Andersen Award for 2022 and 2024.
Kate Noble is a Senior Research Associate: Museum Learning at the Fitzwilliam Museum, University of Cambridge, where she leads a teacher training programme which encourages creative teaching and learning using objects and images. Her publications include articles and chapters on visual literacy, young children in museums and participatory research which she has been exploring through a number of museum residencies. Kate sits on the council for the National Society for Education in Art and Design (NSEAD).
Morag Styles is Emeritus Professor of Children's Poetry and an Emeritus Fellow of Homerton College, Cambridge. She has taught and published widely on poetry and picturebooks. Morag is a judge for the BolognaRagazzi Award for Poetry and Illustration 2021 and 2022. She is currently finishing a childhood memoir set in Scotland and India