Ensuring Inspection Success with the new Framework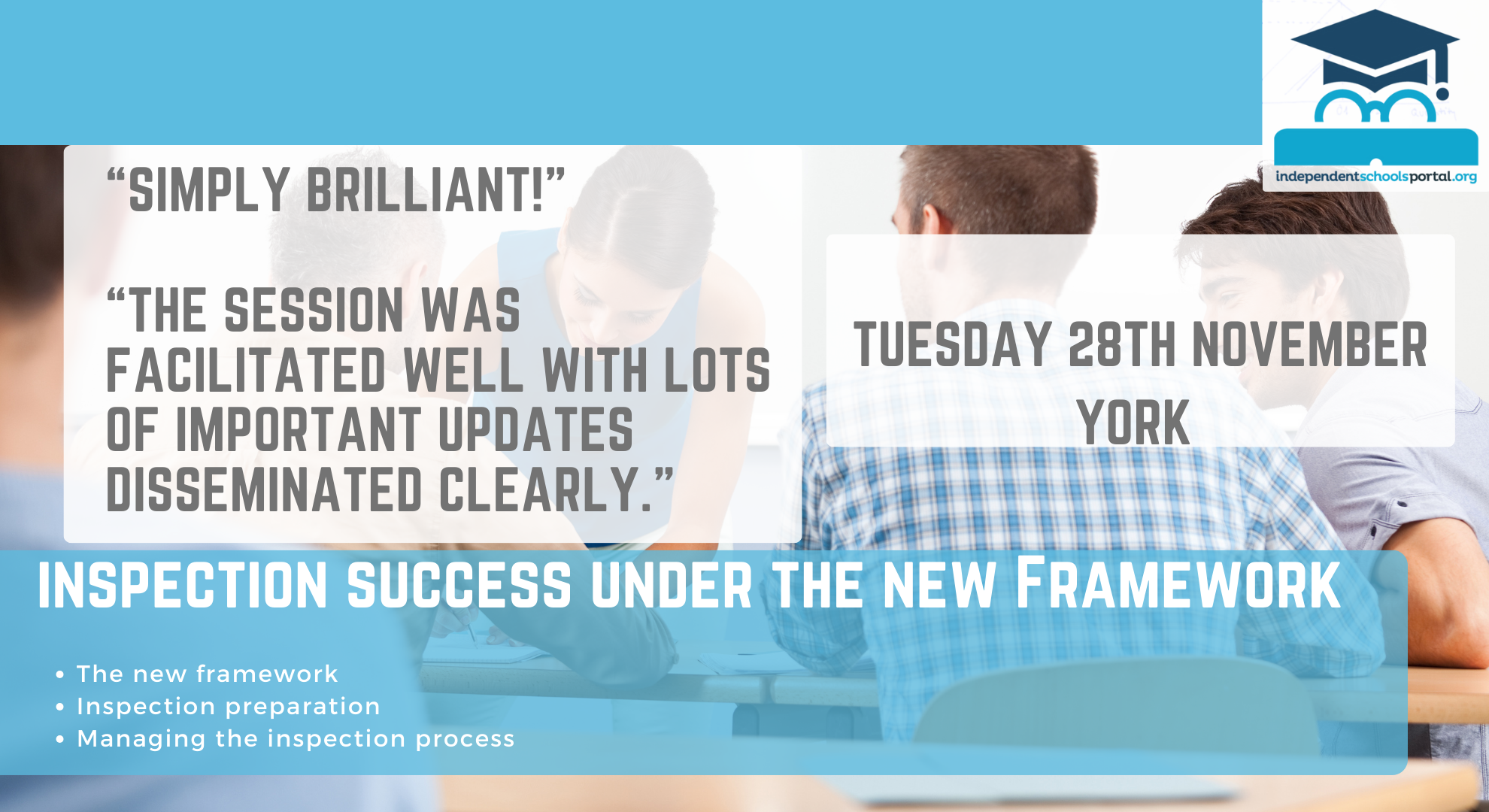 This one day course delivered by Inspection Consultant at RCL Education, Robert Lilley, will look at the lifecycle of the School Inspection in the context of the new framework. We will look at how to secure a successful inspection, from preparation to the actual inspection and the all important publication of your school's report.

Numbers will be limited to 30 to allow a classroom style environment, enabling delegates to ask questions and learn from each other in terms of best practice.
Venue: The Mount School, York. 09:30-15:30.
Price:
£195 plus VAT per delegate (£234 inc.VAT). Please note numbers will be limited to thirty, this is to allow a classroom style approach to learning rather than a large headline webinar. We will be looking in detail at the Inspection process and what it means for your school.
Overview : Whether you have recently been inspected, or are due an inspection, it is crucial that you understand and feel comfortable with the new Framework. This course will look at the lifecycle of the inspection for a school enabling you to feel confident that your school is well prepared and ready for an inspection.
The agenda for the day will cover the following. Numbers will be limited to thirty to allow discussion, questions and sharing of ideas and views to enable you to benefit from the expertise of both the speaker and fellow delegates.
Course Content
Understanding the New Framework
What does the framework mean in practice?
The key changes to Inspection
Understanding the similarities and how to minimise extra workload
Preparing for Inspection
What do you need to do?
Documents, policies and the ISI portal
SEF
During Inspection – compliance
What are the key regulations?
How will they be inspected?
During Inspection – teaching and learning
What are the criteria?
How will this be inspected?
Post Inspection - next steps
What might my report look like?
Sharing the outcomes with stakeholders
This day has been put together to give the confidence to feel prepared and ready for inspection. Looking at all aspects of the process, from preparation to delivering the outcome to governors, parents and the local community. This one day session is a must attend for Senior Leaders in Independent Schools with Inspection as part of their remit. We encourage you to attend whether you are expecting an inspection imminently or have been recently inspected. Understanding and being familiar with the new Framework will reduce stress and give confidence in the process.
_____
Comments from previous Independent Schools Portal and BlueCow Education CPD events:
'Independent Schools Portal CPD days are invaluable and represent some of the best professional development out there in my opinion.' Mike Marie, Headteacher, Bromsgrove School (Prep)
'Highly recommend the ISP for the valuable training that they provide which are effortlessly hosted by schools around the country.' Gareth Davies, Headmaster, Gayhurst School
'Robert is a brilliant speaker - very knowlegeable with a great delivery style.' Head, Yorkshire
_____
The Independent Schools Portal and BlueCow education are currently working alongside the Chartered College of Teaching to develop a professional development accreditation programme for all education training providers.
What is ISP CPD like? Why not take a look and subscribe to the Independent Schools Portal YouTube channel?