Wednesday Webinar Series for School Leaders 23/24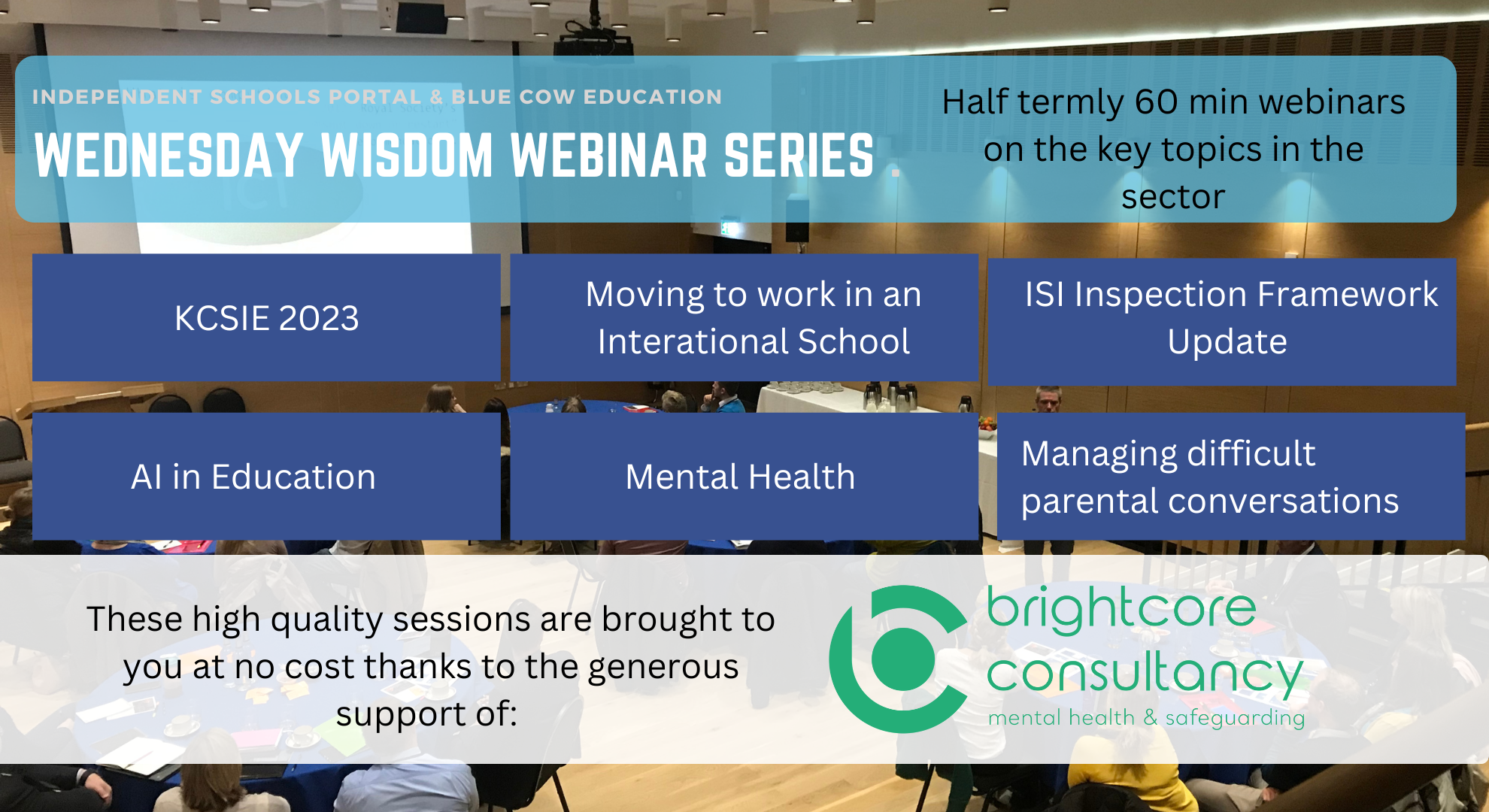 We are delighted to launch our FREE webinar series for school leaders in 23/24. We have chosen six key topics that we know are causing concern in schools currently. Each webinar will be 45 mins and held in the evening, enabling you to get bite size chunks of excellent CPD throughout the year. All sessions are delivered by leading experts in their field and are available at no cost thanks to the generous support of Brightcore Consultancy.
Each session will take place at 1930 online. The dates and topics are as follows:
KCSIE 2023 Update: Weds 13th September
This session will look at the latest changes to KCSIE ensuring you are well prepared for the year ahead.
Working in an International School: Weds 29 November
We will look at the practicalities of moving overseas in your career, how to tackle it and how to future proof yourself for a return to the UK.
Inspection Framework: Six months on: Weds 17 January
Delivered by Robert Lilley this session will give an update on lessons learnt from the new inspection and how you can ensure inspection success.
AI in Education: Weds 13 March
Using AI in your teaching and equipping pupils with the skills to know how and when to use it themselves is vital. We will look at how AI can transform your teaching and learning.
The changing landscape of mental health in education settings: Weds 15th May
This session will look at the key considerations for senior leaders in building an effective whole school approach.
Managing Difficult Parental Conversations: Weds 12th June
Delivered by leading expert and former Head, Tom Packer, this session will talk you through how to manage those tricky parental conversations to minimise stress and maximise outcomes.
Location
Online event access details will be provided by the event organiser