Work That Reconnects Facilitator Training '23/'24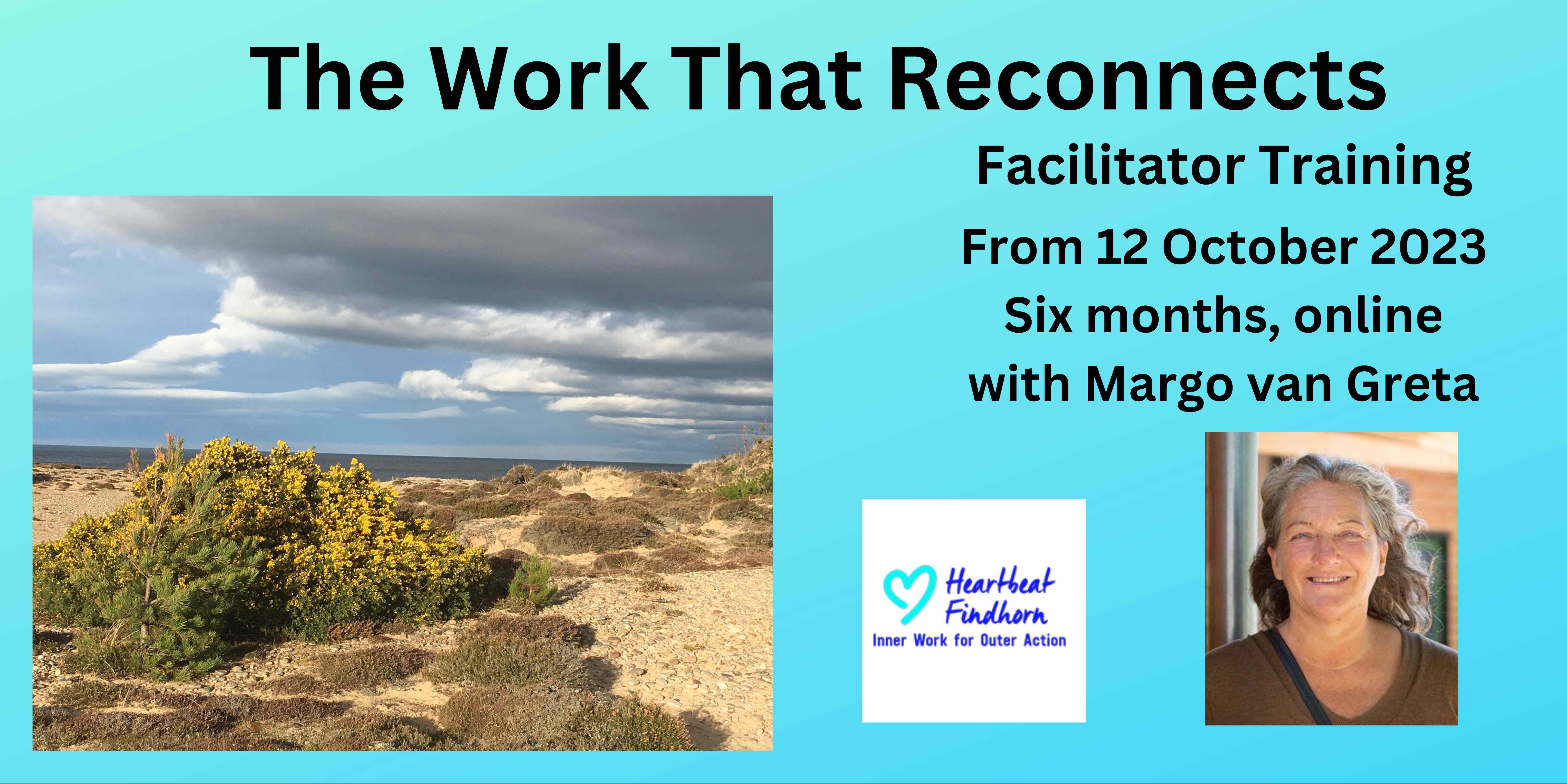 About
This training gives you the skill and confidence to facilitate the Work That Reconnects, a Spiral Journey.
It will be held online, using Zoom.
Dates: from Thursday 12 October 2023 until the end of March 2024.
Ten facilitated sessions, Ten buddy group sessions, and integration material and study.
The Work That Reconnects Facilitator Training
From Thursday 12 October 2023, six months, Online with Margo van Greta.
No bookings possible for new participants.
Would you like to facilitate The Work That Reconnects?
In this time of unprecedented challenges in our world, we need people who are awake, and who will make a positive contribution.
"The Work that Reconnects helps people discover and experience their innate connections with each other and the self-healing powers of the web of life, transforming despair and overwhelm into inspired, collaborative action." Joanna Macy
It takes the form of a transformative journey through the Spiral of Hope, Honouring our Pain for the World, Seeing with New Eyes and Going Forth.
This training gives you the skill and confidence to be a facilitator in the Work That Reconnects.
Since personal experience of going through the Spiral is essential in order to facilitate others, the course includes going though the practices, while we develop our facilitation skills.
What can you expect:
You will recall and discuss how to lead WTR sessions, courses and events with groups.
You will identify the target group(s) you will work with.
You will practise leading the Spiral Journey of The Work That Reconnects: Gratitude, Honouring our Pain for our Worlds, Seeing with New Eyes, and Going Forth.
You will experiment all aspects of leading sessions, including group building and safety,
You will differentiate rank and roles in a group.
You will design a session or course, using the 8 steps for course design.
You will evaluate your design and facilitation skills after receiving constructive feedback from yourself, trainees and the trainer.
Course Structure
Ten facilitated experiential online sessions

Ten buddy group sessions (groups of around 3)

Facilitate WTR exercises with constructive feedback, to yourself, from trainees and the trainer.

Two individual sessions with Margo, 45 min. (online)

Integration material, weekly study.

Individual exercises

Course design

Identify your key audience.

Promotion, websites, finance, become a registered WTR facilitator
Prerequisites:
You have actively participated in The Work That Reconnects/Active Hope experiential courses for at least 12 hours, with a qualified facilitator.

Active participation during the sessions.

You have read at least one of the books Active Hope, and/or Coming back to Life.

Write a short introduction of who you are, why you would like to participate, plus any previous relevant experience in leading groups.
The time it takes:
Facilitated session: 2 hours every 2 weeks, (1 month break over Christmas/New Year)
Buddy group: 1 hour every 2 weeks, (1 month break over Christmas/New Year)
Individual Integration/preparation: 1-2 hours a week. This includes:
Watching short Joanna Macy training videos.
Journaling about the theme we are working with,
Sometimes preparing to hold a session in the group.
Read description of the practices of the Spiral.
Course design.
Dates and Times
2023: Thursday October 12, 26, November 9, 23, December 7.
2024: Thursday January 18, February 1, 15, 29, March 14.
7-9pm UK time, Check the time in your time zone here
Online, with Zoom.
Cost: £1200/£900/£600
There are 3 prices, in order to make this course available to all:
Generosity £1200: To financially support those without the means to participate
Sustainable £900: The regular price to sustain this course.
Subsidised £600: For those on low income and in need of financial assistance
Bookings close 5 October.
Not sure yet? Check out and join the FREE WEBINAR: Becoming a WTR Facilitator, Friday 29 September: Book your place for the webinar here
About the Trainer
Margo van Greta is a pioneer of holistic spirituality and a facilitator of transformation, creating a safe and supportive space for deepening the inner journey. She met Joanna Macy in 2000, fell in love with the Work That Reconnects. It combines he roles as a social activist, Ecovillage resident and Buddhist practitioner. She facilitates courses based on Active Hope and The Work That Reconnects, both on site and online.
Since 1991 she lives and works in the Ecovillage Findhorn Community in Scotland, UK. She is passionate about integrating spiritual practice in daily life, and created Heartbeat Findhorn: Inner Work for Outer Action. She has been involved in creating and facilitating experiential trainings in the Findhorn Community.
She is a Buddhist practitioner since 1987, teaches Buddhism, facilitates individual sessions Feeding Your Demons and guides the Transformation Game. She lives in a beautiful small eco house, and loves her daily walks to the beach.
Check her website: www.heartbeatfindhorn.com
Date
Thursday 12 October 2023 7:00 PM - Thursday 14 March 2024 9:00 PM (UTC+00)
Location
Online event access details will be provided by the event organiser