Come & Sing Da Vinci Requiem
Saturday 3 February 2024 10:00am - 4:30pm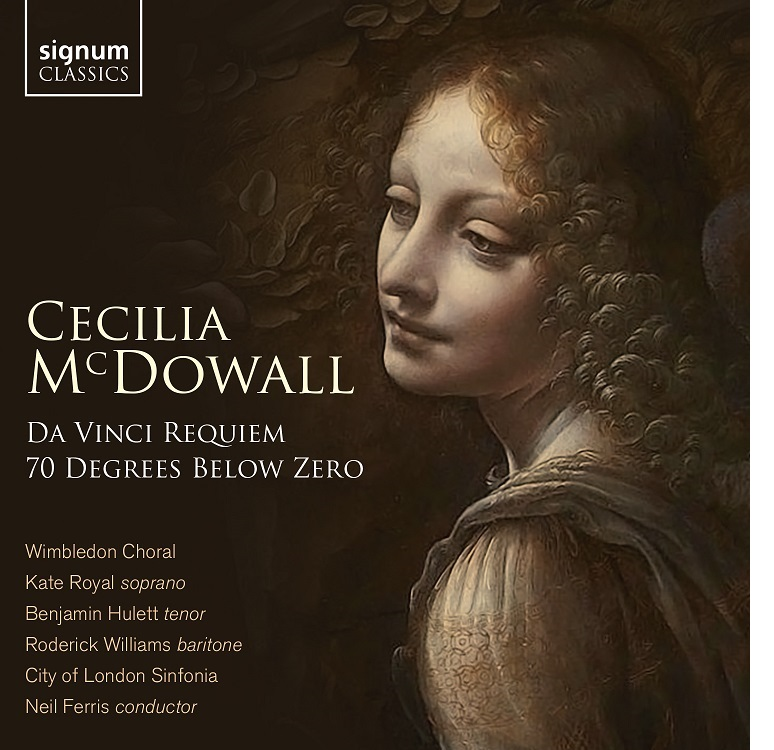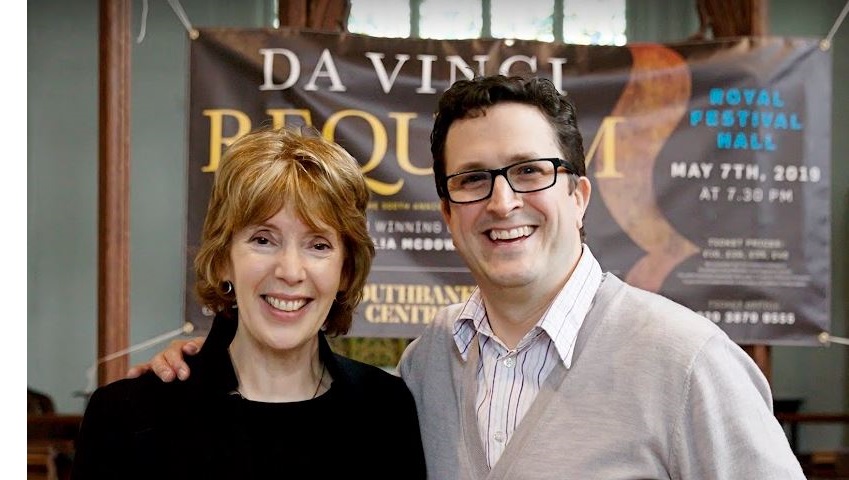 To mark its 100th anniversary, Wimbledon Choral commissioned Cecilia McDowall to write the 'Da Vinci Requiem', which had its world premiere in the Royal Festival Hall (2019) and which is now available as a recording (2023) from Signum Records.
We are so pleased with the commission that we'd love to share it with you in the form of a day's workshop, hosted by Wimbledon Choral, directed by Neil Ferris, accompanied by Michael Higgins and with special guest, Cecilia McDowall.
At the end of the event, there will be a performance of the work by all participants with guest soloists to complete the picture. Friends and family will be very welcome to come along to listen to this for free. There will be a retiring collection for a nominated charity for those who would like to donate.
There are two participant rates - Adult and Student (anyone in full-time education) and you have the option to either hire a copy of the score on the day, buy a copy on the day or bring your own copy if you have one. Please make sure you select the appropriate combination(s) on the next page.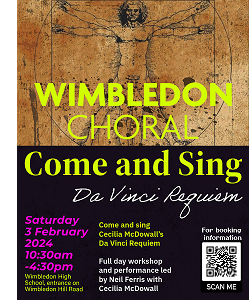 The venue for this event is the main Auditorium in Wimbledon High School.. Entrance to the hall will be via the Sixth Form Centre on Wimbledon Hill. The school is located very conveniently in the centre of the town and only a few minutes' walk from Wimbledon station (national rail, tram and District line underground) and is also served by several bus routes. Click here for further details. Please note there is very little car parking available on-site. The Auditorium in which the workshop will take place is fully accessible with ramps, lifts and other facilities. There are plenty of places to eat and drink within minutes of the venue.
Do encourage your singing friends to come to this event.
Schedule
1000 - 1030 Registration
1030 - 1150 Session 1
1150 - 1210 Break for refreshments and a ton of cake and other goodies
1210 - 1330 Session 2
1330 - 1430 Lunch break
1430 - 1530 Session 3
1530 - 1550 Break for refreshments
1550 - 1630 Performance and finish
This leaves the evening free and for you to get home safely if you have travelled some distance.
If you have any queries then please let us know by using the link below and we'll get back to you.
Location